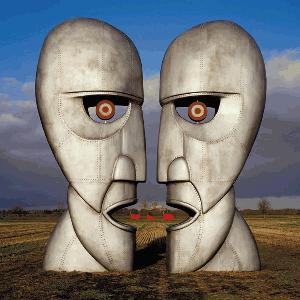 Release Date: 1994 | Tracklist

Division Bell was Pink Floyd's last hurrah! before essentially becoming a part time touring band. It was also the second album that did not include any input from Roger Waters, who had departed the band almost a decade earlier.

By the time Division Bell was made, Gilmour and Co. were already almost 50 years old, and the album's nostalgic and morose tone reflects the struggle of a man coming to grips not only with his own mortality, but also with the fact that his most happy and productive days have passed with scant warning. Gilmour's bluesy and impeccably clean guitar solos reflect a return to traditionalism that perhaps also indicates that at he feels that their experimental days are over and any attempt to do so would be akin to purchasing a Ferrari to compensate for advancing years. In many ways, this back to basics musical motif is the shining light of the album. This more structured and disciplined approach to songwriting and recording leaves the album with a sense of vulnerability, stripping it of any facades or barriers

This vulnerability is possibly the reason that The Division Bell was panned by critics when it was released. The sheer straightforwardness of the emotion and lyrical content in songs like 'Take it Back' and 'Poles Apart' may have seemed meretricous and cheesy to many a critic. A more opaque and indirect approach to the songwriting would, however, have been antithetical to the overarching nostalgia that the album represents.

The Division Bell makes it clear, however, that even nostalgia can be anthemic. The crooning guitar solos, backup choirs, rousing choruses, and creeping intensification and buildups during the songs have an almost cathartic impact on the listener, juxtaposing the sombreness of the lyrical content.

That the group knew that this would be their final collaboration seems clear, and it is apt that they said goodbye to their listeners and each other in a nostalgic yet comforting manner.