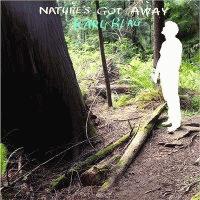 Release Date: 2008 | Tracklist

Karl Blau is a modest guy from the Pacific Northwest, one who wears plain clothes and doesn't seem to bother with shaving. His recordings are doused with tape hiss and less than fancy production style; these attributes are expected considering Blau's affiliation with Phil Elverum, another enigmatic songwriter whose constant stream of releases never seems to disappoint. After reading several interviews, it becomes obvious that Karl Blau is a guy without much pretense, preferring to remain open-minded and willing to submit to the flow of the music.

And that music is just as modest and enjoyable. With each recording his style varies, from lo-fi acoustic strumming to heavily rhythmic, out-there electronic jaunts. Blau's lyrics seem to be obscure in origin, directed more towards formless ideas and sounds than anything particularly concrete. This year seems to be a new launching point with Nature's Got Away, the follow-up to last year's rhythmic Dance Positive. A faint sense of nostalgia permeates throughout the record, much like Ariel Pink, another four-track disciple who draws on pop influences to create a vastly different sound. "Before Telling Dragons" is love lorn '60s pop music filtered through blotter paper. Blau's drowsy vocal delivery compliments the light plucking of guitars and clumsy, yet affable, drumming. With "Ghostly Appearance," we see one of the few signs of negativity. Backed by a repeated synthesizer riff, he proclais his loyalty to 'inferior' sound quality: "I'll take the hissing of noise any day, over crushed, compressed spirit meant to stay in its cage."

Nature's Got Away gets even better with "Mockingbird Diet," a subdued piece of guitar rock that contains some of Blau's most poignant and enjoyable lyrics. It's easy to draw comparison to Neil Young here, with slightly unfurled guitars wrapping themselves around simple and effective phrases such as "Nature's got a way of keeping itself occupied / Of keeping track of who lives and who dies" and "Simple at first can sound vague / Like, what is there for me to hold on to?" that work beautifully within the context of the music. "Stream of Ganders" is Blau at his most meditative, building on gorgeous vocal melodies and keyboard work until reaching a modest climax. Nature's Got Away at first feels insignificant until one notices the small quirks, the results of collective recording and live playing that probably would never have happened in a huge professional studio. This only adds to the album's charm, and plays into the hands of suckers like me who can't get enough nostalgia.