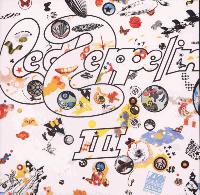 Release Date: 1970 | Tracklist

Immigrant Song - A fantastic album opener that from 1971 - 1973 was the concert opener too. Immigrant Song has Robert's singing ability put to the test with the opening scream. This song also talks about Norse mythology. Valhalla is the hall presided over by Odin. This vast hall has five hundred and forty doors. The song's simple riff is hard hitting and the drums are great. 5/5

Friends - The first acoustic song that starts with people talking then leads into great strumming on the acoustic guitar by JP. The chord changes make this song interesting to listen to. This is a cool song because of the effects Jimmy adds in the studio. 4/5

Celebration Day - A funky intro that leads into great bass work by JPJ and two overdubbed guitars. This is a blues inspired song that Zeppelin like to play in concert. The solo is also cool too. 5/5

Since I've Been Loving You - This song is tuned in C minor with unreal guitar work and excellent organ played by JPJ. The song's lyrics are about how Robert misses his wife and still loves her. A great song to listen to live but all and all a good song. 4.5/5

Out On the Tiles - This song was not played live unless you count when it was used to open up for Black Dog. Not the best song on the album but the drumming is spectacular. Bonham did not like to use cymbals all the much but he used a ton of them in this song and it sounds great. 4/5

Gallows Pole - The second acoustic song and is my second favorite acoustic song. Styx may have gotten their idea for Renegade from this song. It is about a man that is about to get hanged. He wants his relatives to save him by buying him out of it. The mandolin played by JPJ is a good way to accentuate the guitar strumming. 5/5

Tangerine - Some people do not like this song. I however love this song. The chords make it sound like medieval times. The drums come in at about one minute into the song and adds some rythm. Even though this is a acoutic song the solo is electric that fades out back into acoustic. A good song that is very underrated. 4.5/5

That's The Way - Another acoustic that I find I just can't listen to the whole song. It is very slow and is probably the worst song on the album. Zeppelin like to play this live along with GTC and BYRS. 3/5

Bron-Y-Aur Stomp - An upbeat song that is not to be confused with Bron-Yr-Aur. This has JPJ on the mandolin and JP strumming away on an acoustic. The drums adds the big bass and beat to the song. Bonham knows how to play just enough drums in an acoustic song. 4/5

Hats Off to (Roy) Harper - Funky through out the whole song. Not the best song Zep ever did but it pays tribute to Roy Harper and has some interesting lyrics. "Well I ain't no monkey I can't climb no tree No brown skin woman gonna make No monkey out of me Yeah, I ain't no monkey Sure can't climb no tree." This could be racial but I am not sure. I'll that it is not. Cool guitar riffs though with a wierd effect. 4/5

This album is the most underrated album they have done because it has alot of acoustic. Jimmy likes the album however he hates the album cover. I'd give this album a 5 out of 5.