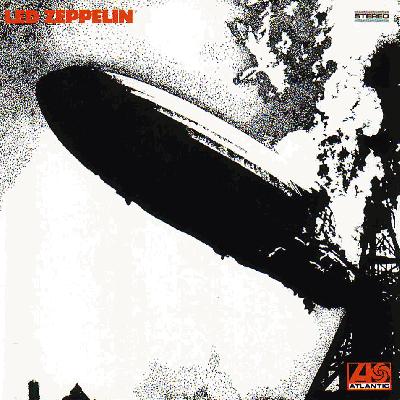 Release Date: 1969 | Tracklist

The first Led Zeppelin Album.

Good Times Bad Times - Good power cord riff with awesome drumming by Bonham. Bass solo before the second guitar solo is where JPJ shines. Overall a good opening song. 5/5

Babe I'm Gonna Leave You - Acoustic beginning that sticks out from the rest of the album. Zeppelin still finds away to make an acoustic song rock. The vocals by Plant are amazing. Plant obviously wants to say that he will never leave his baby. 5/5

You Shook Me - A cool sounding effect to Page's guitar. And WOW JPJ's amazing keyboard solo in the middle of the song. Harmonica by Plant is also great. And Bonham's simple beats round out the song. 4/5

Dazed and Confused - JPJ's bass and Jimmy's wah wah guitar make this song sound great and the violin bow solo and the guitar solo are very trippy. Plant's vocals are the epitome of rock. This is a Zeppelin classic and was always played in concert. 5/5

Your Time Is Gonna Come - JPJ plays a great keyboard and Page's strumming of the acoustic is fantastic. Lyrics are good and it leads into BMS. 3.5/5

Black Mountain Side - YTIGC is echoed in the backround in the beginning. Page does almost all of the studio work and is a master at it. Acoustics in this song is great along with the drumming and tapping by Bonham. Another unique song on the album. This song has two guitars, one of them is over dubbed over the other one. This song is played live with White Summer. Page wrote White Summer with the Yardbirds. 4.5/5

Communication Breakdown - One of the most known songs of Led Zeppelin. This legendary song has a great power cord riff with a fast action solo. The drumming and bass is hard hitting and the lyrics make the song a classic. 5/5

I Can't Quit You Baby - The percussion in this song makes this song. Although you can't cut out Page's guitar licks. This song is performed better live than the studio version. Not the best song on the album but it is a good one. 4.5/5

How Many More Times - The opening riff is simple and played many times before he gets to the ridiculous solo. Page also uses the bow after the solo. Wah Wah pedal is used too. This song is great. HMMT is better live because you can really see Jimmy cut loose on the guitar. 5/5

This is one of the best Led Zeppelin albums ever. I give it a 5/5.