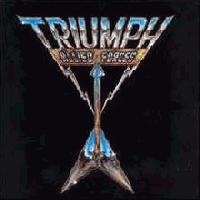 Release Date: 1981 | Tracklist

Allied Forces, the 1981 release from Triumph is definately one of if not their best album. Rik Emmitt (guitar/vocals), Mike Levine (bass/keyboards) and Gil Moore (drums/vocals) proved that they were for real.

1. Fool For Your Love: A Great opening track. Very catchy riff, along with some great vocals from Gil Moore. Mike Levine is very solid in this track. Rik Emmitt doesn't displease with this solo. 5/5

2. Magic Power: My personal favourite from all of Triumph, this track is awesome. The opening guitar riff from Emmitt is just like bew! amazing. And to top it off, he sings! Great work all around from everyone. 5/5

3. Air Raid: A useless track, kind of different, but stupid nonetheless. 2/5

4. Allied Forces: Simple guitar riff intro, then into a neat little riff/run. Continues for a bit, then into an Emmitt solo. Terrific work on it. One of the finer tracks on this album. 5/5

5. Hot Time (In the City Tonight): Good riffs, awesome fills by Emmitt, good drum work from Moore, and a nice solo. 4/5

6. Fight the Good Fight: Great track, good keyboard work from Levine. (looks like Canadian bassists just aren't the best bassists, but damn good keyboardists too). Emmitt is another riff master with some of the ones in this song. Kind of repetitive, great ending riff. 4/5

7. Ordinary Man: Great harmony vocals from Emmitt and Moore, possibly Levine too. Classical-ish guitar line from Emmitt, great bassline from Levine. Awesome all the way around. 4/5

8. Petite Etude: Just a classical guitar track from Emmitt, very brilliant. Reminds me of Blackmore Night and some of Ritchie Blackmores acoustic tracks. Sheer Brilliance. 5/5

9. Say Goodbye: For some reason, it reminds me alot of Journey. Nothing wrong with that though, Journey was a great band. Great vocals, guitar, keyboard and drumming on this track. Awesome all the way through. 4/5

This album is a 4.5 easy. Triumph is one of the greatest bands, and the greatest Canadian band out there. They proved they werent no Rush wannabe's and could rock just as hard. I'd say check out Triumph at the US Festival and Classics for their best work.