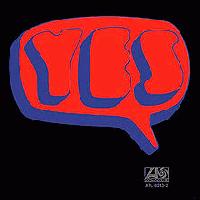 Release Date: 1969 | Tracklist

Okay, here we go. Yes' first album, the album that blew me away and introduced me to Yes and other great prog-rock. I love this album and it seems as though it's hard to find but haha I snagged it! This is my first review: Go easy on me.

Beyond and Before
A great opener, my favorite song on the album after "Survival". I love the intro with the slightly throbbing keyboards. The lyrics are very odd, and I don't know what they are about but they add to the playfulness of the song. Anderson's voice is excellent. 5/5

I See You
This song makes me think of jazz, which is always good. The vocals, drums, keyboards, guitar and bass are excellent once again. There's an odd little bit in the song, that I wouldn't exactly call a solo but great nontheless whatever it is. Anothwr impeccable song. 5/5

Yesterday and Today
I hate this song. It sounds like the Carpenters. What the hell is it" It's a very sappy love song, and I am not a sappy love song kind of person. I actually think this might have been playing the last time I went to the dentist. 1/5

Looking Around
All right, here we go. I love the intro, the guitar kind of makes you just want to move in a slow kind of way. The keyboards make me think of a carousel for whatever reason. It's not quite as good as "Beyond" or "I See You", but it's certainly an improvement from the easy listening-esque Yesterday And Today 4/5

Harold Land
This song is all right, not the best on the album but certainly not the worst. It's got a very playful beginning which makes me think of a 1950's TV show, and the rest of the song does not make too much sense to me and is slower. It's okay though, but I do tend to skip it on occasion. 3/5

Every Little Thing
Dare I say, best intro on the album" Cool lyrics written by the pop masters themselves John Lennon and Paul McCartney, seeming to be in pre-Rubber Soul form. The intro is just so awesome, chaotic and insane. It makes you want to scream. The rest of the song is awesome too, with those sweet Anderson vocals that I've grown to love. 5/5 most definatly.

Sweetnees
My thoughts" "Oh God, not another one." SLIGHTLY better than Yesterday and Today but still pretty bad. Anderson's vocals are good as always but come on. Yes could've done better than that. 2/5

Survival
The God of the album! And oddly enough the song is about...an egg. I love the intro. The lyrics are the best. "And we're all going SOMEWHERE!" at the end, sends shivers down my spine. I love the keyboards as well. It's a strangely psychedelic song. It's an awesome closer. 5/5

This is a great album, but only shows slightly the greatness that would become Yes. I reccomend at least one good listen for any fan.