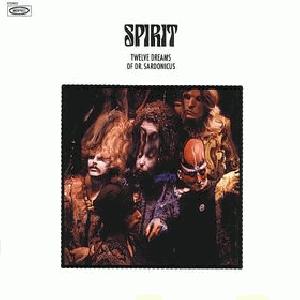 Spirit

Twelve Dreams of Dr. Sardonicus

Release Date: 1970 | Tracklist

Released: 1970

The Band:
Randy California - Guitar, Vocals
Mark Andes - Bass, Vocals
Ed Cassidy - Drums, Percussion
Jay Ferguson - Vocals, Percussion
John Locke - Keyboards

Background:
Forming in late 1967, Spirit arrived just in time for the experimental peak of the classic rock era. An interesting band that combined jazz, hard rock, psychedelia as well as elements of folk and classical, Spirit is often overlooked. They are a great band for the time period, but remain unknown to most people. They had previously released three albums prior to this one, all of each were generally well received (though underrated). 12 Dreams of Dr. Sardonicus is a loosely constructed sci-fi concept album, which showcases the climax of the band's early years. Basically the twelve tracks on the album are supposed to represent dreams, but the concept gets vague after that part.

Through the combination of various genres as well as overall style, guitarist Randy California is often said to be very influenced by Hendrix. The music on this album also has very great layered vocals, as well as strong percussive drive on most tracks. Ed Cassidy and Jay Ferguson work well together to produce interesting rhythms with various instruments.

Track by track:
Prelude - Nothin' To Hide: This song starts off with soft acoustic guitar player and lyrics. After about 40 seconds, the band kicks in and it turns into more of a hard rock song. The chorus is especially strong, along with the vocals in general. After some nice guitar work, the tempo picks up and there is a horn ensemble playing in the background. The band uses all types of elements here to their fullest. A great opener. 5/5

Nature's Way: Softer than the first track, it still carries some of the same characteristics. The lyrics are again strong and give a great eerie feeling off. The percussion in the track is also interesting, it isn't just normal drumming. Solid track. 4.3/5

Animal Zoo: Another change in feel, this song is more upbeat. Spirit uses some country influence and some more good percussion to make a great song. The lyrics throughout this whole album are very strong, and they are no different for Animal Zoo. The guitar part is nice to listen to as well. Another good song. 4.5/5

Love Has Found a Way: Weird studio effects start the song, and are heard throughout it. Lyrics are again the focus for the early part. The background instrumentals are interesting, but the song never really moves anywhere. It is a nice short track though. Decent, but not great. 3.5/5

Why Canít I Be Free: This is a very short song that is basically only for a few lines of lyrics. The vocals are good again, and there is a good atmosphere around the song. Nice guitar part for a couple seconds, but then itís over. 4/5

Mr. Skin: After a strange opening, the main line starts and is lead by a horn section. The percussion is again attention-grabbing, and the background vocals are great. Throughout the song, the horns and guitar carry the melody. Some parts of the vocals are a bit annoying, but in general they are good.

Space Child: As Mr. Skin winds down, the piano intro to Space Child starts up. It is supplemented by some interesting effects in the background. After about a minute, the drums kick in and there is a guitar lead (it sounds like guitar, there are a lot of nice effects going on). The piano part here is good as well. The middle section fades down and the piano part of the intro creeps back up again. That was a cool device to divide the song and make it more interesting. A good instrumental. 4.4/5

When I Touch You: Picking up right after the previous fade-out, a great guitar riff soon comes into focus. The drums kick in and the lyrics start. This is harder rocking song than most others on the album, and it is excellent. Again there is great guitar work in this song. At about four minutes in, the song winds down for a brief soft section, then builds back up. This section has great drumming to go along with that guitar work. 4.8/5

Street Worm: It starts with a piano riff and the lyrics and percussion come in soon after. The heavy sections of this song are great, especially the layered vocals. The interlude section/guitar solo part features great percussion work, especially on the cowbell. The end section is very upbeat and a great rock part of the album. Still excellent guitar work. 4.7/5

Life Has Just Begun: There is a different feel created right from the beginning on this song. It starts with an acoustic part and the lyrics are softer than in the previous two hard rock songs. The song is still good though, and everything fits together nicely on this track. 4/5

Morning Will Come: This song starts with a nice riff, and then rising vocals that get slightly annoying. The vocals during the verse are good and this song is much more upbeat than the previous one. The horn section has an important role during the verses. Itís a good song, but there isnít much special or standout about it. 3.7/5

Soldier: Spirit again changes the pace on you by switching to a slower piano driven song. They lyrics create a good atmosphere again, as they usually do on songs like this. Spirit could really play an interesting mix of styles well, which come out in the diversity of this album. 4/5

If youíre a classic rock fan, or just someone looking to try something different, you should give this album a listen. Itís definitely a great album for any psychedelic fan. The music is always interesting because of how much ground Spirit could cover in any one song. Between their variations in genres and the interesting studio effects, there is rarely a dull moment on this album. There are some minor flaws, but in general there are great songs. Overall, Iíd rate it at about a 4.6/5.