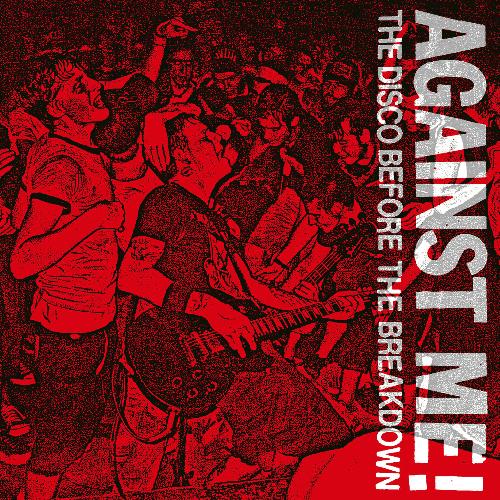 Against Me!

The Disco Before the Breakdown

Release Date: 2002 | Tracklist

First of all, lemme (let me) just start out by professing my love to Against Me!. With the fantastic vocals, inspiring/fun, yet intelligent lyrics, fantastic folk-ish guitar work, and the incredibly fast, blinding drums, Against Me! are truely a force to be recognized.

This EP, The Disco Before The Breakdown, is absolutely nothing different. Considering Against Me! has been putting out quality work since their first demo tape in 1997, I'm not very suprised. Clocking in at 8:57 total, it's a rush of fast paced folk-ish punk and roll with saxaphone on the first track.

Track 1 is appropriately named "The Disco Before The Breakdown". One of my favorite songs ever. Starts out slow, and then picks up with a quick slide, and in comes the fantastic saxaphone. It seems as though the song is about a partner someone has, and how even though they may be made fun of, they will continue to be together, and that they owe no explanation to anyone for it. Eventually this really cool guitar riff comes in, and then it ends at 3:06

Track 2 is titled "Tonight We're Gonna Give it 35%" Starting off with slow guitar, and awesome vocals. Can't quite decipher the meaning of this song, but it's great. It picks up into a fast paced song in a few seconds. With an awesome scream, this song gets an easy 5 out of me, as does the first track. One of my favorite Against Me! lyrics are in this song "It's got me on my knees in a bathroom, praying to a god that I don't even believe in, "Dear Jesus.. are you listening"" If this is the one chance that really matters, don't let me *** this up."

Track 3 is titled "Beginning in an Ending". It's completely acoustic, and a very slow song. I love the vocals in this song, they're so perfect for the tempo of the song. The guitar is also fantastic.

Once again, Against Me! come through with a fantastic EP. Please please please, if you do not listen to them, do it! They're fantastic.

4.5 - almost perfect, just a bit short.