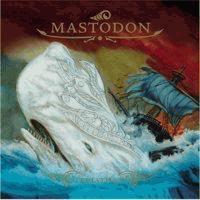 Release Date: 2004 | Tracklist

Mastodon are one of the few modern metal bands that I truly admire. Their riffs, drumming, vocals, hell, even the album art and image of this band is something to look up to. "Leviathan" Truly shows this band at their best. Though some have voiced discontentment with the band's less "hardcore" vocals and songwriting style, the band still holds up as a truly great heavy metal band.

1. Blood And Thunder - Starting with one of the catchiest riffs in metal since "Enter Sandman", this song is a great introduction to the band's sound. Dissonant riffs, angular time-signature changes, a melodic "solo-ish" lead in the middle, this song wasdestined to be the first on this record.

2. I Am Ahab - Another catchy riff starts this tune. Though this song does not contain a lead, the guitarists provide enough to keep this song interesting. Being a shorter tune also helps, as one can latch on to it immediately. This song isn't an instant classic, but it's still a great song.

3. Seabeast - With it's dissonant intro chords, the song succeeds in raising the hairs on the back of your neck right from the beginning. Whoever said this album lacks solos is mistaken, as this song has 3 separate lead guitar sections, 2 repeating the same theme, and 1 comprising the solo. The vocals are cleaner here, as the singer puts on his best Ozzy Osbourne impersonation. The outro on this song is a well crafted riff.

4. Island - With it's many references to volcanoes and "Iceland", it's no wonder many people have mistaken "Iceland" as this tune's name. The song itself is heavy, brutal, and unrelenting. The solo comes in appropriately, showcasing the guitarists' talents. This song is one of the less impressive songs only for it's monotony. It's short enough to appreciate, but becomes "skippable" after repeated listening.

5. Iron Tusk - This song reminds me the most of Pantera. It's huge riff and great interplay between band members makes this a fun song to listen to. When the song gets into it's quieter interlude section, the guitarists know when to play harmonies, when to play in unison. There is nothing bad I can say about this song, except for the fact that this is the single, and it's been a little overplayed to me.

6. Megalodon - A song about "total f***ing devastation", this song may claim to have the strangest lead break on the album, with it's distorted 12-string guitar playing the most "countrified" lick in modern metal history. It caught me by surprise the first time I heard it. The rest of the song is nothing short of amazing. The riffs are captivating, and the vocals are more diverse than your typical "cookie-monster growling".

7. Maked Burn - Whoever called this song "nu-metal" is dead wrong. This song has one of the catchiest vocal lines, coupled with one of the best guitar melodies on the record. The near-abse4nce of screaming makes this song a bit easier to listen to, and a lot more musical in the process. This song really shows the diversity of this band.

8. Aqua Dementia - The intro lead is one of those truly confusing musical moments. Tricky rhythm, strange melody. The rest of the song has more of a "hardcore-ish" feel to it, until the ending, when things begin to slow down. At this point, the chords are almost impossible to discern, and the harmony really has a very "oceanic" feel to it, which fits the theme of this record.

9. Hearts Alive - The longest song on the album, but ,surprisingly, the LEAST boring. Not to say the other songs are boring at all, but this song is amazing. The contrasts in tone from part to part make this a song that not only shows a good knowledge in music theory, but also shows a lot of feeling. The song takes a turn at about 7 minutes in, when a new theme is introduced, and the chord changes are to die for. The time signatures change constantly, but the rhythm is not impossible to tap your feet to. After this, another new part comes in to provide a backdrop to the most "up-front" guitar solo on the record. Brent Hines' (I THINK that's who plays this solo) tone is reminiscent of Dimebag Darrel (R.I.P.) and the licks have a very southern-rock infused flavor to them. The song continues on that same riff until it hits a major chord to fade out. This song is like a mini-metal-symphony.

10. Joseph Merrick - A fitting coda to this album, the song displays a lot of emotion and also is the only song on the record to feature another instrument other than what's already present in the band, an organ. The melody is excellent, and even though this song is performed on acoustic guitars, it is still a very heavy piece emotionally.

This album gets a 5 because it is a very diverse, heavy, and ultimately, repeated-listen-worthy record. If you are a fan of heavy metal, be it Black Sabbath, Metallica, or even Slipknot, pick up this record. You will not be disappointed.