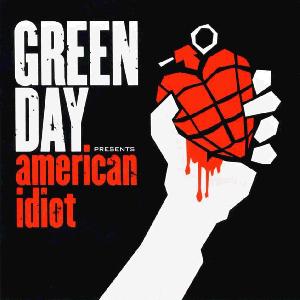 Release Date: 2004 | Tracklist

Much has been said about Green Day's late 2003 release. In fact, I've heard more mixed reactions than I can shake a stick at. People think that the band has matured too much. People say that the band is just too mainstream for their own good. People say that Green Day has changed for better/worse. Here's what I say.

I absolutely adore American Idiot. And I don't use the word "adore" very often. I honestly cannot stress it enough how awesome this record really is. Every song on it is impossibly awesome in their own unique ways. For example, every track sounds totally different... and in a really good way. Starting off with American idiot, the song is fast-paced, rocking, pummeling alternative rock at its best. Shady swinging guitars mixed with heavy drumming and the almost radio-ish vocals of one Billy Joe Armstrong. This was the bands first single, and it's very obvious straight from the get-go. Into the next song Jesus of Suburbia you go, and god is it delightful. Just weighing in at a little over nine minutes long, this is one of my personal favorites. Typically I don't have the patience to sit through a five minute song from any band or group, let alone a colossal nine minute extravaganza. Jesus of Suburbia is also a five part song, and all five parts blend deceptively into one another.

I read the graffiti in the bathroom stall
Like the Holy Scriptures in a shopping mall
And so it seemed to confess it didn't say much
But it only confirmed that
The center of the Earth is the end of the world
And I could really care less.

The third epic on the CD is Holiday, probably the most political and anthemic song of the bunch. The beat of the song is very wild and raucous, and I really enjoyed the lyrics as well. This will likely go down as Green Day's third single, and with good reason! The ending is my favorite part of the song, as it gives you a kick of adrenaline - - so to speak - - out of nowhere.

Zieg heil to the president gas man
Bombs away is your punishment
Pulverize the Eiffel Towers
who critisize your government
Bang, bang goes to the broken glass
and kill all the fags who don't agree
Trial by fire setting fire
is not a way that's meant for me

Boulevard of Broken Dreams, song number four, is the best known affair on American Idiot. I honestly don't like the song all too much anymore, but only because of the amount of airplay and radio time it has received in the past month. Sometimes it's smarter to keep a song known but unknown to prevent the public from getting overbored of repetitiveness. With all that out of the way, there's no denying that it's a very good song and deserves at least half of the praise that it receives. The intro to the song is the best part, as Armstrong sings alone for a few brief seconds (and as the song repeats over and over, in fact).

I walk a lonely road
The only one that I have ever known
Don't know where it goes
But it's home to me and I walk alone

The next song, Are We The Waiting has a very quiet and sullen vibe to it. The guitars and bass are low and brooding, and the same could be said for the chorus itself. The chorus makes little to no sense to me, however. That's the only negative I can find in this one. The song is pretty short, clocking in at only a little under three minutes, which is a bit shorter than St. Jimmy. St. Jimmy returns to much of Green Day's roots with a punkish feel. The lyrics also give off the impression, which tell the story of a man named [you guessed it] Jimmy. Actually, the entire album is more or less conceptive.

Jimmy died today
he blew his brains out into the bay
in the state of mind
in my own private suicide

Give Me Novocaine is excellent. It demonstrates Armstrong's voice better than any other song, and puts it to use more than anything else as well. As in previous songs, the introduction is low and shy. The bass and guitar then up the ante, and the song grows louder with the chorus.She's A Rebel is quite reminiscent of St. Jimmy, but even faster paced. This is one of the better songs on American Idiot, if not for the sheer attitude that its reflects. Extraordinary Girl, Letterbomb, and Wake Me Up When September Ends seem to all follow the same similar path, while maintaining their own originality. Letterbomb features a creepy beginning with a girl repeating very memorable lines that I'm sure many people will recognize.

Homecoming is the second of two nine minute mammoths, and is a tad less genius as Jesus of Suburbia. For some reason it sounds a lot less like Green Day and a bit more like some other band. I also don't like the references to Spike TV in mid-song. Sure, it's just the lyrics and maybe even some needed filler - - but the least the band could do throughout the album is not make references to pop culture. I really like the drumming in Homecoming. Armstrong is at his best in this one [as usual], and I have nothing left to complain about. Whatshername closes American Idiot, and is a fine way to end the classic. The repetitive bass in the song is actually very cool, and makes for a nice, clean sound. This song is also the climax to the whole story of St. Jimmy and the girl referred to in She's a Rebel.

When it comes down to it, I couldn't imagine a better Green Day album. Without any exaggeration, this was 2004's best album. Hell, if you don't believe me, just check out some of the other reviews on this site. Dozens of people think the same.