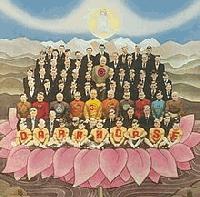 Release Date: 1974 | Tracklist

The Intro:

There comes a time in an artist's life when he finds himself spiraling out of control. Back in 1974, when George Harrison embarked on the making of "Dark Horse", he was in the midst of preparing for a tour of the United States, which came on the tail of an infamous marital breakup. The man was human. Profoundly spiritual and conscientious of his commitments, he damaged his voice rehearsing. George was perhaps a bit lonely, became a little crazy, and momentarily lost sight of God. However, through it all, he had a pocketful of songs that were a cathartic expression of pain, venom and ultimately, redemption.

The Review

1.Hari's On Tour(Express): The opening track, Hari's On Tour, is a guitar-heavy instrumental, and a damn good one too. The opening track on an album should grab the listener's attention and hold it, and this opener does just that.

2.Simply Shady: This is one of George's most underrated songs, in that it experiments with a number of different styles - and succeeds! Why didn't this song become a bigger hit" It's every bit as good as any number one hit Paul McCartney ever had in his solo career in my opinion.

3.So Sad: This is a song that George wrote about his marriage to Patty Boyd, who would end up leaving him for his best friend, Eric Clapton - and she left HIM not long after. Odd story, but it made for a good song in the end!

4.Maya Love: This is an excellent tune with some slight jazz influence which resembles his Beatles-era.It's an irresistibly fun mid-tempo track with great bluesy electric piano by Billy Preston, & great characteristically layered slide guitar from George.

5.Ding Dong Ding Dong: Now here is a weird song, but, is also catchy & fun (featuring a standard 8-note church melody like McCartney would later use as the intro to his "Let 'Em In", as its opening hook) even though it's very slight lyrically & a bit overly repetitive--George's voice is quite hoarse on this track.

6.Far East Man: Another one of the many underrated masterpieces is Far East Man. The lyrics here are about never turning your back on a friend - and Harrison pulls it off excellently.

7.Dark Horse: The title track was the only really big hit to emerge from the album, and it's only natural that the song became so popular - it's nothing short of excellent.

8.Bye Bye Love: George does away with the inane bounce of the Everly Brothers' original version, replacing it with this strongly dissonant, moody, start-and-stop version, adding lyrics that refer to "ol Clapper" (Eric Clapton) directly. He writes "Pattie + Eric Clapton" next to the track's name in the credits, but doesn't say what they actually do--I think it's quite clear that the rumour that they don't actually appear on the track at all is true--George writes the words "Rhythm Ace" next to the track, which clearly refers to the drum machine sound that is audible on the track, but with Patti & Eric not actually present, that means that George plays all the instruments on the track (he credits himself with "everything else").

9.It Is He(Jai Sri Krishna) The closer is quite different from the other songs on the album, but is nothing less in the quality department. It was an excellent way to finish off the album.

The Conclusion:

In the end, I would have to say that this album is some of Harrison's most underrated work. And that's a real shame, because it's also sone of his best. Although the album doesn't top All Things Must Pass (it's doubtful anything ever will, in my book), it's solid nonetheless, and well worth buying if you're a fan of George's.