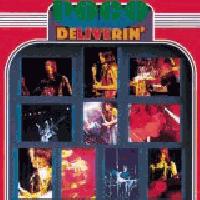 Poco

Deliverin'

Release Date: 1971 | Tracklist

Background Info:
Originally formed in 1968 under the name Pogo. They were forced to change their name to Poco when a comic strip artist named Walt Kelly threatened to sue them. The band would go on to release numerous records, but would later disband in August of 1987.

I Guess You Made It (3.75/5)
Since this is a live album it's very hard to hear certain parts of it ... the guitar is quite repetitive and the vocal wail out a story about how the woman made it, but she hurt them "oh so bad." But it's still a good song.

C'Mon (5/5)
The most lively and upbeat song on this album. Brings to you a style of backwoods music with that overly distorted guitar. Vocals aren't that impressive, it's just about the music.

Hear That Music (4.5/5)
At the intro he says "we're going to play some hill billy music", and that's exactly what it is in a sense. Light headed song with fast paced vocals. You can faintly hear a slide guitar in the backgrounds adding to that twangy backwoods vibe.

Kind Woman (4.25/5)
A love song about how a good kind woman gives you a reason for lovin'. Sappy country love ballad, but it's still good, the slide guitar adds to the emotional state of the song.

Medley: Child's Claim To Fame/Pickin' Up The Pieces (3/5)
This is a great example how it's not really about your lyrics, more about how you can keep the attention of the audience with your rocking. Good instruments, at a few points the vocals remind me of yodeling.

You'd Better Think Twice (4/5)
I really love the guitar picking on this, even though it's repetitive it's just something you really can get down to. It's one of those lighthearted threatening country songs -- "You better think twice before leaving me" says it pretty **** clear.

A Man Like Me (4.75/5)
A backwoods country love song that you'd most likely hear at the local moonshine distillery. The vocals and guitar go hand in hand on this track as both pick up and slowly drop off in perfect time. Awesome-ness!

Medley: Just In Case It Happens, Yes Indeed/Grand Junction/Consequently So Long (3.5/5)
Country folk song! The slide guitar in the backgrounds is awesome, really gives you a sense of your roots. To me this song is more about the instrumental than the vocals.

If you want some classic backwoods country music than this is the album for you! Although the vocals are far from great, the instruments are amazing. This album contains some pure southern guitar and steel lap slide guitar! If you like this kind of much, this album is something to admire and occasionally drool over.