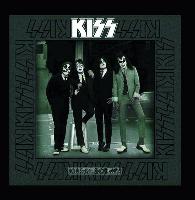 KISS

Dressed to Kill

Release Date: 1975 | Tracklist

This is by far the best kiss studio album of all time, definetly better than there previous album hotter than hell, which is surprising considering this whole album was written while they were on the road touring, but this is a great album with great 3 chord rock n roll...

the album opens with an awesome track titled room service, a very upbeat, all out rocker, it sort of reminds me of firehouse in the way that it is just really upbeat and stuff like that, this song is full of double meaning lyrics as you have come to expect with kiss!

the next song on this great album is Two timer which is one of the best gene songs ever, it is just really catchy and really good, the lyrics are not very clever though, but what can you expect...

Ladies in waiting is the next song on the album and it is one of the best gene songs that i have ever heard, although i dont think it was a wise choice to put 2 gene songs back to back, but still it is a good song.

the next track on the album is the best peter song except for black diamond, this song is a great rocker and an awesome guitar riff by ace!

the next song is one of pauls songs, and it is him at his best, the song is titled rock bottom and it is just a great song overall, ace once again is in fine form and paul is one of the strongest rhythm guitar players that i have ever heard, and peters drumming is once again in top form!

C'mon and love me comes next on the album and this is definetly the best song on the whole album, featuring a great solo from ace, some great vocals from paul and it just a really moodful song!...

Anything for my baby is most definetly not a standout track, this song dates back to the old wicked lester days, when they werent exactly heavy, some people like this song, others dont, and i am one of those others!

now what can we say about the next song she...IT IS FREAKING AMAZING...great lyrics great guitars great drumming, good solos and great singing parts from both paul and gene, this is one of kiss' most brilliant songs ever written.

next up is love her all i can, which is another great song from paul, and this is definetly a good album for paul songs, cause all of them seem to be good on this album!

and of course the last song on the album, rock n roll all nite, you have all heard the song, so there is no need to explain...i will just tell you something you might not of known, the song was written in Eugene Oregon!

so that is my review of an amazing kiss album!