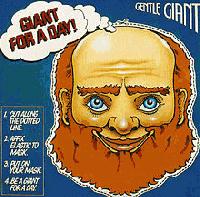 Release Date: 1978 | Tracklist

Gentle Giant was one of the many cult bands of the seventies. Like Uriah Heep they were huge in Europe but there only hit album in the states was their 1975 masterpiece " Free hand." But on " Giant for a Day" the band still have the guts to follow the course with their Middle Ages sounding Progressive Rock and Roll.

Gentle Giant have always had an eccentric sound, but they mix all sort of sounds on this album consider that the first track "Words From The Wise", has a sort of poppy electric feel, while the next song "Thank You" has an experimental feel combining electric and acoustic guitars. I think the wide range of sound on this album is what makes it very interesting and a great listen for fans of the progressive rock genre. But if you are looking for something that akins back to their album "Freehand", then "Giant For A Day", there most experimental album is not for you.

There are some great highlights of this album. "Take Me", which starts off with a jazzy feel accompanied with Derek Shulman's fast paced lyrics this all forms a catchy chorus that will have listener hooked on every word that Shulman says. This song also continues the bands experimentation, as it is really a jazz song with electric guitar thundering in the background. "Little Brown Bag", is a song I like because it has a hard rock feel instead of an experimental feel like most of the songs on this album. The song is fast and has some solid hooks and the guitar playing is the best of the entire album, and even though the lyric "Hold on to the little brown bag" might sound stupid the electric guitar fast paced beat supports it very well. "Friends", like "Thank You" earlier on the album is sort of a relaxing song and even though it is primarily acoustic it has some involvement of electric guitar. The song has great and catchy lyrics but its only failure is that it might repeat itself a little too much in beat and in lyrics.

There were a few tracks that really annoyed me on this album. "No Stranger", is one of these tracks, it sounds like a commercial song from a band that is suppose to be selling itself on progressive rock not lyrics like: "No stranger, No Danger". The song doesn't seem to flow very well as one part of the song doesn't really go into the other, for example the chorus doesn't go straight into the soft acoustic ballad part like this song tries to make happen. "Spooky Boogie", is not a good song, in fact it sounds like one of those cheesy songs you would hear while you are trick or treating on Halloween. It repeats the same electric guitar rhythm over and over again and really kills the albums momentum, and it's never good to have an instrumental on a ten-track album unless you're sure that album is pretty darn good.

Overall, "Giant For A Day" combines the bands progressive rock motives with there pop rock motives. In some tracks such as "Take Me, Little Brown Bag, and Friends" this is successful. But in other tracks like "No Stranger, and Spooky Boogie" the album has too much filler and repetitiveness and sort of wears itself out. I think this album is a good album but with a few tweaks it could be a whole lot better.