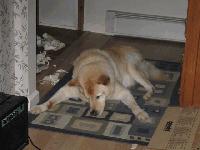 User
Soundoffs 8
Album Ratings 98
Objectivity 60%
Last Active 06-22-11 10:18 pm
Joined 08-30-09
Forum Posts
4
Review Comments 112
My Moment Albums

We all have those certain albums, whole bands even that we only listen to when the moment hits and stuff is just right. These are mine
1
Weezer


Pinkerton





Ahh Pinkerton. Back was Weezer was good, and man were they good. The moment for this album? Break ups. Another relationship gone and past and its time to listen to Pinkerton again, it has never failed to help. This tradition is one thats lasted for several years now, since my very first girlfriend of a month went sour.

2
Gatsbys American Dream


Gatsby's American Dream





Its been a good day. The opposite of the last album, good things happening to me leads to this. Its got those catchy hooks, and the almost metal influenced instrumentation lead by the catchy as hell, always great vocals. My hell yes album

3
The Fall Of Troy


Phantom On The Horizon





I consider this my favorite album, of all time. Now, knowing that, it is fairly rare that it gets played. I only play it when I can hear it completely in full, and only at night. The only real times are either when walking, or driving, and I just soak it all in. Walking across town and hearing the opening guitar to Chapter one, then feeling all the build up release in the climax of Chapter five is awesome.

4
Brand New


The Devil and God Are Raging Inside Me





Its night, im bored, maybe reading or something and I want to listen to something that absolutely fills my head, captures me. This is the only choice

5
Muse


Origin of Symmetry





Me and my friend used to always play video games at each others houses. Neither of us really play anymore, but often when we hang out we go online for some Halo, or something on those lines. This is easily our most played album for those situations, its an adrenaline ride from New Born's first transition, that heavy, distorted, crushing riff to Feeling Goods bluesy piano styling. Pure, undiluted ass kicking music.