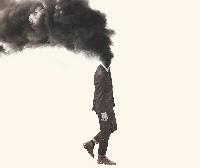 User

Soundoffs 6
Album Ratings 184
Objectivity 71%

Last Active 04-12-22 1:36 pm
Joined 04-12-22

Review Comments 6


Bands I don't get

I was looking at acclaimed bands from this website, whom I just can't get any, or little enjoyment out of. Maybe you can help me see the light. These were just on top of my head. Might add some more.
1
Counterparts


Nothing Left to Love





Honestly, every song sounds the same. Couldn't finish their album Nothing Left to Love because of the "repetition". The lyrics are depressing as fuck, which I actually don't mind, and the vocals are also really hard hitting. Cleary Brendan has some talent. I really enjoy his other band called END with Will Putney and a whole heap load of other well-known musicians.

2
Daughters


You Won't Get What You Want





This band just make me uncomfortable. I know that's on purpose, but I don't see the point in listening to this type of music. Also, I've seen a live performance of them from a few years back when they still were a mathcore/grindcore band, where the frontman, Alexis Marshall, performed with his pants down and con-tinually tried to wrap his dick around the mic stand, which didn't help their reputation in my eyes. I mean, Alexis generally seems like an awful human being, so maybe not liking them is the right move.

3
Thursday


Full Collapse





With this band, I can break it down to pretty much one thing. Geoff Rickly. I really don't like his voice, which is a shame considering there some real bangers on Full Collapse. It gives me pop punk vibes and that's a genre I've grown out of ten years ago. Honestly, I've nothing against him, but he also ruined a song on the Vein.fm album This World Is going to Ruin You. It was just at complete odds with the rest of the song/album. Granted, it isn't just his fault.

4
Alexisonfire


Otherness





This one is a little bit different. I remember hearing the song This Could Be Anywhere in the World and being instantly hooked. But then time past and I forgot about it only to rediscover it years later, and me being older and more invested in music, took a deep dive in their discography. What I realised was, that half the bands music is pretty boring. I really like the songs with proper aggression and speed. The others, not so much. Their new album also didn't change my opinion, if not the opposite.

5
Misery Signals


Of Malice and the Magnum Heart





I normally really enjoy Metalcore. Poison the Well being one example of a band who operates in a similar vein as Misery Signals. But while I like Poison the Well quite a lot, I don't find myself liking Misery Signals. Just a little bit to stale and repetitive for me. Mind you, I've only listened to Of Malice and the Magnum Heart and Controller.

6
Trophy Scars


Darkness, Oh Hell





Going into a completely different direction. This stuff is just way to out there. I mean, it's commendable that they have such a unique sound, but I'm not a fan of the blues influences and the general experimentation.