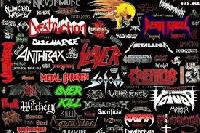 User
Soundoffs 306
Album Ratings 1786
Objectivity 77%
Last Active 02-21-19 9:33 pm
Joined 09-18-16
Forum Posts
0
Review Comments 5,517
Top Ten Extreme Metal Albums: 1987.

While not as stupendous or influential as the previous year, 1987 brought to us the first pure death metal albums, and this marked the excellent second wave of 80's thrash metal which was heading towards another peak not long from now. Some kickass debut records came out this year too. Note: one album per band, albums count as "extreme" based on their time of release, you get the drill at this point. Nominees: Like last year, the nominees are all REALLY good, like ⅘ to 4.5/5 good. Celtic frost - into the pandemonium Overkill - taking over Voivod - killing technology (really close) Kreator - terrible certainty (really close) Tankard - chemical invasion Sacrifice - forward to termination (really close) Exodus - pleasures of the flesh Artillery - terror squad Heathen - breaking the silence Infernal majesty - none shall defy Holy moses - finished with the dogs Coroner - r.i.p Carnivore - retaliation Exumer - rising from the sea Sacred reich - ignorance Possessed - the eyes of horror Agent steel - unstoppable force Intruder - live to die (probably number 11. Really underrated) Sarcofago - I.N.R.I (rec'd by bbgames)
10
Death


Scream Bloody Gore





Necrophagia's Season of The Dead may have come out a couple months prior, but this one is the embodiment of old school death metal and is the fantastic genesis to an illustrious career of defining death metal as the cultural counterpart of pop music for time to come. "Infernal Death," "Zombie Ritual," and "Baptized in Blood" are early displays of the band's trademarks with atmospheric intro buildups, howling vocals, pummeling riffs, and complex, technical soloing and are some of the band's grittiest material ever. The band would move forward into more progressive, technical realms with death metal and explore insighftul lyrical themes, but much credit and respect has to be given to their debut for truly kickstarting the movement and for its pure sense of energy. Excellent album and a must have for any death metal fan.

9
Sodom


Persecution Mania





This is where Sodom cut loose of their black metal influences and fully embrace gritty thrash metal. While not as varied or musically accomplished as their pinnacle Agent Orange, it's every bit as fresh and exciting in a more straightforward manner. "Nuclear Winter" is a killer opening with its swift pace, punchy rhythm section, aggressive, snarling vocals, and lightning fast riffing and sets the tone for the rest of the album. Simplicity is this record's greatest strength, and the result is an album that is wholly memorable and catchy compared to Sodom's German brethren at the time, and Angelripper proves to be a special, irreplaceable frontman from this point on. The band's first career peak and a really good one at that.

8
Death Angel


The Ultra-Violence





Ah yes...the grunts of thrash metal. Make no mistake though, for they proved here that they could thrash with the best [and older] of them with their 'ultra violent' debut. "Kill as One," "Evil Priest," and my favorite "Mistress of Pain" are packed with killer riffs and all around aggressive musicianship, and "Voracious Souls" and "Final Death" show they can take on longer compositions like champs. The production values are appropriately gritty and loud, capitalizing on their larger-than-life sound and presence, especially for the bass and drums. An easy candidate for one of the best thrash debuts of all time and Death Angel's best album.

7
Destruction


Release from Agony





Infernal Overkill was pretty solid, and Eternal Devastation was close to appearing on my top ten extreme metal albums: 1986 list, but Germany's most overlooked member of the big Teutonic thrashers adds a second guitarist and more technical approach songwriting to their formula and releases their best work to date. The vicious, technical guitarwork, grinding bass, well done drumming, Schmier's unique harsh vocals, and some killer production all amount to one of Germany's best thrash metal records. Top cuts include the t/t, "Sign of Fear," and "Survive to Die."

6
Sepultura


Schizophrenia





Sepultura is a special band that helped pioneer black metal and death metal, cement the status of thrash metal, and even pioneer groove metal and nu-metal (for better or worse). Their humble beginnings originate from black metal-tinged thrash with Bestial Devastation and Morbid Visions, and they move on to Death-tinged thrash metal with the follow-up Schizophrenia which would also carry over to Beneath The Remains and (to a lesser extent) Arise. They show considerable musical maturity here as the guitarwork and song structures are far more progressive, technical, and well developed, and they don't sacrifice speed or heaviness at all. In fact, this is probably their heaviest, grittiest album to date, and the production values are a step-up from previous efforts as well. "Escape to The Void," "From The Past Comes The Storms," "Inquisition Symphony," and closer "R.I.P (Rest In Pain)" are top cuts. An outstanding and often overlooked album from a legendary band.

5
Anthrax


Among the Living





One cannot deny that Anthrax had all the ingredients for a definitive thrash group that didn't focus on dark themes or gory lyrics, and they take no shortcuts with their most noteworthy album Among The Living. Inspired by Stephen King, indian heritage, and political corruption, Anthrax lay the groundwork for their pinnacle release packed to the brim with riffs, catchy choruses, and thrash metal staples like "Caught in a Mosh," "Indians," the t/t, and my favorite "I am The Law." They weren't just fluff either; their guitar tone, grinding basslines, and lightning fast drumming make for a satisfyingly heavy, swift album, and Joey's vocals are a little more gruff this time around (his melodic high notes and singing are intact too). You can pick between this and STD as their best album, but even if you don't like Anthrax (I don't know why you wouldn't), this is their career highlight and a real showstopper from the Big Four's least revered member.

4
Bathory


Under the Sign of the Black Mark





Often noted as their best pure black metal record, Bathory really ups the ante from their competent debut and its gloomy follow-up here. The themes are 'black' as usual, but the choruses are on point, and the musicianship is actually professionally executed; the guitarwork is the highlight for its vicious riffing and beautiful soloing, and the drums are powerful and aggressive. Quorthon's venomous vocals are the icing to the cake, and the production values, while low-fi for low-fi sake, are much improved from their previous albums. "Woman of Dark Desires," "Enter The Eternal Fire," and "of Doom…" are standouts. Bathory's best album up to this point and undoubtedly one of the best black metal albums of all time.

3
Toxik


World Circus





I don't love Think This. It's appropriately cold and mechanical to fit its political themes and concept, and the second guitarist helps elevate the solid material, but it's just….not fun or exciting. It's missing something. World Circus, however, is a much different story. Wasting no time with its opener "Heart Attack," we are sucked into a 37 minute whirlwind of wild, sprawling guitar work, Mike Sander's commanding banshee vocals, and an outstanding rhythm section backed by reverb-heavy production. Josh Christian is a special guitarist, hell I'd even call him the Eddie Van Halen of thrash metal just based on his contributions here alone. The riffs are wild and truly memorable, and his solos are technical, melodic, and hypnotic. "Heart Attack," the t/t, 'False Prophets," and "Victims" are outstanding cuts, and as far as thrash metal debuts are concerned, this album is easily up there with the likes of Bonded By Blood, The Legacy, and Kill em' All. This is Toxik in their prime.

2
Testament


The Legacy





Testament is arguably the biggest thrash group NOT part of the Big Four and may as well be the fifth member. The New Order expanded on their sense of melody, but on The Legacy, they really thrash out at a brisk 38 minutes, and the result is their most pummeling, aggressive album before their shift of direction with The Gathering and onward. The melody is definitely here too, especially in the choruses, the guitar harmonies, acoustic passages, and the out-of-this world guitar solos and riffs (the band's very best are here). Chuck sounds like a dog off a leash here, and this is Louis Clemente's best drumming with the band hands down (he even does double bass rolls on "First Strike is Deadly"). Stir all of these wonderful ingredients with bombastic production, and you get thrash classics like "Over The Wall," "First Strike is Deadly," and "Alone in The Dark," and everything here is really good and unique in its own right. Testament's best album and the best thrash metal album of 1987.

1
Candlemass


Nightfall





How could they top their miraculous, influential debut? Enter Messiah Marcolin (one of the coolest names ever). His operatic, soaring vocals steal the show on the band's pinnacle Nightfall. He proves himself not just a worthy vocalist but the group's definitive frontman, and the band's talents are on full display here too. Lars Johansson's guitar playing is powerful and noteworthy as he switches between thrashing riffs and slow, sludgy chords, and his guitar solos are killer. The stadium vibed production puts a lot of backbone on the competent rhythm section too, especially the drums. "Gothic Stone...the Well of Souls" is a terrific album opener that sets the tone for the rest of the album with eerie sung passages and constant sense of melancholy and powerful musicianship. A golden formula that stood the test of time to what I feel is Candlemass's best album to date and one of the best extreme metal records of the 80's.