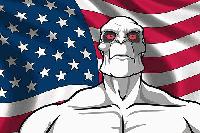 User
Reviews 157
Approval 97%
Soundoffs 11
News Articles 16
Band Edits + Tags 2,786
Album Edits 6,661
Album Ratings 2738
Objectivity 88%
Last Active 10-08-19 11:15 pm
Joined 08-18-16
Forum Posts
38
Review Comments 4,298
Stuff I Hated in Avengers: Endgame

*WARNING! SPOILERS AHEAD. I basically enjoyed the film, but being both a comic book geek and a perfectionist, there were some things I was disappointed by.
1
The Banner Year


All Your Beer Belongs To Us



Professor Hulk sucks.

There's a reason why "Hulk Smash!" is a thing, and "Banner think!" isn't. Hulk owed Thanos a serious beat down. The big green guy was seriously underused.
2
Valient Thorr


Our Own Masters



Funny fat Thor.

Yes, fat Thor is funny as hell. And Ragnarok was the best Thor movie. But I'm still not sold on funny Thor. I like my comic book movies and shows serious. Even though Chris Hemsworth has a real flair for comedy, it fucks with the tone of the rest of the MCU. There's a reason I like The Dark Knight way better than the '60s "Zap! Pow!" Batman.
3
Black Widow


Black Widow



Black Widow's death, Part 1.

I appreciate her sacrifice if I'm just looking at this film, but it kind of ruins the forthcoming Black Widow movie for me. What's the point of watching a prequel when you know she's already dead?
4
Black Widow


Sleeping With Demons



Black Widow's death, Part 2.

There's a whole logical problem with this sequence. In Infinity War, Thanos learns he has to sacrifice that which he loves, he throws Gamora off the cliff, OK, cool. Hawkeye didn't willingly sacrifice anything. Black Widow jumped off the cliff of her own accord. Logically, when Hawkeye climbed back up his little rope and held his hand out for the soul stone, Red Skull should have laughed in his face and told him to go eff himself.
5
Time Traveller


Morla And The Red Balloon



Time travel sucks.

Really. They can set up all the rules they want. But once you establish that time travel can change the present, it's a cheat you can always fall back on. It's fine for comedies like the Back to the Future or Bill and Ted movies. It sucks in action/adventure movies.
6
Brie Larson


Finally Out of P.E.



Way too much screen time for Brie Larson.

Which is to say any screen time at all. (Thought it was going to be worse, though.)
7
Iron Man


South of the Earth



Cap lives, Iron Man sacrifices.

Kind of would have preferred it the other way around. I like Captain America better as a character, and thought he was on the right side of the Civil War argument. Would have preferred he be the one to make the ultimate sacrifice, and Iron Man lived to get to see his daughter grow up. But I can live this choice.