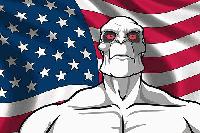 User
Reviews 163
Approval 97%
Soundoffs 12
News Articles 16
Band Edits + Tags 2,927
Album Edits 7,508
Album Ratings 2893
Objectivity 88%
Last Active 05-22-20 3:34 pm
Joined 08-18-16
Forum Posts
61
Review Comments 5,258
Howard Jones, Men W/O Hats, All Hail the Silence

Saw Howard Jones, Men Without Hats and All Hail the Silence live on Long Island tonight. Had a good time, but it was a strange show.
1
All Hail the Silence


Daggers





I mostly bought the ticket to see this band tonight (I've seen Jones and Men Without Hats before), and I enjoyed their set a lot. Their new Daggers album might be my favorite album of 2019 so far. They are protege's of Erasure's Vince Clark, and are very much in the '80s new wave tradition. And BT from this band also played with Howard Jones on his new album.

2
Men Without Hats


Rhythm of Youth





These guys played a full set tonight, that included "Pop Goes the World", a cover of ABBA's "SOS", and a number of songs from their 1982 Rhythm of Youth album. But while Ivan Doroschuk is still an energetic performer, let's face it -- it's all about "Safety Dance".

3
Howard Jones


Transform





This was the first North American date in this tour for Jones, who is supporting his brand new (May 2019) Transform album. They had some equipment problems early on, and the set felt a little lackluster to me until about the halfway point, at which point it kicked into another gear.