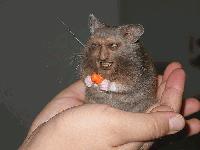 User
Reviews 123
Approval 94%
Soundoffs 238
News Articles 11
Band Edits + Tags 951
Album Edits 1,492
Album Ratings 0
Last Active 12-23-19 9:27 pm
Joined 09-16-14
Forum Posts
101
Review Comments 22,505
looking for an album/band

forgot what it was
1
Benjamin Clementine


At Least For Now



it's some sort of black metal or death metal that is very industrial-ish and weird.
the album cover is very minimalistic, a humanoid silhouette on a blue background (somewhat similar to this cover).
the album wasn't very well rated, a lot of people hated it, actually. (so you can't find it in the charts)
released between 2010-2014
i think there was a letter 'v' or 'x' in either the title or band name
it definitely had a review
2
Mastery


Valis





FOUND IT!