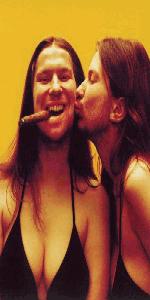 User
Soundoffs 2
Album Ratings 315
Objectivity 84%
Last Active 12-14-11 7:13 pm
Joined 04-13-10
Forum Posts
3
Review Comments 79
Everyday Listens.

Just my daily intake. It's like medication, except it actually helps me rthrough my day.
15
DJ Shadow


Endtroducing



The Trip-Hop album. I don't care what you say. Massive Attack and
Portishead are not the granddaddies of the genre. Massive Attack is too
downplayed and Portishead is too weird. they're still great, but this list is
about the best of the best. DJ Shadow just knows how to put beats
together. I guess I just lean towards more traditional work in this case.
While the beats are obviously made of samples, I can imagine someone
playing a drumset to make the beats. But enough about that. The
background of each track is magnificent. Even on the simple tracks, it's just
great.
14
Wu-Tang Clan


Enter the Wu-Tang (36 Chambers)



The Rap album. The only rap I have ever listened to that I've stuck with.
Sure, there was Eminem when I was 12, but that's ancient history now.
Something about this album just makes people like it. Almost everyone I
have come to know in my short life has this album or is planning on getting
it. It's not about how much money or other sh*t they have. It's not about
how many people they killed or how long they were in jail. It's about fun.
It's about doing whatever the hell you want and being proud about it.
13
Radiohead


Kid A



The Alternative album. This is as weird as it gets. Everything is tampered
with. Vocals, guitar, everything. From a strange opening lyric to a song that
comes and goes as it pleases, this album is perfection. When my friend
Steve told me how to get into Radiohead he said "Start with In rainbows.
Kid A will just freak you out." Of course, I ignored him. But he was right. But
thank God he was. It freaked me out, but in a good way. After the first
listen, I sat for 5-7 minutes wondering what the fcuk I had just witnessed.
After my chin was finished chilling on the floor, I immediately listened again,
and the rest is history.
12
Parades


Foreign Tapes



The Indie album. It's soft, electronic, and just fits. It gets repetitive, but it's
just a nice listening experience. It sounds kind of weird at times, but I
never really cared. It doesn't really stand out from the genre, but for some
reason, it stands out for me.
11
Maybeshewill


Sing The Word Hope In Four-Part Harmony



This one... I guess would fall under more Post Rock, but with obvious
hardcore influence. I just recently got this album, and instantly fell in love
with it. It's instrumental, it's in-your-face, and I like it. It has a few samples
which, through my limited experiences in focusing on them, sound like
pretty powerful messages, although sometimes the instruments become
louder than them and I miss some of the spoken words. The time
signatures are strange, and the way the band pulls it all together is even
stranger. It follows normal Post Rock structure, but emphasizes the swells,
as well as everything, really, with the wall of sound that comes from the
guitars.
10
The Hush Sound


Like Vines



The Pop album. The only one I own, aside from [b]So Sudden[/b], also by
them. This album is just fun. It may not be as instrumentally focused as
[b]So Sudden[/b], but I feel more of a connection to it, for some reason.
Greta Salpeter is the first female vocalist I ever really connected with.
Something about her voice is just enchanting. ...And the other guys are
good too, I guess.
9
Boards of Canada


Music Has The Right to Children



The Electronic album. While some of it is extremely ambient, it's still
awesome. It's the perfect "outside album." It makes you feel like you
belong in nature. It's the most focused of their "Big Three," and pulls out all
the stops. It may not suck me in as much as the rest of the albums on this
list, but it's still in the same league. Once [i]Roygbiv[/i] finishes, I usually hit
rewind one or two more times. It may be my favorite song ever.
8
The Sound of Animals Fighting


Tiger and the Duke



The Experimental album. There are so many impeccable musicians in this
band, and so many influences. Somehow, as if by some divine power, it fits.
Some may call it weird, but I see the beauty in it. While this album is their
most plain, in the sense that, aside from the interludes, uses little electronic
influence. Every musician in this super, no, ultragroup is impeccable. I wish I
had the attention span to list them all, but that's too much to ask of me.
Anthony Green and Craig Owens' vocals are beautiful. So beautiful, in fact,
that I can't pick which I like better, the original, or remastered album. The
boys from Rx Bandits lay the framework of the main songs by doing what
they do best. Chris Tsagakis does wonders behind his set. And Rich
Balling's poetry is exquisite.
7
Moving Mountains


Pneuma



This one's hard to place. There are obvious Indie influences, as well as a
folk-ish track. But overall, it's the Post Rock album. Another recent
discovery, I fell in love as soon as I heard it. I had been searching for some
new, really good Post Rock, but I wasn't expecting this. It was like an angel
delivered it to me. Well, not really. It was my brother. But either way, it was
something divine. It almost brings me a step closer to believing in God.
6
Deadmau5


For Lack of A Better Name



The House album. Nothing in the genre compares to this. Nothing in any
form of club music I've heard does. It may get repetitive, but the beats are
so good it doesn't make a difference. I don't know what he did in between
this album and his other work that just clicked. It seems unreal to me that it
could happen. I mean, there are a couple of songs from other albums I like,
but none of his other work compares to this album. When I heard
Deadmau5 was going to be on the 2010 VMA's, for the first time in as long
as I remember, I thought of how much of a milestone in his career it was,
instead of how shitty MTV is. At that moment, I knew I'd made an excellent
choice in music. I think, because of that, Deadmau5 will always be a part of
my collection.
5
Bon Iver


For Emma, Forever Ago



The Folk album. The way Justin Vernon layers his vocals (as well as his
guitar, on some tracks) only adds to the feeling of this album. It's like, no, it
is a cry to a lost loved one. The layers on his voice aren't just the same
vocal track pitched differently. He literally sings each song multiple times, in
different time signatures, each with a different emotion. I've never heard
anything like it, and most likely, never will.
4
Converge


Jane Doe



The Mathcore album. The pure emotion that bleeds out of the speakers
when this album plays is awe-inspiring. Whenever any song off this album
comes up on shuffle, I immediately play the entire album. It's just too good
to break up. Though Jacob Bannon's lyrics are almost impossible to make
out, even for veterans of the album, it doesn't matter. I find myself just
screaming along whenever I can't understand him.
3
Brand New


The Devil And God Are Raging Inside Me



The Emo album. My friends had listened to them for a while, but I just never
saw much in it. Probably because I had the idea that anything and
everything that ever got one play on the radio sucked. This is about 95%
true, but thank God Brand New fall into the deficit. The instrumentation just
clicks in my head. Jesse Lacey's soft-spoken cries and croons give me chills.
Though simple and slow for the most part, this album holds a special place
in my heart, and my eardrums.
2
Death


The Sound of Perseverance



The Metal album. It's so raw and powerful. Every note, beat, and scream is
perfect. I can literally feel everything Chuck and the boys put into this
album. It has a very "stop-and-go" feel to it. Whenever it stops, it instantly
comes back with everything it has. The way Chuck Schuldiner delivers his
lyrics is amazing. He doesn't really sing. He screams. And he doesn't just
sing on his own, he uses his voice as an instrument, moreso than any other
metal singer I've heard. He waits for the perfect time to let loose his angry
bellows, syllable-by-syllable.
1
Streetlight Manifesto


Everything Goes Numb



The Ska album. The songwriting, the instrumentation, the energy; all
fucking great. I make it a point to listen to this album, beginning to end,
every day. The love I have for this band, this album, this genre is
inexplainable. The lyrics are amazing as well as fast-paced. I know this
album word for word, and I constantly find myself lost as I sing along
sometimes, no matter how many times I do so. The fact that such an
ensemble of musicians seems unreal to me. And yet, I witness it every
single day, sometimes multiple times per day.