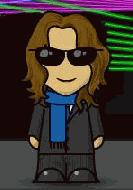 User
Reviews 97
Approval 93%
Soundoffs 15
News Articles 55
Band Edits + Tags 20
Album Edits 13
Album Ratings 269
Objectivity 74%
Last Active 08-15-17 2:26 pm
Joined 06-19-05
Forum Posts
19,954
Review Comments 1,354
JXD :10 Best Albums Of 2006

My Top 10 Albums Of 2006
1
The Format


Dog Problems





An album which took many Format fans by surprise and knocked me for a loop, Dog Problems is comprised of perfect pop music in the tradition of Brian Wilson and classic pop groups gone past. The Format kicked their previous jangle pop to the curb in favor of ornate instrumentation with pitch perfect hooks and came up with something truly special for this album. A record full of heartbreaking lyrics yet music so uplifting you can't help but smile through your tears, this album of diverse and colorfully performed pop gems of love, life, loss, and just enough hope to get you by is a bittersweet delight for all who listen.

2
Bruce Springsteen


We Shall Overcome: The Seeger Sessions





Completely unexpected yet somehow perfectly suited, Bruce Springsteen ditched the E Street Band once again and assembled a big band of well seasoned folk musicians for this album of traditional Americana numbers filtered through folkie Pete Seeger and now through Springsteen himself. Recorded live and unrehearsed in the living room of his New Jersey home the album rocks with the heart of righteous justice and spiritual joy, carrying forth Springsteen's newfound vision of social and political equality for all. After The Rising album and subsequent tour many expected a retreat back to the Bruce of old. Instead in a perfect turn he carried on the message of "The New Boss" not by going forward, but by reaching back in time and showing us the force of music made and played for a real [i]purpose[/i] is relevant in any day and age when done with heart, faith, conviction, and fortitude. Take hope....what once was is again....

3
Grant-Lee Phillips


nineteeneighties





An album of '80's Alt/Indie covers among the best albums of the year? You bet. Grant Lee-Phillips takes these songs from his youth and reimagines them as rustic, niorish, day at dusk ballads and turns up gold on nineteeneighties. Sounding as if a band walked into your living room with acoustic instruments and began taking request from the golden age of Alt Rock, this album is a layered shot of cool that manages to turn these songs inside out without losing their soul and adding new depth all the while. A singular and impressive achievement in this past year of music.

4
Elvis Costello


The River In Reverse





Born of the hurricane Katrina disaster that destroyed a major American city in one fell swoop, this soulful, deeply spiritual release finds Elvis Costello and the Imposter's engaged with legendary New Orleans R&B piano man Allen Toussaint for a set of his classics, several newly penned collaborations, and just a little bit of protest. Costello shines on vocals doing the old standards while Toussaint lays down tasty piano work throughout, but the real revelations come on those several newly written songs and the Costello penned title track. And what was simply to be a "songbook" record of Costello doing Toussaint covers was instead turned into a thoughtful, bluesy, gospel infused album of pain, hope and despair, and a testament to the hardship of overcoming. A must listen for any Costello, Toussaint, or music fan in general.

5
Jerry Lee Lewis


Last Man Standing





The Killer gets a lot of help on this record from everyone from Jimmy Page ripping it up on Led Zeppelin's "Rock N Roll" to Mick Jagger lending country blue vocals to his own "Evening Gown", and Bruce Springsteen checking in for "Pink Cadillac". Not that Lewis needs any help as Jerry Lee shows this old hellraiser can more then hold his own next to those he inspired throughout the years. With rollicking piano, strong voice, impeccable production, and new arrangements which breathe new life into this set of rave ups and heartfelt ballads, Jerry Lee Lewis is alive and well on this soulful collection of classic covers. Still shakin' it after years of heartbreak, setbacks, and at one time a career left for dead, The Killer stands tall once again.

6
The Who


Endless Wire





Entering there early '60s as elder statesman of rock, Pete Townshend and Roger Daltrey give it one last go in the name of the guitar smashing, microphone twirling, Keith Moon propelled band they once were. "The New Who" are not quite the same as the old Who on Endless Wire, and this album split in two parts has its rough edges and inconsistent peaks and valleys. But through it all Townshend's strong songwriting and modern production comes shining through and the spirit of the old band is present and accounted for. An album that isn't afraid to show its age or the flaws which come with, it serves as an elegant final bow to this once mighty rock n roll band. As acoustic as it is electric and as thoughtful and impassioned as the band ever were in the final days of their original run, its a fitting end to a beautiful journey of music making that started over 40 years ago. Old dogs performing old tricks? Perhaps? But also showing some new to great and rewarding success. Smash one more useless guitar for me, Pete....

7
New York Dolls


One Day It Will Please Us To Remember...





No longer the young upstarts they once were in fishnets and spandex taking bold new music to an unfamiliar and not quite ready for it world, on "One Day It Will Please Us To Remember Even This" the New York Dolls gave us an album that one day they will indeed be pleased to look back on and smile about. No longer at the forefront of a bold new era in rock n roll the disc finds this storied and legendary band locked in a groove with all it's influences, and happy to be there. Perhaps a classic case of the more things change the more they stay the same, the New York Dolls rock hard and rock often on this record. And in places it evokes the musical spirit of the original group so much you wonder beyond the unique look of the band back in the day what all the hoopla must have been about, as this is fairly standard rock n roll. Was it really all about playing dress up and barely knowing how to play your instruments after all? Was this the stuff of rock n roll genius? Answer: Yes, it was. That's exactly what it was about. Good, angsty, stupid fun. And on "One Day It Will Please Us To Remember Even This" the New York Dolls return to remind us once again it's only rock n roll. And their is plenty reason to like it.

8
Red Hot Chili Peppers


Stadium Arcadium





Neither taking a step back or a step forward, this magnum opus from the RHCP finds the band simply playing it from where they stand and letting it rip. Lean, muscular, and impeccably performed, this is the first album by the Chili's since BSSM that sounds like it belongs to all four of its members equally, each given his own space to stretch out and flex. "Dani California" was perhaps an underwhelming first single, but clean funk jams like "Hump de Bump" and "Storm In A Tea Cup", as well as rock solid gems like "Readymade" and "She's Only 18" mix with the Chili's newer more subdued material to great effect, and when all is said and done the whole far exceeds the sum of its parts. The likes of which naysayers and hi-brow cynics love to pick to the bone. This is an [i]album of songs[/i] in the best sense of the term. And the RHCP have seldom been more in tune then on this record with all that is groove. heart, and soul. Underrated by many, Stadium Arcadium its nothing short of spectacular rock n roll at its heady, funky best.

9
Outkast


Idlewild





It was only obvious the follow up album to "SpeakerBoxxx/ The Love Below" would come under great scrutiny from fans and critics alike. And Idlewild is perhaps not for everyone. But for the more adventurous and less hip among us, if you delve deep enough into the groove, beats, and undeniable soul of this album, the rewards are rich and satisfying to say the very least. Simple, direct, colorful and diverse, Idlewild is a trippy dance through time that explores the blues, jazz, rock, and funk of it all. And it wraps it up tightly in a singular vision which others have explored but few have done this well in recent memory. Unique? No. There is nothing new under the sun. Groundbreaking? Certainly not. Def, dope, wack, and sick. Certainly so. Add infinitum. And if you can't understand that, perhaps you need not venture to the dizzying hip hop highs and lows this album takes to the listener. As for the rest of us, we'll just sit back, groove, and enjoy the trip.

10
Paul Westerberg


Open Season - Soundtrack





Paul Westerberg's brightest sounding album in years, this soundtrack full of pop tunes written for wild little critters from cartoon land might be the last place you would expect to find an oft times melancholy songwriter the likes of Westerberg. However those more familiar with this artist are well aware of his upbeat, funny, and hopeful side as well, and this soundtrack finds Paul at his happiest moments ever. On tunes like "Meet Me In The Meadow" "Right To Bear Arms" and "Whisper Me Luck", Paul rocks and rolls playful with his furry little friends and sounds more inspired then he has in years. Tuneful, infectiously catchy, and sounding somewhat outside himself, Open Season finds Westerberg lost in the joy of it all on this record of upbeat, freedom loving pop songs and ballads. Standard Paul Westerberg? Sure. And simply that bit more which makes the winning difference between being just another solid Paul Westerberg outing and one of the years very best albums.