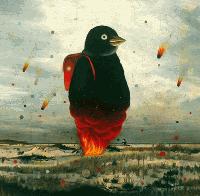 User
Reviews 3
Approval 100%
Soundoffs 22
Album Ratings 818
Objectivity 56%
Last Active 03-31-11 6:03 pm
Joined 09-29-08
Forum Posts
4
Review Comments 687
Songs Of '09

So I originally posted this on facebook a week ago but I felt like you guys might enjoy it. Also I technically made this an album list because I like seeing the cover art. / It seems that 2009 was, if anything, not a particularly warm year for music or life in general: Michael Jackson died, hipster culture threatened to eat itself and Lil Wayne rapped "honestly I'm down like the economy" on one of the year's biggest hits. / Still, as always, we got our share of the good stuff. Here I present to you my 25 Songs of '09, some culled as highlights from the year's greatest albums, others simply great singles, all managing to get stuck in my head for long periods of time and all rendered awfully by my out-of-key voice. Here I limited the selection only to tracks released in '09 (that means no selections from 808s-era Kanye or Lady Gaga's The Fame, among other '08 greats that found belated appreciation last year) and to one track per album. In addition, 2009 had some really great albums (Dark Was the Night, Raekwon's OB4CL2, etc.) where no song really stood out enough for me to mention here, so let's not forget those. My personal choice for Song of the Year is first, but the other tracks aren?t really in a particular qualitative order. Enjoy:
1
Dirty Projectors


Bitte Orca



"Stillness Is the Move"
/
When I think of adjectives to describe "Stillness Is the Move", the word that instantly comes to mind is "towering". This is probably a result of the way the melodies constantly pile on top of the shimmying percussion, as well as Amber Coffman's yearning "for another even higher mountain".
/
But ascension is not the theme here; one can groove to "Stillness" instantly and, with the exception of the guitars and vocals (both entering within the first 30 seconds), the only major addition to the sound throughout is the string quartet that enters slightly after three minutes in. Instead of building towards a point of cathartic release, its acrobatic melodies and lyrical themes of eternal, unconditional love fill air and ear alike with a steady rapture. This is achieved with a sense of pure, perfect pop (the Mariah Carey comparisons are accurate) and, simultaneously, a creative integrity that puts other forward-thinking artists to shame. And being the tour de force that it is, the entrance of the aforementioned string quartet only heightens the power of the track, complementing the music to spine-tingling effect. So, simply, "Stillness Is the Move" is a mountain that moves mountains. Fitting that it should stand tall above every other song released in 2009.
2
Animal Collective


Merriweather Post Pavilion



"Brother Sport"
/
Listening to the blissful, ecstatic highs of Merriweather Post Pavilion, it's not hard to see why the album is so revered and why it met so many perfect ratings and Album of the Year accolades from critics and fans alike. Nevertheless, MPP as a whole is not a perfect album, but its previously mentioned bliss is nowhere better expressed than on "Brother Sport", its final track. Lyrically, the song follows the MPP theme of simple familial and interpersonal desires: say "brother sports" 5 times fast and you'll end up with "support your brother", a cheerful mantra of help repeated here explicitly (i.e. when they actually say that) and thematically ("You got the real good shot!" etc.) through spellbinding melodies laced over the most danceable track of AC's career.
/
It's telling that, as shown by early live performances of the song, the persistent rave sirens in the track's second-quarter were originally Avey Tare's unsettling screams. As gnarly as this sounds in theory to a fan (like myself) of the band's earlier and stranger work, one realizes that it would be grating to hear non-stop for 95 seconds. This decision to change a key element of the song to accommodate a pleasanter listening experience represents a sort of adjustment that Animal Collective portrayed in their work as a whole in 2009, and in "Brother Sport" it sustains what is easily one of the year's most brilliant pieces of music.
3
Grizzly Bear


Veckatimest



"Ready, Able"
/
Suspense is palpable within the first 30 seconds of "Ready, Able": the chugging guitars and the opening line, "I'm gonna take a stab at this / hope that I'll be alright..." both foreshadow something big and great. And it arrives, less than 90 seconds later: the instrumental flourish that follows the 2nd verse elevates the listener into a higher, heavenly realm than the one they existed in before. There lies the crux of "Ready, Able": Ed Droste's gorgeous melody of "They go, we go and I want you to know what / I did, I did", the only remaining lyrics in the song. It is apparent in the final 30 seconds of the song, a comedown of sorts, that Grizzly Bear have created something incredibly special. This band generated all sorts of (deserved) buzz this year, and "Ready, Able" may just be their most magical moment.
4
Miley Cyrus


The Time of Our Lives



"Party in the U.S.A."
/
Best career move of 2009? Nothing pre- (or post-)"Party" of either Miley or Hannah Montana's resume touches this trunk-rattling, synth-filled fun-fest. The first thunderclap bass thud recalls Justice more than any other contemporary pop artist, transforming Miley's once-disagreeable teen rawk into a smoothly sublime jam, well equipped for any social occasion. Its infectious desire for partying could not help but enthrall the minds of millions across America. Hell, by the last "it's a party in the U.S.A.!" even Miley can't help but laugh.
5
Iyaz


Replay



"Replay"
/
It was a good second half of 2009 for pop producer J.R. Rotem. But whereas both of his Jason Derulo singles are awful, his "Replay" is an undeniably sweet hit. One cannot help but empathize with Iyaz: there is simple beauty in the fact that he cannot resist singing in praise of his special girl. He openly states the luck of his situation ("Who would've ever knewww / that we would ever be more than friends?"), he talks to her all night, he cooks the things she likes, all with a straightforward honesty and impressive hook unknown even to mentor Sean Kingston (no Ben E. King or Led Zeppelin fans should get pissed off by "Replay"). The track could have just as easily been called "Melody"; there aren't many more fitting metaphors for a lover as universal as an irresistible tune. And "Replay" is just that.
6
Sunset Rubdown


Dragonslayer



"Idiot Heart"
/
Many great Sunset Rubdown songs snake through different melodies and choruses as movements in a larger piece, one that as a whole becomes, as the age-old critic's complement goes, "more than the sum of its parts". "Idiot Heart" teases brilliantly for three minutes before releasing its energy amid a rhythmic flurry of drums and jagged guitars. At this point Spencer Krug's melodic observation, "Oh, look at you go!" seems to be directed at the song itself. This rush is then interrupted by a winning combination of bells and group chanting before jaw-dropping synths enter. I could go on to describe the section of stop/start guitars, the cathartic finale, the verbal throwback to an earlier SR classic, how the lyrical themes of Icarus form an incredible parallel with the song structure, or any other amazing aspect of "Idiot Heart", but that would just be avoidance of stating the overall effect: a whopping six-minutes of inventive and engaging indie-rock.
7
Dizzee Rascal


Tongue N' Cheek



"Holiday"
/
Somewhere in England, hardcore grime fans are staring at their worn-out copies of Dizzee Rascal's polarizing 2003 debut Boy in Da Corner and crying. Because with "Holiday", Dizzee has forsaken his unorthodox roots of rapping hard-to-decipher rhymes over raw, ugly beats and created a straight-up pop song. His breezy verses here are on par with the very best Flo Rida material (he's not afraid to drop a "Just gimme ya numba!" line) and the beat is major-key synth fun, tailor-made to soundtrack the beach party of a feel-good summer blockbuster. The results, fortunately, are about as enjoyable as Madonna's "Holiday".
8
Discovery


LP



"Orange Shirt"
/
When music critics label an indie song, album, etc. as a should-be crossover hit, this usually amounts to little more than wishful thinking. But when I tell you that about "Orange Shirt", it isn't: I can actually envision an alternate universe in which this song was as popular last year as Justin Bieber's "One Time", where thousands of Facebook statuses read "im walking past your house but im never gonna stop there" and the track receives constant radio airplay.
/
Because although Discovery's LP received criticism last year for acting as more of a slightly incoherent, auto-tuned pop release than the resultant in a "Vampire Weekend + Ra Ra Riot = [Band]" equation, those in favor of the album found comfort in the fact that it (usually) delivered as the former. Album opener "Orange Shirt" acts as a simultaneous thesis for Discovery and their best track, gleaming with synthetic pop candy and working exceptionally well in today's musical climate even if it never managed to find commercial success.
9
Atlas Sound


Logos



"Walkabout (ft. Panda Bear)"
/
As Atlas Sound, Deerhunter frontman Bradford Cox's early solo work often sounded like just that- a photocopy of Deerhunter that was missing many of their key elements. But in 2009 he found an impressive progression in Logos, a thoroughly enjoyable 2nd Atlas Sound release that added a necessary element of warmth to his previously frozen soundscapes. The most joyous moment of Logos is "Walkabout": you can actually pop, lock and drop to this thing, and Panda Bear's sunny Person Pitch-disposition compliments Cox's musical ethereality as if they were already a renowned duo.
10
Jay-Z


The Blueprint 3



"On to the Next One"
/
Where Alicia Keys provided a soaring vocal chorus to critical favorite "Empire State of Mind" and Kanye murdered "Run This Town" with the Rap of the Year (if not, at least the Guest Spot), "On to the Next One" is, with the exception of producer Swizz Beatz's hook, an unassisted Jay-Z banger.
/
I initially questioned Swizzy's decision to blatantly sample the "UNDER THE SPOTLIGHTS" portion of '07 breadwinner "D.A.N.C.E.", but within little time it became clear that the slamming repetition of Justice's robotic army was something glorious, a "Swagga Like Us" improved upon tenfold. And Hov does not go soft. This is perhaps most apparent three minutes in, when the aforementioned robot army takes a break and we find Jigga remaining, all "Big pimpin' in the house now / I bought the land, tore the muthafuckin' house down / Bought the car, tore the muthafuckin' roof off / Ride clean, I don't ever take the shoes off". Whether you consider The Blueprint 3 a dismal failure or one of the year's greatest albums or anything in-between, this cut is straight undeniable.
11
The Flaming Lips


Embryonic



"Worm Mountain (ft. MGMT)"
/
"Worm Mountain" rattles with stoned-out bliss for miles. A fat, fuzzy guitar sets the mood, assisted by percussion that ranges from groovy to rapid. MGMT add appropriate, sky-reaching group harmonies (and whatever the hell else it is that they do here) to the mix to create a better song than anything they've done so far, something to be said for a casual fan of their work. It's simply incredible that after over 25 years together as a band, The Flaming Lips are able to create something this creative and this flat-out great. And greatness is the most prominent element in "Worm Mountain", up through its final minute in which a heavenly coda of synths rounds out the piece like the end of a lullaby.
12
The xx


xx



"Infinity"
/
xx debut xx is already destined for Late-Night Indie Classic status, and "Infinity" pinpoints its greatest strengths: a cool, calming atmosphere, fantastic drum programming, incredible melodies and stark sensuality. "I can't give it up / for someone else's touch / because I care too much" sounds beautiful and speaks volumes in the context of the music, especially during the song's amazing final crescendo.
13
Antony and the Johnsons


The Crying Light



"Kiss My Name"
/
"Kiss My Name", much like Antony Hegarty, is unabashedly gay. With that voice, "I'm trying to kiss my friends" would probably be taken seriously by about 10% of newcomers, yet Antony still expresses his troubles and desires as passionately as ever. Nevertheless, "Kiss My Name" is also a remarkably unique track for him, exchanging his typically tear-inducing form of balladry for something of an imaginary pop song.
/
It works tremendously: the track feels like a rush, the verses dancing by until its wonderful finale assisted by a spiraling violin. As hard as it is to relate to Antony in any way, here his outsider?s song is gracefully heartwarming and lovable. This heterosexual is deeply moved.
14
Big Boi


Sir Luscious Leftfoot: The Son of Chico Dusty



"Shine Blockas (ft. Gucci Mane)"
/
It's a shame that by the time Big Boi finally releases Sir Luscious Leftfoot (if that ever happens [whaddup Detox]), I and every other blog-perusing rap fan will have listened to standout track "Shine Blockas" over 20 times. We can't be blamed because this is just dope, addictive stuff: the smoothly irresistible beat, the way the chorus perfectly spearheads the song's anti-shine blocking thesis, the way Big Boi's classic ATL-repping flow is contrasted by rookie Gucci Mane's swag-infused half-mumble (out of the dozens of songs Gucci was involved with this year, his rhymes here are at their best). It all resounds with such greatness, such (*ahem*) unblock-able shine that it is destined to be nothing less than an unforgettable track to usher in the new decade.
15
The Dream


Love vs. Money



"Rockin' That Shit"
/
Where has The-Dream been all my life? Better question: where has The-Dream been all your life? He wrote and produced a significant amount of "Single Ladies" as well as "Umbrella", so it's only logical that his solo work should execute just as successful a pop formula.
/
And it really, really does. An affecting feeling of enchantment lies at the very core of "Rockin' That Shit", oozing from its heavy synth lines and futuristic drums. It perfectly encapsulates The-Dream?s speechlessness: when he drops a shy "There?s nothing I can say..." at the end of each verse, one can't help but agree.
16
Britney Spears


Britney Spears: The Singles Collection



"3"
/
After years of scandals, comeback singles, marriage and divorce, "It's Britney, bitch", etc., here it finally is: this is her best song since "Toxic".
And while it doesn't eclipse the track (let's be honest), "3" is unexpectedly awesome. Britney's vocal manipulations are used to impressively successful effect (I had no idea it was even her the first time I heard it), and after 11 years she somehow remains as seductive as ever. How can one resist, "Let's make a team / make 'em say my name / love in the extreme / now are you / game"? Even though the acoustic breakdown feels a little cliche at first, it redeems itself with "or four? on the floor!" simultaneously rhyming, adding a surprising twist to the whole "menage a trios"-theme and namechecking the track's musical rhythm. Somehow, in a year surrounded by Ke$ha and Cascada and other uprising female pop stars, "3" triumphs because it proves that Britney's still got it.
17
The Very Best


Warm Heart of Africa



"Julia"
/
The wavering high-frequency that opens "Julia" combined with the drums and compressed handclaps forms the kind of perfect slow-grind that is almost too good for a collective pop consciousness to grasp hold of. Then some Malawian guy starts rapping in Malawian. It's pretty sick.
/
But, to those familiar with The Very Best and their cross-continental pop concoctions, here's my 2 cents: they need to make more songs like "Julia". Nothing else of theirs resounds with such original, sing-alongable joy or fierce electro bounce. At least they got it right here.
18
Sleigh Bells


Crown on the Ground



"Crown on the Ground"
/
I'll admit that I'm a fan of ear-splitting guitars and cute school-girl harmonies, but I never knew that I had a secret desire for them to unite until "Crown on the Ground". Sleigh Bells really go all-out with it here, may your speakers rest in peace. And while it's hard to tell whether this style could carry a whole album, interpretation of the song's chorus- "Set, set that crown on the ground" reveals a bold statement of revolution. It's Sleigh Bells telling old bands to move over, it looks like they're here to stay.
19
Kid Sister


Ultraviolet



"Right Hand Hi"
/
The never-ending chorus is a brilliant concept. Here we find Kid Sister perfecting the technique, her gleeful introduction doubling as a command to raise the roof: "Hi, I'm Kid Sister... better get your right hand / Hi, I'm Kid Sister..." ad infinitum. Backing this chorus is a euphoric beat, one that should be found blasting out of every car and every club in the nation, and the verses retain Kid Sis' previously splendid swag and pomp, needing no assistance from Kanye or David Banner this time around. "Right Hand Hi" is criminally under-appreciated, but oh well: if this never ends up in constant rotation on any radio station (prospects aren't looking good) then I'll just have to keep playing it dozens of times myself.
20
Mew


No More Stories



"Introducing Palace Players"
/
A tune-up of awkward rhythm precedes the stadium-sized anthem that fans of Danish act Mew knew they were always capable of making. As always, lead singer Jonas Bjerre lends their key element: that mind-blowing falsetto. But this time it's backed by a savage guitar, pumping the listener up before they reach what is arguably the best chorus of Mew's career.
21
Bon Iver


Blood Bank



"Woods"
/
I'm not a big fan of the first 12-or-so minutes of Bon Iver's Blood Bank EP. The title track is simply fine; "Beach Baby" is slightly annoying? I can't even recall a thing about the penultimate "Babys".
/
And then there's this. "Woods" straight up shocked me the first time I heard it, (especially since it was on headphones) and it's the only Bon Iver song that keeps me coming back for more. It emerges from silence, his stunning autotuned voice, and as it repeats the same four lines over and over again layers unfold: harmonizing, amazing. It is audaciously spare, even more so than Imogen Heap's "Hide and Seek" (the spiritual counterpart of "Woods"), yet it is somehow even more emotionally affecting for it.
22
The Lonely Island


Incredibad



"I'm on a Boat (ft. T-Pain)"
/
Incredibad was a more perfectly executed project than anyone really could've expected: hilarious, melodic and excellently timed to ensure maximum enjoyment and laughter. "I'm on a Boat" remains its greatest single (released in 2009 at least), forever redefining aquatic travel with the King of Autotune's indispensable assistance.
23
The Thermals


Now We Can See



"Now We Can See"
/
Here's my selling-point: I heard somewhere from 30 seconds to one minute of "Now We Can See" on Sirius/XM's indie station for the first time in March and it was still stuck on my head almost a month later, prompting me to buy the entire album. "Oh-way-oh-ooh-wa-oh!" is one mind-bending rollercoaster of a melody and The Thermals utilize their tried and true "post-pop-punk" formula to make it unforgettable. Hutch Harris' vocal performance during the verses is almost comedic: somewhere between actual singing and an oration to secure his ballot for a presidency. This, combined with the guitar solo (a throwback to any and every feel-good classic rock gem), secures the track's spot as the title track of the year and possibly the catchiest indie-rock song of all time.
24
Passion Pit


Manners



"Little Secrets"
/
One could care less about whatever Michael Angelakos is singing during most of "Little Secrets": what we hear instead is the blaring joy of the song, everything Passion Pit should and do sound like concentrated into one Great track. And really- who better to express the unmitigated, child-like happiness of the titular "secret" than children themselves?
25
Drake


So Far Gone



"Best I Ever Had"
/
It's somewhat amazing how Drake, a relatively unknown rapper from Canada, without any officially purchasable material to his name, teamed up with relatively unknown (and, also from Canada) producer Boi-1da and secured a #2 spot on the Billboard Hot 100 for three weeks with "Best I Ever Had". Easily one of the very most sexually explicit hits of 2009, the track still managed to win the hearts of pop fans and critics alike. I guess that's partially because the greatness of the "Sweatpants / hair tied / chillin' with no makeup on / that's when you're the prettiest / I hope that you don't take it wrong" line can't really be overstated- it's undeniably heartfelt and the perfect sentiment to secure his entrance into pop-stardom. Even though a couple of wrong moves followed (the music video; falling onstage), he's openly stated that his artistic vision will re-enforce the success of the song with an album coming soon. Thanks to "Best I Ever Had", the new decade is in Drake's hands.