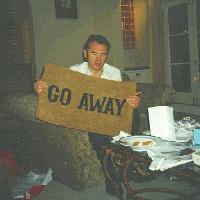 User
Reviews 4
Approval 93%
Soundoffs 5
News Articles 1
Band Edits + Tags 55
Album Edits 58
Album Ratings 438
Objectivity 69%
Last Active 05-21-21 10:45 pm
Joined 11-13-13
Forum Posts
3
Review Comments 1,909
Top 10 protein sources

Stay hearty me boys
1
Estrogen Highs


Friends & Relatives





Tofu - What else could it be. The bland flan from back east is delicious deep fried, pan fried, stir fried, or soupy. Silken, extra firm, or extra protein it is a versatile source of iron, calcium, even copper, and a complete protein with a very high protein to fat ratio. Anyone complaining about estrogen should peep what their cows are eating.

2
Mycelia


Dawn





Tempeh - A staple protein of Indonesia, and another protein utilizing soybeans, but stronger in it's own flavor. Nutty, chewy, great fried and baked, savory or sweet, and its especially delicious marinated with soy sauce and spices even liquid smoke for 'bacon'. As with any soybean derivative, it's a complete protein, with lots of manganese and many other vitamins and minerals and probiotics with the help of its fermentation process.

3
Mercyful Fate


Don't Break the Oath





Seitan - Meat bread made with wheat gluten. Can be made at home with just a bit of kneading, patience, and few ingredients like you would bread, adding your spices and flavorings however you like to. Bread chicken. Bread steak. Fire, but expensive at the store and gluten sensitive folk prob won't like it. Almost a complete protein, a great source still

4
Can


Ege Bamyasi





Spinach - Probably the most underrated here, with a huge amount of protein by consumable weight, and a single serving will get you all the iron, vitamin c, folate and vitamin a you'll need in a day, if not close. It can easily be added as a nutrition addition to a lettuce salad, a panini, or folded into a soup or curry.

5
Denzel Curry


13lood 1n + 13lood Out Mixx





Lentils - These little guys are a great and easy addition to any curry, soup, salads, with a very impressive amount of iron and fiber, as well as being nearly 25% protein. Not as celebrated as their cousin beans, and not as flavorful, but still absolutely worthy of this list.

6
Casiopea


Casiopea





Pea protein powder - Another complete protein and this time from the legume family. Im not the biggest fan mushed peas that passes for food over the Atlantic, or their flavor in general, but it is the best alternative to the wheys and casiens. Cheaper, less bloating, and often tasty if a little thick. Not always a signifigant source of other nutrients if you get the pure shit though.

7
Peanut Butter Wolf


My Vinyl Weighs a Ton





Peanuts (and their butter) - A great source of b vitamins, and though fatty it's the lowest fat content by weight (which means more protein) than all our other conventional nuts and nut butters. Dirt fuckin cheap, a staple in some southeast asian cuisines, delicious in chocolate and delicious out the shell. Also a fantasic source of minerals. Imma nut uuugh

8
Return to Forever


Romantic Warrior





Chickpeas - Not the highest source here by any means, but my bean of choice given my preference for great reasons: falafel, chana masala, greek salads, hummus, it goes on. Plenty of fiber and a good source of folate. Also the leftover starchy water from preparing chickpeas leaves us with aquafaba, an incredibly useful egg substitute for the bakers.

9
Harry Pussy


What Was Music?





Nutritional yeast - can be sprinkling on top of basically anything, raw or roasted, to give a nutty, cheesy flavor and incredible nutritional benefits including b12, a rarity on this list. Also a complete protein, and while versatile in use and delicious, a bit of a one trick pony.

10
Hall and Oates


Private Eyes





Steel cut oats (and oat milk) - The one milk that can boost a ton of pleasing flavor without having a mess of added sugar and flavorings, and a great viscosity too. Often fortified and often a higher amount of protein than the cashew or almond analogs, and a good alternative to those not wanting to be over reliant on soy. Steel cut oats are easily the best cut of oatmeal, with a good source of b vitamins and a massive amount of manganese. Not so versatile, but easy and I have it nearly everyday with chia seeds and flax, which ill regard as honorable mentions.