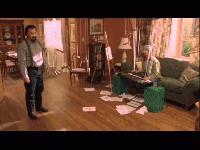 User
Album Ratings 23
Objectivity 62%
Last Active 07-24-20 2:31 am
Joined 07-24-20
Forum Posts
0
Review Comments 8
Staind Experiment: (Ranking Hypothesis)

First, allow me to apologize for not doing another one of these discography experiments since the summer. There's nothing like taking on a full-time job to make you lose all creative motivation, right? Anyways, today we will be discussing Staind. Now I know, Staind, or more so their front man Aaron Lewis, are not looked back on with much fondness, but I loved them and honestly still enjoy them a decent bit. These guys were the soundtrack of my high school years. From ages 15-18 Staind was my second favorite band (behind Avenged Sevenfold). Maybe it's because, just like Aaron Lewis, I was a depressed white boy with a main character complex, I really related to the lyrical content. Additionally, I loved the idea of a band being heavier than most people prefer, but also really catchy with some earworm choruses. Today, I want to begin my retrospective on them, first by what I predict my album ranking of their discography would be based on the opinions I had as a youth, then listen to their discography in full to give my opinions on them now given the many years I've gone without listening to them. I will not be including Tormented in this as it was not a major label release and also is not on Spotify. I hope you all enjoy! If there are any bands you would like me to cover, please let me know as well!
6
Staind


The Illusion of Progress





This was an album that I was very hot-and-cold on as a teen. I would go from enjoying the more sedated, almost Broadway show type sound, thinking it was innovative and catchy, to then hating it mere weeks or even days later because I found it pretentious. I never had consistent feelings for it and my feelings of enjoyment towards it were hardly extraordinary. I am interested to see how Staind's debatably most unique major label recording holds up today.

5
Staind


14 Shades of Grey





I remember liking a few of the songs on this album a tremendous bit, specifically the bombastic opener Price to Play (which I still have on my all-time Nu-Metal playlist), the sincere dedication to Lewis' daughter Zoe Jane, and Yesterday. Outside of that, if memory serves correct, this is an album of mostly filler. Even the big hit, So Far Away sounded like a filler track to me as a youth.

4
Staind


Chapter V





This felt like a more focused 14 Shades of Gray if I recall. Not as heavy as their previous albums, this was a bit more ballad heavy if my memory serves correct. I remember particularly liking Schizophrenic Conversations, Falling, and Devil but frankly I feel I remember more tracks off of this one than the lower ranking albums had combined. I am excited to try this one again. Although I did not adore this album as a kid, as an adult, I believe this album has the most potential to bump itself up a few spots on this list.

3
Staind


Break The Cycle





Now we are getting to the Staind records that I really loved. The album that got me into this grumbling, nu-metal outfit, Break the Cycle is by far Staind's most commercially successful record. Their sophomore major label recording featured some of the biggest rock hits of the early 2000's including It's Been a While which somehow landed itself at the #5 position on Billboard's Top 100 chart in late October. There was also Outside which I personally enjoyed more than It's Been a While and a few more traditional post-grunge angst anthems such as Open Your Eyes and Waste. I think I'll still have some love for this album but not as much as I once did.

2
Staind


Dysfunction





I can recall this record's raw, self-loathing energy being something my butt rock blasting ass vibing with heavy when I was a kid. Crawl, Me, and of course the legendary Mudshovel were some of the most consistently listened to songs of my youth. I'm curious to hear if some of the b-sides hold up as I don't remember them too well and also if the hidden track Excess Baggage has as much of an impact on me emotionally as it did when I was 17.

1
Staind


Staind





This may come as a shock but my absolute favorite Staind release as a youngin was their self-titled record from 2011. It had the most energy I've ever heard in a Staind record and it felt like they really got the hard-rock formula down. I remember every track from this album. The only one that I know for a fact I did not like and likely still won't is Wannabe. That songs takes whining to the next level. I am honestly extremely excited to check this one out again and see if Staind arena rock is something that should make a comeback.