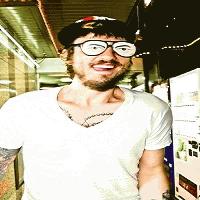 User
Reviews 2
Approval 75%
Soundoffs 35
News Articles 1
Band Edits + Tags 47
Album Edits 104
Album Ratings 3080
Objectivity 70%
Last Active 01-01-70 12:00 am
Joined 01-01-70
Forum Posts
0
Review Comments 1,833
What do you think about the new Pie Chart?

It must have come with the last outage, because I don't remember it being like this... It's nice that's it's html now, instead of flash. But in my case, I don't have that many colors... Does anyone know if the colors are meant to represent percentage (red to blue)? And more importantly, does anyone have the full rainbow?
1
The Number Twelve Looks Like You


Wild Gods





Psyched for this!

2
Rolo Tomassi


Time Will Die And Love Will Bury It





Totally off-topic, but just found out Eva Spence from Rolo Tomassi is dating Jesse Korman from TN12LLY. Talk about a power couple!