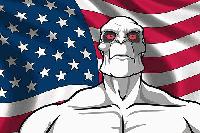 User
Reviews 163
Approval 97%
Soundoffs 12
News Articles 16
Band Edits + Tags 2,963
Album Edits 7,695
Album Ratings 2922
Objectivity 88%
Last Active 07-11-20 5:02 am
Joined 08-18-16
Forum Posts
66
Review Comments 5,725
Femme Schmidt, Bryan Ferry

Saw Femme Schmidt and Bryan Ferry in NYC tonight.
2
Femme Schmidt


Raw





The Berlin singer-songwriter played with one other quitarist and a bunch of canned tracks. I wasn't impressed.

1
Bryan Ferry


The Best of Bryan Ferry





Bryan Ferry played with a kick-ass 9-piece band behind him. His voice was good for most of the night, although there were a couple of songs he was a little ragged on. All in all, a really good show, though.