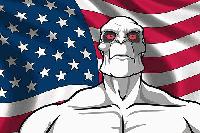 User
Reviews 163
Approval 97%
Soundoffs 12
News Articles 16
Band Edits + Tags 2,963
Album Edits 7,695
Album Ratings 2922
Objectivity 88%
Last Active 07-11-20 5:02 am
Joined 08-18-16
Forum Posts
66
Review Comments 5,737
Jon Anderson Live

Saw Jon Anderson live tonight on Long Island. It was a mixed bag, with the first set being much stronger than the second. He played with an eight-piece band behind him that included two keyboard players and two drummers.
1
Jon Anderson


1000 Hands: Chapter One





He played about half of the material from his excellent new album, 1000 Hands, and these were some of the best songs of the night.

2
Yes


The Yes Album





He also covered a bunch of Yes songs, mostly from the Tony Kaye years. Some of the arrangements weren't that great, though, and Anderson himself was in OK (but not outstanding) voice. The crowd loved it, though.

3
Jon Anderson


Olias Of Sunhillow





He also played a pair of songs off of Olias of Sunhillow.

4
Jon and Vangelis


The Friends of Mr Cairo





And "State of Independence" from The Friends of Mr Cairo.