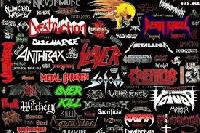 User
Soundoffs 313
Album Ratings 2135
Objectivity 77%
Last Active 05-17-19 11:26 am
Joined 09-18-16
Forum Posts
6
Review Comments 6,924
Jam Out Session With Friends

As some of you may know, I'm a drummer that started a band back in college with some collegemates of mine, but we split due to creative differences, primarily the fact I was the only one being productive with the music. I took a break from music for a couple years to pursue other things and to figure myself out. A couple months back, a musician friend of mine introduced me to some buddies of his, and so far we're building a good chemistry. We've met up a couple times to hang out and talk, and we've made plans to jam out together. Today we're finally jamming out together, and one of them has a place in Titusville tailored to the needs of a potentially soon-to-be band. Hopefully all goes well and we hit something off with this experience. List are ideas of songs we want to try out.
1
Slayer


Undisputed Attitude





Gemini

2
Rush


A Farewell to Kings





Xanadu

3
Slayer


Divine Intervention





Sex. Muder. Art.

4
Cannibal Corpse


The Bleeding





Stripped, Raped, And Strangled

5
Pink Floyd


The Wall





Comfortably Numb and a few other songs from other artists.