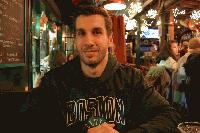 User
Reviews 7
Approval 91%
Soundoffs 3
News Articles 1
Band Edits + Tags 0
Album Edits 0
Album Ratings 1168
Objectivity 73%
Last Active 06-27-20 4:44 am
Joined 01-17-13
Forum Posts
2
Review Comments 273
Shaw's Best Albums of 2017

For all the ups and downs of 2017, and there were certainly quite a few, music remains one place where people can routinely turn for release. In fact, many of the albums on this best of the year list were brought about by artists staring down the difficulties in their lives and filtering it into something creative and special. Then again, some of the other top work of the year has been simpler in meaning, striving only to deliver catchy hooks or powerful riffs that any broad audience could relate to. But whatever the motive behind its creation, there was a tone of great new music this year by new and old acts alike, so with that said, these are my picks for the best albums of 2017.
15
Brutus (BE)


Burst





With hardcore-style instrumentals, but an ear for other musical fields like prog and math-rock, Brutus's Burst makes a case for itself as possibly the strongest debut album of the year. With singer-drummer Stefanie Mannaerts' self-described "larynx-punishing" performance serving as Burst's undisputed highlight, the band's first release embodies a similar kind of promise as recent underground indie-minded loud rock groups like White Lung and Marmozets. And while Brutus may have to work a bit more to achieve the popularity of those artists and fully realize their sound, their savage, guitar driven assault more than matches those talents in terms of sheer muscle, and we should expect to hear a lot more of them in the future.

14
Caligula's Horse


In Contact





We haven't gotten any new music from Haken or Dream Theater all year, but those going through prog metal withdrawal will be more than happy to know that the fourth album from Caligula's Horse should be more than enough to fill that hole. The rising act continue to expand their sound on In Contact, with the album boasting both their longest track list and longest individual composition to date. And while the record can drag a bit in the lead up to the grand epic at the end, Caligula's Horse still manage to reach heights that few other acts are capable of, and it will be a thrill to see what impact they continue to have on their craft.

13
Roger Waters


Is This The Life We Really Want?





People could argue forever about the merits of Roger Waters' politics, but to judge Is This the Life We Really Want? solely on the arguments he puts forth would be erroneous. Bands like Rage Against the Machine weren't good because they're politics always made sense, (they didn't), but because of the conviction with which the message is delivered, and conviction is something that Waters has always had in droves. With the same grandiose stylings of his work in Pink Floyd carrying over into 11 somber pieces, Waters paints a picture of his ideal world from the moment he begins his repeat of "If I had been God…" Whether you agree with that image is up to you, but the message certainly sounds nice.

12
The Dear Hunter


All Is As All Should Be





Yes, this is technically not a full studio LP, but All Is As All Should Be is an effort that stands head and shoulders above most full albums released this year. Casey Crescenzo deserves credit for continuing to improve as a songwriter even when he tricks his audience into thinking he's hit his peak. His seamless blending of pop music with The Dear Hunter's vast array of eclectic styles is truly something to behold, and this EP serves as a wonderful pallet cleanser until the Acts series reaches its sure to be epic conclusion in the near future.

11
Converge


The Dusk in Us





Converge have been at the forefront of the metalcore movement since the genre's inception more than 20 years ago. And while The Dusk In Us might not offer anything totally unheard of from the veteran band, it still serves as a fantastic affirmation of their talents. Equally as comfortable with a slow, pounding track like "Under Duress" as they are with a quicker number like "Eye of the Quarrel," Converge still seem to possess the power necessary to keep even their younger competitors on guard. And while it remains to be seen if their current creative path will yield them another runaway success in the vein of Jane Doe, their recent work doesn't seem to leave anything lacking just yet.

10
Elder (USA-MA)


Reflections of a Floating World





The stoner rock genre can be very susceptible to overly sluggish evolution, and even many of its best artists tend to do little to distinguish themselves from the pack, yet the members of Elder have long since set themselves apart from their peers, and Reflections of a Floating World is the perfect showcase for their distinctive talents. The old stoner style is mixed into a blend of prog and metal and capped off with a refreshingly crisp production job that serves to make every outstanding guitar note pop. Elder are a young band at the top of their game and their musical competitors have much to learn from them.

9
Ulver


The Assassination of Julius Caesar





They may have begun life as one of the most powerful black metal groups of their era, but Ulver's career path has seen them take creative risks that completely disqualify them from any perfunctory genre label. Still, making a new wave-style album probably should have been a step too far, even if they've gotten us used to the risks. Yet Ulver, somehow, have pulled off the shift in a way few other bands could, sounding completely comfortable in their new sound and simultaneously building up a terrific atmosphere that permeates the whole record. This was a move no one expected, even from them, but we're truly lucky they went for it.

8
Glassjaw


Material Control





This is the second album of 2017 that saw a foundational post-hardcore act return and deliver an LP a full decade and a half after their previous one. Yet while At the Drive-In's comeback merely strove to recall past glories and offer a pleasant but forgettable rehash of old work, Glassjaw have instead set an entirely new creative bar for themselves. Material Control is packed with massive guitar riffs, soaring vocals, and some of the most intense percussion to emerge from the genre this year, but there still remains the same depth and character that defined the bands early work all those years ago. Material Control was certainly worth the wait, and the next album can't come soon enough.

7
The National


Sleep Well Beast





Despite more than a decade of consistent critical acclaim, The National aren't a band to rest on their laurels, and this try-all spirit has helped to define Sleep Well Beast, one of the most unique albums of their career thus far. That's not to say wild ambition completely steals the show here, as the ability to build a consistent mood through the record is still one of The National's best traits. From the post-punk vibe of "Day I Die" to the delicate piano of "Carin at the Liquor Store" to the moment the brilliant title track ties the whole album together, The National have dropped another wonderful and diverse collection of songs and still show no signs of stopping.

6
Julien Baker


Turn Out The Lights





It wouldn't be an understatement to say this album restored my faith in folk music. After Baker's debut saw her nearly swallowed by her own personal demons, Turn Out the Lights paints a picture of someone trying to put it all back together. As the gloomy piano of "Over" gives way to the soft and hopeful notes of "Appointments," one feels as though they're with Baker as she starts to see the sun through the trees, and the more diverse instruments being employed here greatly enhance the effect. These are the types of earnest and heartfelt songs that are meant to last, and hopefully Baker still has a lengthy catalogue of releases ahead of her.

5
Manchester Orchestra


A Black Mile to the Surface





Though 2013's Cope proved arguably the band's first creative dud, A Black Mile to the Surface is everything Manchester Orchestra needed to return to the peoples' good graces. The album sees the once punchy alternative group dialing it back to full indie mode, and while that genre's potential to stagnate might bring a sense of unease about the band's creative shift, Manchester Orchestra sound like masters of their craft, combining clean music and gorgeous songs with some of the best vocal harmonies put to record in years. This was an overdue creative shift and while Manchester Orchestra are perhaps forever gone from the hard-edged rock of yesteryear, we may actually be much richer for that.

4
Counterparts


You're Not You Anymore





Sporting a brisk runtime but packed to the brim with intensity, Counterparts' fourth full length displays all the best that the metalcore genre can offer when delivered by the right talent. With album opener, "Bouquet," perhaps one of the best songs of its style this year, setting the stage through its breakneck pace before giving way to soaring melodic beats, Counterparts have demonstrated the best kind of subtle artistic advancement. The melodrama of previous efforts is gone, production is sparse but impactful, and the songs themselves have more than enough staying power to survive repeated listens. Here the melodic metalcore style is shown appropriate respect, and it pays off in dividends.

3
Chelsea Wolfe


Hiss Spun





Chelsea Wolfe has this amazing power to single handedly craft better doom music than most full bands are able to cobble together as a unit these days, and part of that is due to the deep and honest personal revelations that are revealed through her songwriting. Wolfe, like Baker, uses her music to stare down her own life struggles, and the resulting product helps paint a gripping picture of a brilliant artist totally exposing herself before the masses. Hiss Spun remains an album that the uninitiated may find difficult to swallow, but Wolfe's brand of loud, gothic folk music is truly one of its kind and deserves to be heard in an era where this kind of artistic authenticity is a rare find.

2
Gang of Youths


Go Farther in Lightness





Many are the tales of young bands who were undone by their ambitions too early, and with Go Farther In Lightness clocking in at a massive 75 minutes, Gang of Youths will eventually have to face the difficult question of where to go from here, but until that time, we can all enjoy the fruits of what must have been a massive creative endeavor on the part of the group. The mood shifts from punk rock played via Springsteen to tender laments over piano and strings with remarkable comfort and grace, and though Go Farther is a record of considerable length, most of it feels completely earned. Gang of Youths likely have a tough challenge ahead of them, but after hearing this, it's safe to say they're probably ready for it.

1
Brand New


Science Fiction





This is gonna suck. It must first be said that Jesse Lacey's actions were sickening and he deserves whatever reckoning awaits him for his actions. Before this all came out, Science Fiction was a beautiful album. A spellbinding work that few other acts could ever have conceived of, containing a haunting and breathtakingly gorgeous collection of songs which felt deep and real on a level seldom heard. Yet, what we've learned about Lacey shatters any perfect connection one could have with this record. Brand New were the real ones. Truthful and vulnerable like no one else out there, and the pain this has caused to the millions of fans whose lives they have touched, not to mention the victims, is truly tragic. This album is listed in the one spot as a testament to its artistic merits, not to defend its creator. It's an uneasy decision, and one I may regret down the line. All I can say is, those who haven't heard it should give it a listen and decide for themselves.