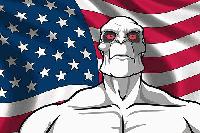 User
Reviews 157
Approval 97%
Soundoffs 11
News Articles 16
Band Edits + Tags 2,786
Album Edits 6,660
Album Ratings 2736
Objectivity 88%
Last Active 10-08-19 11:15 pm
Joined 08-18-16
Forum Posts
38
Review Comments 4,285
Lists
10.01.19
2019 MLB Playoffs
09.29.19
October 2019 Songs of the Day ♦
09.24.19
Adam Ant, Glam Skanks
09.23.19
The B-52s, OMD and Berlin
09.14.19
Eddie Money RIP
09.03.19
The Who, Leslie Mendelson
08.30.19
September 2019 Songs of the Day ♦
08.26.19
Santana, The Doobie Brothers
08.24.19
The Alarm, Modern English, Gene Loves J
08.10.19
Femme Schmidt, Bryan Ferry
08.05.19
Asia featuring John Payne
08.03.19
Supergenius Reunion
07.31.19
Artists Sputnik Likes Better Than I Do
07.28.19
Jon Anderson Live
07.12.19
Chvrches and Charly Bliss
07.01.19
Today's Amazon Order
06.15.19
Yes, Asia, John Lodge, Carl Palmer's EL
06.07.19
Howard Jones, Men W/O Hats, All Hail th
More »
Mannheim Steamroller

Saw Mannheim Steamroller Christmas show last night at Harrah's Casino in Atlantic City. Much like Trans-Siberian Orchestra, they have two different bands out on the road right now, a Red Tour and a Green Tour. This was their Red Tour, featuring six musicians plus a 7-piece backing orchestra.
1
Mannheim Steamroller


Christmas





Concert was good, but not thrilled with venue.

2
Mannheim Steamroller


A Fresh Aire Christmas





We weren't informed that our tickets were obstructed view, but there was a huge curved speaker hanging from the ceiling blocking our view.