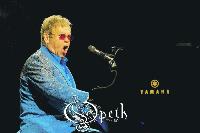 User
Reviews 7
Approval 100%
Soundoffs 1
Album Ratings 851
Objectivity 65%
Last Active 04-29-17 12:20 am
Joined 04-29-17
Forum Posts
0
Review Comments 9
Celtic Frost Albums Ranked

Celtic Frost are one of the most underrated metal bands to have ever existed, especially considering how heavy, groundbreaking, and influential they were at their peak. While there have been a few... let's just say missteps in their discography, Celtic Frost's catalog is home to some of the best and most unique releases in all of metal and serves as a testament to all that is great about the genre.
7
Celtic Frost


Cold Lake





Ooooooooooooooh boy... You know those missteps I mentioned in the description? Yeah... let's just say this is one of them. I won't go into too much detail because it's basically beating a dead horse at this point to discuss how poorly conceived and executed this Pantera-in-reverse story of an album is, but I'll just say that if you're ever bored, there are si... five albums on this list that are far more worth your time than this example of the very worst that can happen when a band gets a bit too loose on quality standards.

6
Celtic Frost


Into the Pandemonium





A lot of people love this album. I am not one of those people, and quite frankly I find it both baffling and ridiculous that so many fans of this band think this album is great or a Celtic Frost classic. It's an annoyingly inconsistent and erratic album that sounds like the band entered a "how many totally unrelated and pointless songs can we write into a single album" contest and this was their entry that probably lost because it made too little sense even for that. Most proponents of this album like to argue that this was the album that pushed metal into the avant-garde and experimental realm and that therefore makes it good, and while I can appreciate what this album may have done for the genre, the fact remains that for me to think an album is good, it has to actually be good, and no amount of influence or experimentation can make up for lack of actual quality.

5
Celtic Frost


Vanity/Nemesis





"Vanity/Nemesis" is apparently Swiss for "we're sorry about the septic mass of human waste that was our previous album," because that's essentially the point Tom G. Warrior and Co were trying to make with this album. It's a flawed album that reeks of compromise, but it's a far step up from its two predecessors that has some very good and interesting moments. There are plenty of more traditional sounding Celtic Frost songs such as "The Name of My Bride" and "Phallic Tantrum," and there are also quite a few songs that change things up a bit and do it pretty well, namely "The Heart Beneath," "Wings of Solitude," and "Nemesis." Overall, I'd say it's an underrated gem in the Celtic Frost discography that deserves more love than it gets considering how much it improved upon the band's two previous releases.

4
Celtic Frost


Emperor's Return





Emperor's Return is a very rough release, but damn is it good. Every song on here is fantasitc, and while three of the album's five songs were featured on other Celtic Frost releases ("Circle of the Tyrants" on To Mega Therion and "Morbid Tales" and "Dethroned Emperor" on the Morbid Tales EP) in forms that I personally consider superior, it's definitely worth listening to this album to get a sort of different take on these songs. "Visual Aggression" and "Suicidal Winds" are of course excellent as well, and they alone are worth whatever a copy of this album may cost.

3
Celtic Frost


Morbid Tales





Morbid Tales was a release that found the then newly formed Celtic Frost at a time when their skills weren't quite as sharpened as they would later become, but still made for a release that is a classic in every sense of the word. The tormenting intro "Human" kicks Morbid Tales off with a bang, and from there it's just an endless barrage of classic Celtic Frost songs that assault your eardrums in the most perfectly brutal way imaginable. I could go on and on about how much I love the speed and intensity of "Into The Crypt of Rays," the slow, sludgy riffs of "Procreation (of the Wicked)," and Tom G. Warrior's pronunciation of the title of the song on "Dethroned Emperor," but I think the best way to describe how good this album is is to just tell you to go and listen to it.

2
Celtic Frost


Monotheist





You think it's been a long time since Tool or System of a Down have put an album out? Well imagine waiting over 20 years for a band to release another album, only to find that said album is one of the very best the band behind it has ever released, because that's what Celtic Frost did with this masterpiece. Combining the familiar overtones of the well known Celtic Frost sound with elements of gothic metal and doom metal, Monotheist is an album that not only cements how great Celtic Frost are at what they do, but showcases their ability as musicians to expand their sound into one of the single best albums of the twenty-first century. Everything on this album is gold, whether it be the driving riffs of "Progeny," the sinister, morose, and overwhelmingly heavy "A Dying God Coming Into Human Flesh," or the 14-minute doomfest that is "Synagoga Satanae." In short, Monotheist is a release that is nothing short of godlike thanks to its dynamism and unrelenting atmosphere of pure evil.

1
Celtic Frost


To Mega Therion





One of the single greatest and most boundary pushing albums in all of music history, To Mega Therion was the album that arguably served as the definitive example of extreme metal, and it still holds up today as one of the most atmospheric, evil, brutal, and unique albums ever released. The riffs on this album are some of the absolute best ever written, and songs like "The Usurper," "Eternal Summer," and "Circle of The Tyrants" all showcase Tom G. Warrior's inimitable mastery of groovy, diabolical riffing. Symphonic elements such as operatic vocals and french horns are also defining characteristics of To Mega Therion, working their way into the album beautifully from the very beginning to the very end and shining throughout on tracks such as "Dawn of Megiddo" and "Necromantical Screams." The production, writing, and execution on this album are absolutely perfect in every way imaginable, truly making To Mega Therion a landmark record.