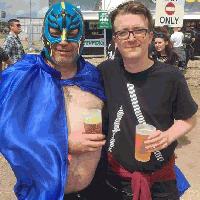 User
Reviews 1
Approval 100%
Album Ratings 17
Objectivity 80%
Last Active 10-24-17 10:44 am
Joined 08-04-17
Forum Posts
0
Review Comments 1
Most Important Albums Of My Life

A short list of the albums that helped shape my musical landscape. To clarify, these are not my favourite albums of all time, simply the records that changed my view or broadened my horizons the most. (In no particular order)
1
Green Day


American Idiot





Let's just set the scene firstly, my only real musical experiences up to this point is the garbage in the charts, and Rockstar by Nickelback that my friend sent to me on his Sony Erikson. All of a sudden, my dad plays me American Idiot, an album with a story and political undertones and it blows my twelve-year-old mind. I've never heard anything that even resembles a concept album, I didn't even understand that a piece of music could have characters and a narrative thread. This album changed what I looked for in music, as well introducing me to a whole culture of music that I'd only ever been on the outskirts of. This was my Fisher Price "My first Rock Record".

2
Linkin Park


Hybrid Theory



"Wait, rap? Isn't that for Eminem?". "Wait, screaming? Isn't that for death metal bands". Hybrid Theory was my introduction into the heavier side of music. Like a lot of kids my age, I had a very naïve outlook on screaming in music, and struggled to understand how it could be anything other than mindless aggression. Obviously, I was wrong. This album made me relate to lyrics in a way I'd never really done before, the way that Chester balanced his beautiful singing voice with the screams, and the aggression seemed to explode at just right the time made me finally understand the appeal. This is real emotion.
R.I.P Chester Bennington
3
Arcane Roots


Blood & Chemistry





If Hybrid Theory was such a revelation to me, imagine how I felt when I first dabbled in math rock. Here, the heaviness that I'd grown to love got flipped on its head and started going in directions that were new. Granted, Blood and Chemistry isn't a bonified math rock record, rather it incorporates math rock into a more popular song format. Regardless, the rock music I was so obsessed with had been taken up a notch for me, songs no longer went from A to B, instead they went from A to Z and everywhere in between. I didn't even know that a song could change pace so much, or be so unconventional but still be understandable, and make those changes seem like a completely natural progression.

4
letlive.


The Blackest Beautiful





Without a doubt, this is was the album that exposed me to straight up aggression. Up until now most of my favourite music had a much softer side, which isn't really present on the Blackest Beautiful. I was immediately captured by Jason Butlers energy and delivery, he touched on modern issues with a cynicism that I hadn't heard since Zack for Rage Against the Machine. But while Rage had a punky simplicity to it, Letlive had a complexness and deepness that I found captivating. I'm still mourning their breakup.

5
Slipknot


.5: The Gray Chapter





To be completely clear, I was a big fan of slipknot before The Grey Chapter came out, but this album took my craving for heaviness to a different degree. Before this album, I sat on the fence between rock and heavy metal, with some bands being perhaps to brutal for me too stomach. But the heaviness on this record, which at times dips into almost death metal territory in terms of pace, particularly in terms of drums. But the way it combines that harshness, with the emotion of the band mourning the death of their bandmate and friend, for me, was eye opening as to what heavy music could really be.