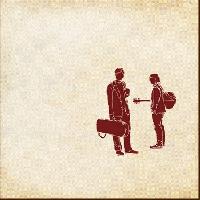 User
Reviews 12
Approval 98%
Soundoffs 97
News Articles 1
Band Edits + Tags 9
Album Edits 17
Album Ratings 1114
Objectivity 85%
Last Active 11-19-17 6:18 am
Joined 08-14-15
Forum Posts
13
Review Comments 5,119
Musical Moments

Sometimes (for better or worse) a piece of music can align with some event or moment that crops up in our lives (temporally or thematically), complimenting, signifying, or melding with the moment. The following lists a few of these moments for me. It's inspired by 1 and 2, so give those a read if you get a sec. Hit me up with some of yours if you get at all where I'm coming from with this one.
1
Thee Silver Mt. Zion Memorial Orchestra


He Has Left Us Alone But Shafts of Light Sometimes Grace the Corner of Our





Listened to this on a commute to uni a couple of weeks ago after the news that my Granddad had spent the night in hospital, suffering a nasty fall and head injury. Doctors thought he wasn't going to make it, but (tough as he was) he pulled through despite their expectations. Whilst the news was relatively positive the commute was a solemn one, and this was an eerie (yet comforting) companion with its ebbing guitars and bleeding strings.

2
The Hotelier


Home, Like NoPlace Is There





A few days ago my Granddad passed away. After a optimistic recovery his blood pressure shot up and the bleeding in his brain spread. He always used to ask me to bring my guitar when I would visit him and ask me to play what I'd been working on (despite how shaky a player I have always been), so I recorded my rendition of the start of "An Introduction to the Album" and played it by his bedside. He was unresponsive at the time, but the doctors suggested he may have been able to hear. Wishful thinking or not, here's to hoping he did. I miss him dearly.

3
Mount Eerie


Clear Moon





We were driving along as we reached the crest of a hill. "(Something)" came through the speakers. The single largest graveyard I think I've ever seen came into view. If you have ever heard one of Phil's "(Something)" pieces, you get why that was quite chilling.

4
Radiohead


In Rainbows





The floating, aquatic second half of "Weird Fishes" kicked in at the precise movement the taxi I was in slammed into a cyclist. It was a bizarre experience, the events feeling in slow-motion was the song bubbled and spiralled. Thankfully not one was hurt, and in the end it was the kid on the bike's fault for cycling against the traffic, but yeah, odd moment.

5
Spiritualized


Ladies and Gentlemen We Are Floating in Space





Man, I've got drunk listening to this way too many times. Not really recommended, but if you can connect with the themes it makes for a harrowing yet spiritual experience.