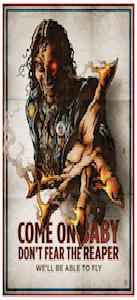 User
Reviews 6
Approval 78%
Album Ratings 392
Objectivity 71%
Last Active 10-25-17 11:57 pm
Joined 10-17-16
Forum Posts
0
Review Comments 11
Porcupine Tree Albums Ranked

My ranking of the discography of one of my favorite bands
1
Porcupine Tree


Fear of a Blank Planet





This was a grower for me. I loved it upon first listen, to be sure, but I feel like with this band, and Steven Wilson specifically, unless you really meditate on the album for a while, you can't quite grasp it. Fear of a Blank Planet dwells on a lot topics, namely, loneliness and isolation. We see how everything seems to lose it's meaning and significance as media and simulation begins to consume the 'main character' of this album. And not only that, but the album so perfectly loops into itself, you get the feeling that this is a cycle that won't end. Not exactly cheery, but the real star other than the lyrics and tone, is the music. 'Anesthetize' is one of the bands best songs period, maybe even just the best in general. And others like 'My Ashes' show Wilson's vocals at their absolute best. The pinnacle of what this band is capable of. Perfect album.

2
Porcupine Tree


In Absentia





In Absentia is sort of the 'go-to' Porcupine Tree album. It's definitely the album I'd recommend to those who are looking to get into the band. In Absentia perfectly melds prog metal and prog rock into something that applies heaviness and gentleness wherever it's needed. In fact it reminds me a lot of Opeth, a band Wilson frequently produced for, but Opeth always leaned a bit towards Death Metal in vibe and instrumentation, whereas Porcupine Tree, and this album specifically, are more prog-inspired. The songs here are dreary, heavy, melodic, cacophonous, it's super versatile. So what holds it back from being number 1 or a perfect album like FoaBP? The Creator has a Mastertape. The song kinda sucks. Damn, use a different riff Steve, shit gets annoying and boring real quick. Still damn good.

3
Porcupine Tree


Lightbulb Sun





Lightbulb Sun is the album that I would say is the band's most 'underrated' album. I feel this is just as strong as In Absentia is. Due to one or two cuts that I don't even hate, I'm just mostly apathetic to, it isn't quite perfect, but it makes up for that with identity. This is like, a progressive rock break-up album, as a friend of mine once labeled it. It's definitely on the lighter side of the discography, but it's incredible instrumentation and unique lyrics make up for that in spades. This album defines atmosphere. It feels like a companion piece to Blank Planet in many ways, because Blank Planet is like, listening to a nightmare. Lightbulb Sun however, is like listening to a dream.

4
Porcupine Tree


Deadwing





This album is angry. Even kinda mean. And you know what? It really adds to the experience. It's a maniacally twisted album that dabbles in heavier prog rock and even psychedelic rock on occasion. Everything here feels charged, filled with passion and vigor, Steve was definitely working through something personal here, and honestly, I'm not even really sure what, but it ended up being a nice deviation. If I have any major complaints, I gotta say that a few tracks here feel repetitive, and some tracks just straight up sound like they belong in 'Stupid Dream' instead. Still a fantastic listen.

5
Porcupine Tree


Stupid Dream





Speaking of which, this album rocks. It's definitely most comparable to In Absentia, in both quality and style, except Stupid Dream dabbles in being heavier a bit more often. So why isn't it up there with it? Well I feel the ideas and themes of Stupid Dream aren't conveyed as well. In Absentia had a mood, a feeling, this indescribable melancholic sound. Stupid Dream has... some of that. It is by no means bad or mediocre, far from it, in fact it's great, it's just simply not as good. as the ones above it.

6
Porcupine Tree


The Incident





I feel like The Incident kinda gets a bad rep. Nobody thinks it's horrible, but it being the last record, I just feel like it gets looked over because people tend to dive into the middle of the discography of most bands. Because honestly? This is some of the band's best material. It's like the balanced sound In Absentia and the weird angry side of Deadwing combined together. It really does sound unique, and shows how talented these guys really are. But that being said, I have one issue with the album, and unfortunately it's kind of big. It's bloated. This album is long. Longer than most of their others, which is fine, but it feels bloated. At 14 songs it comes in at an hour and a half, and while none of it is bad, some songs dip into repetition, and what makes it worse is that they didn't need to. Still as solid an entry as those higher up on this list, on par with Stupid Dream I'd say, but it just has the one issue that sorta drags it underneath the rest, definitely still listen to it

7
Porcupine Tree


Signify





Signify is, somewhat hard to talk about. I'm not sure what it is about this album that makes me not dig into it like the rest. It might be the fact that, despite never really excelling in this area, the songs here don't have any hooks that grab me. Granted, a lot of this band's songs don't, but here I feel like some of the songs just sort of wait to actually start almost a minute in. I just feel like the killer/filler ratio here, on a song by song basis, isn't exceptionally strong. But, yet again, when you get to the killer portions, they really are killer, even though this was early on, you can hear how definitive their sound gets.

8
Porcupine Tree


The Sky Moves Sideways





This album is a terrible place to start when listening to this band. Is the album bad? Hell no, it's good, but if I had listened to JUST this album when I looked to get into Porcupine Tree, I probably would've stopped. Thankfully I also had In Absentia though. But the Sky Moves Sideways, like The Incident, just has one major flaw. That flaw being that Steven Wilson REALLY likes Pink Floyd. I know it's hard to not sound like one of the most influential prog bands of all time, but everything about The Sky Moves Sideways just sounds and feels like Floyd, but post 'The Final Cut' Floyd. Now granted, it's still better than most of those albums, it's at least as good as The Division Bell, and on a technical level, it's brilliant. It's just nothing new. If you ever listened to 'The Endless River' but found it to be kinda boring and underwritten, then I would totally check this out, as it really is just Endless River, but better.

9
Porcupine Tree


Up the Downstair





This is the band at their most psychedelic. And yeah, it works pretty well. So why exactly is it beneath The Sky Moves Sideways? Well, there my issue was that their sound wasn't terribly unique, but was still pretty excellent. Here it's the opposite. The sound itself is pretty good, exactly what you'd expect going in, but the actual lyrics and flow of the songs? Ehhhh it's shoddy. Prog rock is always known for being longer and experimental, but Porcupine Tree I always thought would benefit from having their music be more concise, and this album is a primary reason why.

10
Porcupine Tree


On the Sunday of Life





Yeah, the debut slump is no exception for even the best of bands. On the Sunday of Life is unquestionably the band's most lackluster effort. It is the 'Pablo Honey' of Porcupine Tree, so to speak. But honestly, just like Pablo Honey, I don't think it's bad, or even mediocre, it's just kinda alright. Some good stuff is here, for sure, but it feels spacey, dreamy, and underproduced. It feels like they were trying to do the sound that they excelled with on Up the Downstair, so this just sounds a bit watered down and in places, WAY too pop-heavy. If you're a big fan of the band like me, you still owe this a listen, you'll probably find something you like on here.