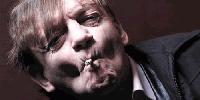 Contributor
Reviews 88
Soundoffs 114
News Articles 6
Band Edits + Tags 1
Album Edits 71
Album Ratings 1808
Objectivity 84%
Last Active 12-12-17 11:35 am
Joined 01-26-17
Forum Posts
33
Review Comments 6,016
REC ROULETTE ROUND 9 -- Butcher Brown..

frippuccino unilateralus gill o'lung
1
James Brown


Live At The Apollo



this time around, I want to hear some SOUL music.. an album of absolute tearjerking beauty..


2
Sammy Davis Jr.


Starring Sammy Davis Jr.



Fripp

The actual album is called Something for Everyone, but I couldn't be arsed to add it to the database.. This was a classy affair through and through, but I would expect nothing less of Davis Jr. It does suffer from the typical drawbacks of what is essentially a lounge Vegas artist.. the album feels bombastic and yet somehow sterile, friendly to a fault.. I do love his voice, powerful in subtle ways.. but the arrangements are all cheese, killing some cornerstone standards.. 3/5
3
Earth, Wind & Fire


All 'n All



gill

Never listened to them much before, strangely enough.. this was most certainly soulful, with some late 70's synthy funk arrangements coming in just about everywhere.. The instrumental work was tight as all hell.. But while the harmonies were beautiful, the lead vocals on most every song were a little wispier than what I would have wanted.. 3.5/5
4
Michael Kiwanuka


Love & Hate



Uni

By turns spare and simply pretty, and grandiose and yearning, this was pretty fantastic, if only a bit reductive for being the most recent entry in the round.. He pulls a bit from indie folk and some other modern musical tropes, and for the most part, it works very well..4/5 THE WINNER

nothing from all three entries came close to usurping James Brown's raw nerve soul..