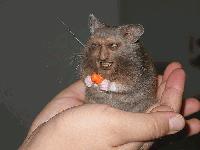 User
Reviews 89
Approval 92%
Soundoffs 178
News Articles 8
Band Edits + Tags 632
Album Edits 803
Album Ratings 3835
Objectivity 80%
Last Active 02-23-18 2:00 pm
Joined 09-16-14
Forum Posts
58
Review Comments 12,118
Rec Roulette 7: Fuckery after hiatus

Butch, Fripp, Bgill, Unique and nobody else
1
Evergreen


Seven Songs





give me an album only you rated and with genres that your pie chart does not contain

2
Clifford Brown


Memorial Album





The good-timer. Butcherboy has always had an exquisite taste in Jazz pizzazz, so it goes without saying that if he gives you an album in such genre, you can expect some lengthy, extremely pleasing and calming experience. It's a doozie you want to turn that big ol' red switch of tension in your brain off to and just sit and listen. It might be just my personal lack of genre appreciation that keeps me from being able to consume such a delicate piece of music in fully. But that's just me. 4.1/5

3
Charles Wuorinen


Speculum Speculi





A tad strange and menacing experience, but not without its charm. There's a sort of odyssean atmosphere to it, but more of a minimalistic version. I don't really know what to say about this, except that it is in fact good and intriguing, but not my kind of LSD trip. 3.7/5

4
Penny and Sparrow


Struggle Pretty



I don't really know what did you expect me to think of it, gill. It's fine. I like some of the tunes, but most of is an overblown and not necessarily memorable affair. I don't know. It's fine is all I can really say. 3.2/5

P.S.: I guess you wanted to ride off of my liking of Typhoon, but I am sad to inform you that that has grown off of me.