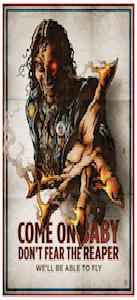 User
Reviews 6
Approval 76%
Album Ratings 431
Objectivity 71%
Last Active 12-23-17 6:10 pm
Joined 10-17-16
Forum Posts
0
Review Comments 13
Radiohead Albums Ranked

My ranking of albums from my favorite band.
1
Radiohead


OK Computer





(Duh) This and Kid A are the quintessential Radiohead albums, and this is my preferred of the two. Every song here is spacey and dystopian, without being detached. This album works because it resonates, with tracks like Exit Music and Fitter Happier, it's like looking at a portrait of loneliness in song form. It just strikes the right balance of everything, and Thom's vocals are really utilized well here.

2
Radiohead


Kid A





Yeah, again, cliched as it may be, Kid A is still fantastic. I think Ok Computer has a leg up because Kid A is a bit emotionally detached, but then again, that's part of the appeal. Kid A feels like it's the soundtrack to a strange and abstract world, and it's filled with quiet and understated moments of atmosphere and even dread. And Motion Picture Soundtrack is probably my favorite album closer of all time.

3
Radiohead


In Rainbows





This gets my award for the most underrated Radiohead album. This one is a pretty stark contrast from the other two ahead of it, as it's lush and vibrant and even exciting at times rather than dreary. Tracks like Nude, Videotape, and Jigsaw falling into Place are some of my favorite songs from the band in general. Only thing that keeps it back is really that the album is a bit scattered, I feel like the above albums are way more focused, but it still makes this feel all the more refreshing.

4
Radiohead


A Moon Shaped Pool





This strikes the balance between OK Computer and In Rainbows. It's a bit dreary, but it also feels a lot more diverse sonically. Burn the Witch, Glass Eyes, Decks Dark, and Daydreaming are all fantastic songs and classic Radiohead. It has a few cuts I'm not super fond of, but their latest album still proves they're on top of their game.

5
Radiohead


The Bends





I think I definitely like this album more than everyone else. It's a bit more run of the mill and less experimental, but I still think that for a straight up alt rock album it very much holds up. Fade Out, Bones, and Fake Plastic Trees are all just fantastic songs. If you want a bit more conventional and grounded Radiohead that's still quality, this album will do you just fine, it's not what they excel at, but it's nice to know we have it.

6
Radiohead


Hail to the Thief





I think this may be their most consistent album. Not best, obviously, but in terms of every song being a steady progression to the next and being of pretty level quality-wise and diversity-wise, Hail to the Thief is remarkably solid. It also features Radiohead being a bit more topical, which was cancerous to other bands of the time, but the writing is decent enough to make the themes universal.

7
Radiohead


Amnesiac





Amnesiac is just an album I've never really gelled with in the way other people have. It just kinda sounds like a less focused Kid A to me, and that's perfectly fine in some places. A lot of songs here evoke those same emotions of emptiness and loneliness, but other songs just kinda feel half-baked, but a lot of this material is still pretty good, essential listening for any fan, but if you're a casual listener, I'd look elsewhere in the discography.

8
Radiohead


Pablo Honey





This debut album feels like a debut album, but not in any of the particularly good ways that can be interpreted. It's kinda boring and conventional. It's a very acceptable normal 90s alt rock album, but if you want this kinda sound, go for the Bends instead. There is some good stuff here, it's just sort of gasping for air beneath it's own mediocrity.

9
Radiohead


The King of Limbs





Yeah this album is pretty much white noise to me. I don't hate or even really dislike it, it mostly just bores me. It almost feels incomplete on some cuts, if you wanna give this one a shot, listen to the live version, it's better.