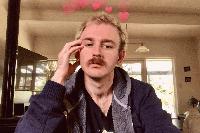 Contributor
Reviews 71
Soundoffs 29
Album Ratings 257
Objectivity 61%
Last Active 01-19-18 10:29 pm
Joined 04-14-17
Forum Posts
14
Review Comments 1,997
An Education: Post Punk/Noise Rock

I want to expand my parameters, so I'm leaving it up to you to help. Chuck me a post punk/noise rock album you think I should check, I'll add it to the list, give it a description and a score out of ten. The rating will be relative to my knowledge/perception of the genre (i.e. if I give something a 10 it doesn't necessarily mean I'd rate it a 5 on sput) and I'm only going to take one suggestion per person. Part one of however-many-I-can-be-assed-with.
1
Daughters


Hell Songs





I might try and think of ways to make this more interesting, but for now, I'd just like your help. 8)

2
Cherubs


Heroin Man





Also, please be patient. This will continue for as long as I'm getting recommendations, so your description will be added.

3
James Chance and the Contortions


Buy



Frip

Today I learned that Buy is wicked yet playful. It's designed to pester and persist, like an ostensibly inconsequential wound that somehow gets infected and suddenly your arm needs to be amputated...or something. "I PREFER THE RIDICULOUS, TO THE SUBLIME" yelps Chance in "I Don't Want To Be Happy", and it shows; this thing is messy, caustic and devilish, plodding rhythms colliding with oddball sax melodies (if you can even call them 'melodies') and guitar lines that could break windows. So it shuffles along erratically, with its crazed frontman deliberately eschewing meaning for a contorting, animal energy that defies expectations even after one knows what to expect.

7/10.
4
Family Fodder


Monkey Banana Kitchen



Sandwich

Today I learned that bass guitar is a lead instrument. Family Fodder's bass rumbles and shakes, playing both dirt and water until there is a foundation of mud that the rest of the instrumentation tries continually to pull itself out of. The scope of influence is broad (I get snake-charmer vibes from Cold Wars; Organ Grinder is the most violent lullaby, like, ever) but the sounds are pulled forcefully together into a cohesive, albeit roughly sewn, whole. It could be because of the production -- it is, regardless of preconception or necessity, skeletal; the record sounds like the era it was borne from. But it could also be because of its innate kinetic energy, which lingers even in the more reserved cuts like Bass Adds Bass. What is left to consider is the dynamism of certain songwriting choices: vocal splicing, cavernous drumming, female vocals, a dash of piano where you never knew you needed it; this one actually wants to be listened to.

7.5/10.
5
The Fall


Live At The Witch Trials



Butcher

Today I learned that polish is overrated. One begins to understand why a scholar of post-punk like Butcher has a thing for using words like "scuzzy" and "scrappy" and "mired", because a record like Witch Trials has a bloody, deformed foot in all three camps. I imagine The Fall was (and maybe still is) a band that places stock in bar fights, because -- as made evident in songs like Industrial Estate -- they think it's the most effective way to get a point across. All over the record, cheap keyboard melodies face off against guitars that, given the first opportunity, would laugh and spit in your face. In the muck and mire, Mark E. Smith does a brilliant job of acting as proxy for every disenfranchised, working class Briton -- stumbling around stage, bottle in hand, sneering at every fucker with a tie and a condescending smile.

7.5/10.
6
Unwound


Repetition



Ghetto

Today I learned that Unwound never needed self-discipline. Far removed from the odyssey that is Leaves (which, although I adore the rest of their stuff, is still the most moving), Repetition sees the band at their most angular. Unlike Leaves, I think, it borrows more from the 'punk' side of things than it does the 'post' side and, as a result, it feels remarkably *urgent*; cathartic in the same way that smashing plates is cathartic. Mid-nineties Trosper was vitriolic; he cared enough to raise his voice into one half of a standoff. Even the quietest moments on this record (see: Sensible) can't shake the feeling of being the ominous calm before the storm. There are precursors (Lady Elect) and there are statements so bold and untamed they may as well be spray painted on a busy overpass. Yet still, for its place as a careerist pit-stop, it makes just as much sense and impact outside of such contexts. The perfect alarm to Leaves' sedative.

8.3/10.
7
Women


Public Strain



Chortles

Today I learned that post-punk is an apparition. I also learned that immersive atmospheres and industrial dissonance aren't mutually exclusive, because Women are able to foster a symbiotic relationship between the two. It's more like these guys cook up their cacophonies deep inside a well, and we're standing captivated at the mouth as the noise drifts upwards into the winter morning. Public Strain was always going to be an easy in for me; a punk album hollowed out in its center by a track like Bells? A punk album that follows ambiance with a song as malignantly hypnotic as China Steps? One might think I was predisposed. I guess without the inherent bias that a record like Public Strain presents, it's still a really arresting piece of work: dissonance and melody coalescing to make for an album as indecipherable as it is welcoming. An aptly coincedental swansong for Reimer, the band, and the idea that noise is an excuse for the absence of elegance.

9/10.
8
Arab on Radar


Queen Hygiene II



Hundt

Today I learned that 'sour' is the perfect word. I feel like it's an idea that will pop up over and over again during our stay together. Noise rock, almost by definition, is bitter and difficult to digest, but I feel like Queen Hygiene II befits the word 'sour' more than any album I've possibly ever heard. There are semblances of catchy riffing that litter this thing (see: Molar System), but they're deliberately positioned at an angle that rejects palatability, making incisions in the mix, slicing up Paul's vocals as he charts his decline from unhinged to genuinely deranged. It takes a pair of scissors to the thin veil between sanity and strident rock music, cackling as the facade falls to the floor in pieces.

6.8/10.
9
The Jesus Lizard


Goat



Johnny

Today I learned that God is an animal. Goat is a record full of linear songs, with a feral kind of energy that propels it head first into the fire. The bass rattles and the wailing is near incessant, but there is a warmth to this album I can't shake -- a sort of depth that enables every sound (even the typically serrated guitars) to reverberate across the mix. Take South Mouth, for example, the drums sound miles away and the riffs are suspended in solution. Though The Jesus Lizard may have (unintentionally?) bowed the branches between urgency and distance, this thing still plays out like it was crafted by a group that is so far steeped in the world, the scene, that pushed them into the limelight. Also: goddamn that cover art is clever.

7.8/10.
10
Brainiac


Bonsai Superstar



Ars

Today I learned how to throw paint at a wall so that it sticks. A by-product of all its metallic stops and starts, Bonsai Superstar refuses to make its mind up. In Fucking With The Altimeter, the record plays its cards close to its chest, enveloped in dark forms while a robotic woman, coded with an ironic sense of humour, hovers over the proceedings. Elsewhere, Brainiac are let out of their cage, crafting electronic sound collages (Transmission After Zero) that collide and fester and build on an atmosphere that's kinda petulant, kinda devilish, kinda beguiling. Bonsai Superstar holds within an eclecticism that manages to keep all the pieces revolving inside some fucked up, unfathomably restless orbit.

8.1/10.
11
Shoppers


Silver Year



Ian

Today I learned what relentless really means. Graves spends just over twenty minutes barking at an insignificant other over the phone, and we shoulder the guilt of being complicit. Any and all empty space -- of which you'd be hard pressed to find, let alone notice -- is flooded with screeching feedback; the audio levels peak so often that seeing red is a goal rather than a warning. But it's not to distract from purpose, no, the distraction is the purpose. This is a breakup album that refuses to wallow in isolation, as though the all-encompassing static is of a fight-or-flight type origin, *relentless* in its attempts to starve the mind of any possible downtime. For twenty-three minutes, it succeeds.

7.9/10.
12
Oxbow


King Of The Jews



Spluger

Today I learned what it takes for the police to gatecrash a party. How many drug-addled brains shouting over each other does it take for a piece of music to fall apart? With King of the Jews, Oxbow stretch the boundaries until they are taut and ready to snap. Strangely, there is an underlying sense of community that permeates this record. It's evident from the outset, with Daughter's DNA consisting of unintelligible chants and sharp hand claps. So we're presented with a tangent: Oxbow uses the fine print (vulgar, but fine nonetheless) to evoke the vague feeling that there is a narrative occurring here; if only we could piece together the moral/arc that is interred under the inhuman wailing and tortured monologues. As an aside, I adore how patient some of these songs are: Angel, crawling alongside a warbled double bass, engenders a genuinely disquieting atmosphere, while Angel Bow sees the band deriving some sick sort of pleasure from withholding information.

8.6/10.
13
Savages


Silence Yourself



Unique

Today I learned that wild animals sometimes wear suits as disguises. To the uninformed (i.e me) Silence Yourself is an anachronism, around forty years too slow to slot neatly into a record like Chairs Missing, and similarly late in joining Unknown Pleasure's ilk, even though its dense, plodding basslines would be readily embraced (I'm aware the vocals would be incongruous in this instance; my reference points are scarce). Savages, ironically, sounds like a band for audiences that only bare their chipped and blackened teeth with the lights off and the curtains drawn. The atmosphere is piled on thick and heavy; the gothic shades stirred and slathered like wet paint across cuts like Dead Nature, concealing a raw, bruised energy that would otherwise stick out like a clump of coal in the rough.

8/10.
14
Meat Wave


The Incessant



Friv

Today I learned that lines blur and converge. Meat Wave see-saw between the melody of regular punk, buried though it is between layers of fuzz, and the discordance of post-punk and noise. To my surprise, Sutter's voice retains an attention to melody, and it's a presence that, thus far, has been missing on this list. Meat Wave favours tangible riffs over discordant lines that dissolve and invert structure, evident in Bad Man, in No Light, and it's immediately felt amidst all the death rattles and broken glass conjured by the likes of Oxbow and Arab on Radar.

7.7/10.
15
Royal Trux


Twin Infinitives



Stallion

Today I learned there are no limits. Twin Infinitives is a record with an impossible air of improvisation. It's scatterbrained, and its upended roots behave much like touchstones; the record doesn't think before it acts. The instruments here feel tangential, too, as though the only thing we should be paying attention to are Haggerty and Herrema's (for lack of a better word) vocals, as they attempt to drown out the shrieking, howling void. It's like touring an asylum in space, turned inside-out by heroin and abuse and everything in between. I think it's also interesting that I hated this at first, as well, but after around ten minutes the record induced an almost ahnedonic sensation in me, and I sat staring at my laptop screen, losing words and shapes and feeling until all that was left was the paralytic drawling and industrial clamour.

8.1/10.
16
I Concur


Able Archer



Anatelier

Today I learned Able Archer is close enough. This isn't strictly post-punk, and it certainly isn't noise. Though the guitars consistently sit firmly on the beat (1,2,3,4,1,2,3,4...ad nauseum), and the bass is sufficiently drooping, plodding, there is a steady ascension to these songs which greater recalls post-rock than any other genre. These are lovely songs but they also serve as a reminder that I should probably be more diligent with what is granted pass through Heaven's Gate.

7.2/10.
17
Laughing Hyenas


You Can't Pray a Lie



Dissonant

Today I learned that Laughing Hyenas are fond of irony. Lullaby and Goodnight shatters into frame with the lyric: "COME ON, BITCH", and if the discrepancy between that song title and the lyrical themes doesn't evoke a warped sense of humour, I'm not sure what will. Here is a band that remains ambiguous with meaning but unequivocal with their intent; the listener is on-edge and terrified, but of what, we're never entirely sure. The derangement seems a by-product of abject loneliness: the record is barren and dry; mordant and acidic. It arises from desolation and the petulance that follows in response. The band is called Laughing Hyenas; the band, at least, know who they are.

7.2/10.
18
Feedtime


Feedtime



Hal

Today I learned how to dig, dig, dig. Titleholder of mulchiest bass tone, keeper of grungiest atmosphere and of dynamics most begrimed; feedtime sit restlessly halfway between this world and the underworld. The bass calls for superlatives, like 'scuzziest', like 'most overbearing', extending ghoulish tendrils into every corner of the mix until it's all you can hear. This sound is definitely, defiantly, scraped from the bottom of the barrel and..........I like it? S/T succeeds in scratching away the polish until there's nowt left but imperfections and open wounds.

7.9/10.
19
Rusted Shut


Hot Sex



Sach

Today I learned what the siren would sound like were she honest. Like snatches of a sound recording occasionally escaping through the white noise of a TV screen, this record is 95% harsh noise, and 5% tangible rhythms falling into place unexpectedly. Hot Sex skulks forward along the back of metallic drumming and gurgled vocals and it's bass is omnipotent and unstoppable. It crashes forever in on itself as if exists for destruction but adamantly refuses to die. Side B begins with A Night In Hell, which is aptly titled to be sure. It feels disingenuous to describe it as a 'microcosm', but the track builds steady and sadistically from its introduction, eventually throwing in everything that has defined the record thus far: distorted, unsung vocals, that indomitable crash, the muddy bass, and that persistent screeching. It's not meant to be enjoyed, but the air of a record like this -- that refusal to give a fuck -- is rewarding and intoxicating.

8.3/10.
20
The Feelies


Crazy Rhythms



Pheromone

Today I learned about restraint. Disregarding the fact that I think Crazy Rhythms' opener was written both for me and about me, this record isn't easy to relate to, nor is it burdened by many references points within the sphere it inhabits. This brand of post-punk is groove and melody-focused, spinning its wheels on the same progression for an entire song, creating earworms out of ideas that would've take five seconds to pen down. The alienation here is only ever implied, with layered percussion elements taking pole position over thick and gloomy atmospheres. But, listen to the record long enough, attentively enough, and one uncovers the same kind of disquiet that the genre is revered for; it's in the songs that fizzle out without bidding farewell, the beats that feel like they're running from something, and the abundance of treble (where would post-punk be without treble?)

7.5/10.
21
Shorty


Thumb Days



Pjorn

Today I learned how to comb through the static. Once one makes it past the (constantly burning, crackling) vocals on this record, it's not difficult to uncover riffs that m/ harder than the bitten-off head of a live bat. It's unusual, at least in my experience, to discover an album where -- instead of the instruments -- the voice is the thing that imbues the music with its discordant qualities. Sure, there are moments here that run mischievously against the grain (the latter half of Mitzy Lodgem, for example), but most of it feels like creative, really hard rock battling against its rabid frontman for the stage-light. It's demented and it cuts deep. I like it a lot.

8.4/10.
22
Ought


Sun Coming Down



Kyle

Today I learned how to wring fun from tedium. Sun Coming Down emphatically jumps out of the gate with an actual gallop in Men For Miles, with serrated chords almost (and I mean almost) cutting through the haze, reaching out to the point of no return and then snapping back just before touching it. Tim Darcy's voice maintains the same tone throughout the record. It's decidedly post-punk, with that British flavor reaching across to North American shores and burrowing itself into this record's atmosphere. At times it actually does feel standoffish -- as it should -- but there's moments (take the guitars in Passionate Turn) that are imbued with a sweetness that could properly be considered endearing -- whatever that means to a record that doesn't actually give you time to learn its backstory. Then, there's Beautiful Blue Sky: a behemoth, a squawking machine, a sickening collage of small talk. This one is a jaunt, and I Ought to have listened to it sooner.

8.5/10.
23
Harry Pussy


Harry Pussy



DrMaximus

Totally I lea-..okay waitwaitwait, no, I didn't learn anything; I was rendered pretty much incapable of forming a sentence. In fact, I'm so dazed and confused that I can't tell whether I hate that I like this, or I like that I hate this. This whole record sounds like a million rubber bands, amplified by a few thousand, snapping at once. It sounds like as many tumbling razor blades recorded inside a high-powered washing machine. It sounds like a hailstorm of nuts and bolts, or a family of transformers all going through a manic episode at once. Okay, I'm done with the gratuitous similes -- this record was conceived without direction or structure, forced through a paper-shredder to make a statement about...something? I'd say it's one of those albums that pushes the boundaries of what we call 'music' but I've a feeling the lads in Harry Pussy would laugh at me for it. It'd be deserved. This exists because it wants to.

8.2/10.
24
Post War Glamour Girls


Swan Songs



Claire

Today I learned how to increase my depth of perception. Swan Songs is a busy record; it's myriad background elements are forever tripping over themselves as Smith sprints straight lines across a busy freeway. This thing is robust, hefty, perhaps even melodramatic, with slower cuts defined and upheld by rigid grooves that propel the songs forward with as much determination as the more frantic tracks. There are some really refreshing songwriting choices here too: a dash of strings, a refrain sidling slowly into the background, a pretty vocal melody tangled and caught in a jagged guitar or two. Swan Songs is a post-punk record you can play at parties. Good shout, Claire.

8.6/10.
25
The God Machine


Scenes from the Second Storey



Caiman

Today I learned what gloom sounds like. Everything about this album is oppressive. It spins out of control in the middle of self-destruction, digging further into its own subconscious as it progresses. This record has layer upon layer piling onto each other, undergirding thick, sludgy riffs that invariably overwhelm the vocal presence. But it wouldn't work any other way: the vocals sound like they were tracked in a cave, with the reverb almost constantly undermining the aggression in Proper-Sheppard's voice, as if to say fighting back is futile. It all culminates in an album that feels more nihilistic than any alt-rock record I can ever remember hearing.

8/10.
26
Big Black


Songs About Fucking



Asleep/Sint

Today I learned how to speak in oxymorons. This is normal music slowly overtaken by rust and grime. It's a monologue to make audiences wince. It's an assortment of menacing riffs trying to perforate radio static. It's like, if Albini and co. genuinely wrote these songs about fucking, they did so with the worst of intentions: with violence in mind, with cheap motel rooms in mind, and with the coldest of detachment in mind. It is, musically, a great album on its worst behaviour. It evinces vulgarities on both sides of the spectrum, being both sludgy and abrasive, and -- as always -- I appreciate it for the fact that it doesn't sacrifice interesting dynamics for a palpable sense of anger.

7.9/10.
27
No Trend


Too Many Humans



Winesburg

Today I learned that "this band doesn't like you" - YouTube user StillNoldea. The production on this record doesn't give this band's violent, sardonic, nihilistic angle of philosophy anywhere to hide. It's lo-fi and crumbling, but the disparate elements are distinct and luculent. Every lead guitar line on Too Many Humans is made up of discordant, cascading, dissolving riffing, skittering around the edge of the mix while the menacing bass does most of the heavy-lifting. This record is tied to the signpost of misanthropy like a dog in the sun, and it thrashes around in an attempt to escape. Instead of asking questions expecting an answer, No Trend ask questions to prove there isn't an acceptable one ("What do you do / When you don't know what to do?"). It then slows down during its denouement, enabling a more skulking menace to seep in, but that menace is no less impactful as the furore that precedes it. TMH feels like a blinding, debilitating flash in the pan.

8.3/10.
28
The Gun Club


Fire of Love



Cylinder

Today I learned not to judge a book by its cover, even if its cover is dusty and/or defined by words like "puce". I have an even harder time settling on a rating for this one than I normally do. Like, in Promise Me, a single violin acts as the song's bedrock, playing a single note that drags and stutters along, and I can't tell if I hate it or if its textural contribution perfectly anchors the track's atmosphere. Even when I have a foot in the former camp, I can still say that creativity -- the one thing I value as much as emotional resonance -- is still found everywhere on Fire Of Love. This thing is indubitably original: a precursor for bands like The Pixies and one of those rare entities that absorbs it's influences and becomes an influence itself. But, as I alluded to, the record dances just outside arms length; not quite angry enough to be cathartic and not quite atmospheric enough to get lost in.

7.6/10.
29
Glenn Branca


The Ascension



Wren

Today I learned how to deliberately contradict yourself. One song in, The Ascension stamps itself out as a piece of music that actively seeks out harmony in madness and squalor. The drums, pummeling, create a through-line that holds together short bursts of dissonance, which is a prevalent theme on the record. This album is one of emptiness, engendering a hollow feeling as it turns its foot and its coat on hordes of stone-faced audiences, only half listening, as its skin dissolves and its top lip sneers. I don't know, I like this a lot. Its atmosphere is frost-bitten and rewarding once you find an entry point.

8.7/10.
30
Kiko Dinucci


Cortes Curtos





Friv [2]

31
Medicine


Shot Forth Self Living



Tyler [love ya]

Today I learned where to find juxtapositions in a construction yard. The soft-spoken buzzsaw commands this record as much as it is what the rest of this record stems from. If not for its presence, Shot Forth Self Living would be a pleasant listen, drawing out murmured vocals and patient basslines. But that abrasiveness is the distinction between dream and nightmare, corrupting the morsel of purity and innocence in an undeniably fascinating way, although the case could be argued that it quickly becomes rote and unimaginative. I don't think so; if an album presents the possibility of enchantment and tinnitus in equal likelihood, I'm all ears.

7.5/10.