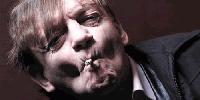 Contributor
Reviews 82
Soundoffs 107
News Articles 6
Band Edits + Tags 1
Album Edits 65
Album Ratings 1788
Objectivity 84%
Last Active 10-18-17 9:16 pm
Joined 01-26-17
Forum Posts
31
Review Comments 5,699
Nine Semi-obscure Movies..

Nine movies that aren't horribly known but are nevertheless quite fucking amazing, at least in this humble butcher's opinion.. rec me stuff you think i might like..
1
Richard Hell and The Voidoids


Blank Generation





Chinese Coffee - this movie is based on a one-act play by Ira Lewis, was directed by Al Pacino in the mid-90's, and then shelved for years.. it was finally released as part of a package of three forgotten Pacino movies.. The play revolves almost entirely around a tense conversation between Pacino and Jerry Orbach, two failed Greenwich Village writers, packed full of disappointment and grievances.. the dialogue is golden, and it has long since been my writer's block cure..

2
Tom Waits


Bad As Me





La Grande Bellezza - this doesn't quite qualify as an obscure movie, since it won Best Foreign Film a few years back, but it doesn't get nearly enough attention for how lush and brilliant it is.. Directed by Paolo Sorrentino, The Great Beauty is essentially a beatific and philosophical look at Milan socialites in their twilight years, a group of elegant wasters who have made all the right conclusions all too late.. Sleazy, botoxed, broken and causally talented, they sit around bored and talk about how there isn't time or strength to do anything anymore.. once again, the dialogue is incredible, and the movie is sliced up by gauzy dream sequences.. Unfortunately, Sorrentino parlayed all his newfound goodwill into Youth, a staggeringly dull and pretentious English-speaking film with Michael Caine and Harvey Keitel.. but this one is all gold!

3
Pavement


Watery, Domestic





You Can't Take It With You - another Oscar winner, this one from 1938, this Frank Capra movie often gets lost in the shuffle, which is a shame, because it is perhaps one of the first truly nihilistic calls engineered in Hollywood.. the set-up is basic enough, a banker tycoon is trying to squeeze the little guy, all the while his son is falling in love with a girl from the Sycamore family, who are essentially an anarchic version of the Von Trapps.. mannered overacting and violent gesticulating ensues.. it's brilliant..

4
Fever Ray


Fever Ray





Kiss of the Spider Woman - another 'classic' that nevertheless often slips through the cracks of its era.. A Brazilian-American collaboration, and based on a novel by the great Manuel Puig, the film is set in a Brazilian prison during the despotic marshal law that took over Brazil in the 60's.. Another conversational piece, this one between a bright-eyed leftist ideologist and a pederast caught having sex with a young boy (played brilliantly by Raul Julia).. Intrigue, existentialism and a dissecting look into morality and oppression, both sociopolitical and sexual..

5
The Smiths


Hatful of Hollow





Time of the Gypsies - Before he made Arizona Dream (D), Underground (C+) or Black Cat/White Cat (A++), Emir Kusturica used to make movies that were so subtly phantasmagorical, you could hardly tell why you felt so unsettled watching them..Time of the Gypsies, which is actually called A House for Hanging, is the coming of age of a romani Yugo kid with telekinetic powers, as he leaves Sarajevo for Milan, getting jaded and beaten along the way.. it's hazy and grimly funny, and typically of Kusturica, sports a fucking lovely Central European score..

6
Horace Andy


Dance Hall Style





Jauja - An Argentinian film about a Danish officer who goes on a trek to find his young daughter who'd run away with a soldier.. slow, contemplative, filled with sepia-toned visuals, this little-known Viggo Mortensen picture looks like a sustained hour and a half poem of images.. it's beautiful and pessimistic and everything that makes good art..

7
Sonic Youth


Sonic Nurse





Children of Don Quixote - this film is somewhat of a classic in Soviet comedy, though it is incredibly difficult to find with subtitles.. A melancholic-ally funny story of a patient and incredibly kind gynecologist with three sons, all of whom are coming to forming moments in their lives.. Anatoli Papanov, a giant of Russian cinema, plays the doctor, who tries to navigate his sons' misgivings, all the while trying to convince a young mother at the hospital not to abandon her newborn.. this one is all childhood nostalgia..

8
Nick Drake


Pink Moon





Don't Despair - this is very easily in my Top 5 Movies of all time, though it will make little sense to most Westerners, as it never made it out of the Soviet cinema circles, or gotten a translation into any other language except Russian.. A Georgian movie starring Vakhtang Kikibidze, who is now an anti-Putin politician, Don't Despair is part-comedy, part-musical; the story of a young surgeon who was educated in Moscow, and then returns to the ragged small village where he grew up in the Georgian mountains.. an unabashedly honest man who can't get ahead in life because he can't bring himself to being an ambitious sycophant, he wallows and withers slowly, drinking plenty along the way.. The movie is fantastic, a show of tremendous understanding of life and country - a nation that have been shoved into dirt their whole history, and the only ones who still manage to sing and dance through it, instead of miring themselves in utter misery, the way most post-Soviet nations have..

9
Protomartyr


No Passion All Technique





Barney's Version - based on Mordecai Richler's brilliant book about the life of a Jewish Montreal bureaucrat, one who'd spent his youth as an expat in Europe, trying to be an artist in the face of the deeply-set pragmatism that's been instilled into him.. An unhappy and profoundly intelligent person who thinks weakness maketh the man, the movie tracks him through Italy and into old age and dementia, and being plagued by the demons of his best friend dying under suspicious circumstances.. Richler's book was long and detailed, and so the two and a half hour movie can't really do all of it justice.. nevertheless, it's a very funny and introspective think-piece about the failings of a civilized man, and the struggle of a modernist Jew who has to contend with his community's condescension towards more primeval bends.. Paul Giamatti with an airtight perm..