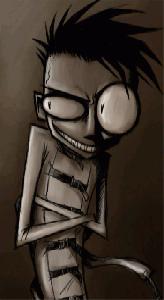 User
Reviews 14
Approval 91%
Album Ratings 571
Objectivity 93%
Last Active 06-06-15 3:47 pm
Joined 07-16-12
Forum Posts
89
Review Comments 2,749
Worst Albums I Know

Pessimism is the new black, guys. So it is about time to focus on the bad, the really bad stuff. Here is a little bit of that, everyone who's heard something far worse than those albums, my sympathies.
10
Falco


Data De Groove





A little sad he has to be on such a list and probably the only one that doesn't fully deserve it. Mostly because you can hear that he really tried, just without any noteworthy success. There's one and just one track that comes close to his best work everything else is pretty much putting you to sleep or it's some pointless jumble of electronic sounds. Even when he at least sounds like he should, it seems tired, forced. In one word: pointless

9
Bloodhound Gang


Hefty Fine





I already sense a little disagreement. But even if you can't expect too much from a band with Evil Jared on bass, Hooray For Boobies had its fair share of actually really great material. This time it's between "Ok, let's cut em some slack" atbest, Zzzzzzzzzzzzzzzzzz & whatever "Farting With The Walkman On" should be (the answer is definitely not music). That thing is boring, unfunny, embarrassingly bad executed and has about three actually working gags vs. about three hundred that fall flat completely. I mean, how lame is it that the funniest thing is a unmelodic compilation of Ralph Wiggum lines. At least they got Ville Valo to sing on one of their songs, which is great, since he works just as much as the rest of the LP.

8
Miley Cyrus


Can't Be Tamed





Yeah, what could possibly going wrong listening to The Artist Formerly Known as Hannah Montana? It has one great track actually ("Robot") - yes, I'm ashamed to admit that -, otherwise it's quite an accomplishment to make a whole album where you can easily pin every track on the artist it was "inspired" by. Not the first one like that, but with a buttload of cheap electronics she doesn't work as Rihanna, Spears, Lady Gaga or ABBA wannabe.

7
Kid Rock


The History Of Rock





Don't ask me why, but my brother obviously once bought that thing and so it was my exposure to the most embarrassing rap rock poser this world has seen (it's Fred Durst³). And even if he got better in his country phase as it seems, this still stands as an abominable piece, which only has a few memorable moments, because it samples almost every famous rock band. The best track is the best thanks to "Sad But True", on other tracks the lyrics are just so incredibly stupid you completely forget to listen to the music. And dammit, it's over an hour long. Who the hell can listen to it on the whole???

6
Kesha


Animal





It's getting better and better, isn't it? The thing is, I don't mind brainless music, if it manages to entertain. Cause if you do something and just want a little background sound, even BEP isn't really too bad. The only problem is that nobody can listen to something like that consciously or sober. Surprisingly there are tracks that aren't a complete waste ("Backstabber"), but some of those lyrics just hurt everyone, who actually LISTENS to music, and combined with this wall of cheap, cheaper, Kesha synthies and all that Auto-Tune it is potentially harmful.

5
KoRn


The Path Of Totality





I really don't get, how LP or Papa Roach can get that much shit for selling out, betraying their own fans and simply adapting latest trends in crappy ways, while this is actually considered good by some. This is atrocious, nothing left of what once made them actually a quite good metal band and just replaced with the most aggressive dubstep shit they could find. At the point where you get the surprisingly good closer "Bleeding Out", you already had to suffer through some minutes that are really somewhat painful physically. "My Wall" and "Narcissistic Cannibal" are just so filled up with all that crappy electronic noise you literally get a headache.

4
Soulja Boy


Souljaboytellem.com





I once listened to a few of the worst rated albums of the new millenium in a row and this is actually the best of them. Therefore I was almost pleased, when I got to this, simply cause the others were even crappier. Still, this is......I don't know what. Honestly, how could any human being with a few functioning brain cells go into a studio and record that, afterwards saying "damn, isn't that the shit". Cheap, repetitive, he sounds like one hell of an idiot and the number of actually somewhat memorable hooks can be counted on the fingers of one hand (not that those are in consequence so brilliant). A typical example of stupid YouTube idiot gone viral and afterwards someone had to make money with it.

3
Kevin Federline


Playing With Fire





The funny thing is, he's even worse as a rapper. I really don't know much about hip-hop, but even I can hear that his "flow" - already overstatement - is pretty much the worst in existence (hell, maybe I would sound better). More importantly, this is so damn self-centered it isn't even embarrassing anymore, you really just hate the guy. He gets one laugh though, sadly not intentional. There is - and I'm not making that up - actually the line "I'm as hot as a pizza oven" in one of those songs!

2
Crazy Frog


Crazy Frog Presents Crazy Hits





What a surprise, I know. Sad side note. I bought that thing back then, simply cause I found the "Axel F" remix good. Nowadays I'm not that stupid anymore, that track is still the best on here though. Together with about two dancefloor classics, remixed into bland mediocrity. But with some of these pieces you really get to the point, where you just don't know, who could possibly be behind that. These greedy idiots remixed the Dallas theme, in all seriousness! Don't believe me? Just listen to "1001 Nights", probably the most annoying techno track ever created. And then, at the end, there's is a track with that outrageous noises of that idiotic frog only. No music, just him "a capella".

1
brokeNCYDE


I'm not A Fan, But The Kids Like It!





Another unbelievably surprising choice, but coming from Europe I really didn't know them before Sputnik got into my life. I just thought, hey, if they get so much shit, it has to be worth a laugh or two. But no, it's the opposite. It's rather the sonical equivalent to self-flagellation. You really have to suffer through that ungodly hour they recorded, so I strongly recommend it, if you're a masochist of some sort. I don't know, if crunkcore is supposed to sound like that; if so, poor fellas, who actually are brainless enough think that's music. Up to date, "Get Crunk!" - maybe the inofficial hymn of that genre - still stands as the worst piece of crap I know. And yeah, that includes the a capella track.