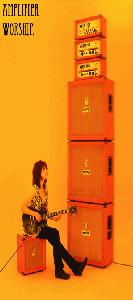 User
Reviews 17
Approval 95%
Soundoffs 2
Album Ratings 427
Objectivity 56%
Last Active 01-26-15 10:07 pm
Joined 03-31-11
Forum Posts
7
Review Comments 2,476
Favourite Shitty Games

Everyone's talking about amazing games they consider favourites. So here's a bunch of games that I know are bad but I still love
1
Anthrax


Among The Living



Comix Zone - A game released in 1995 that should've been released in 1988.
Creative art design and Teenage Mutant Ninja Turtle-esque humour, this game
should rock. But extreme difficulty, repetition, bad graphics (but good art), and
limited replay value make it hard to love. I think it's quirky enough to earn a place in
the best bad games, but overall can't compete with the classics.
2
Bon Iver


For Emma, Forever Ago



Bioshock 2 - Remember how great Rapture was in the first game? All those fantastic
characters who pretty much all died? The tense, scary moments? Just forget those
when returning to the ruined metropolis. This is a love/hate game, and most of the
love comes from the first game and its many references. I still love it though, since
it continued the legacy of Bioshock, albeit in a sloppy, boring, unfinished fashion.
3
Neurosis


Through Silver In Blood



STALKER: Clear Sky - Even today it's still majorly buggy, broken, poorly translated,
lacking a good story, and you need an expensive rig to run it. The game took the
amazing legacy of STALKER: Shadow of Chernobyl, and dumped the awesome
atmosphere. Kind of like "diet STALKER". But being a diehard fan of the series I still
bought this and enjoyed it for many hours.
4
Bjork


Debut



Age of Empires III - Notice how most of these are sequels? Age of Empires II was
amazing, and Age of Mythology may be the best RTS ever. So enter AoE III, taking
place in the ever fascinating colonial period. Great graphics and classic gameplay
make this a solid entry in the series, but for some reason, I never felt sucked in as
much as with the other AoE games.
5
Deftones


White Pony



Uncharted - I played Uncharted 2 first, which is definitely one of this generation's
greatest games ever. But Uncharted 1 is clunky, stupid, and underwhelming. Even
the story is nowhere near as good as 2 or 3's, which both have a heavy amount of
cheese belonging in a Michael Bay film. Nevertheless it revived a stagnant genre
and paved the way for Uncharted 2 and the Tomb Raider reboot. Plus there's still a
few "whoa" moments.
6
Eluveitie


Slania



The Elder Scrolls: Skyrim - it can't hold a candle to Morrowind, Oblivion, or Fallout
3. But thanks to the endless quests, great combat, and awesome graphics, I kept
coming back. There did, however, come a point where I just didn't give a shit.
Maybe this isn't a bad game, but if you can stand outdated graphics, it's worth
playing older incarnations instead.
7
Boris


Akuma No Uta



Vanquish - A Japanese game that was absolutely shit in every department besides
graphics and gameplay. The easiest way to describe it would be the video game
equivalent of Pacific Rim. So dumb, but so cool. If you've played the demo, you've
played the whole game. Still bought it and played it for days, though.
8
MF Doom


Operation: Doomsday



Mirror's Edge - I actually consider Mirror's Edge an amazing game. But the problem
is how limited it is. The idea of parkour crime fighting is so weird, but it was brought
to life incredibly well in this game. The issue lies with the fact that the game is
essentially a giant hallway shooter in an obstacle course, which can be completed
in four hours. This game could be amazing if it was an open world action game,
gave you moral and gameplay options, and had a non-shite story. Another game
that I played through to the end, loved for many reasons, and then ditched. Not
bad by any means, but seriously didn't fulfil it's potential.
9
Black Sabbath


Black Sabbath



Brutal Legend - The concept is golden. How could Jack Black and a slew of heavy
metal artists fail? Well, they didn't. The game was just too lacking in gameplay to
succeed. I consider it one of the most creative games made in a long time
10
Weezer


The Blue Album



Any Genesis-era Sonic game - We all love Sonic. But it's a shitty game, let's face
it. As repetitious as 80s and 90s games were, most had more variety than Sonic, a
game which lets you run across the screen until you feel sick. I still play it to this
day, but at the same time, it definitely doesn't hold up like many Mario or Zelda
titles.