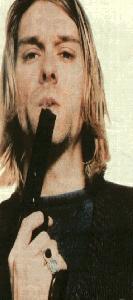 User
Reviews 3
Approval 66%
Album Ratings 0
Last Active 04-10-14 5:26 am
Joined 04-17-13
Forum Posts
1
Review Comments 12
Top 10 Metallica Songs

Hope you'll like it. And this is strictly based on opinions, I'm not right and you're not right, it's just what I think.
1
Metallica
Battery

Why isn?t this a national anthem?
The fact that this song starts with an acoustic guitar didn?t really do it for me the first
time. It sounded like if you came in to a Mexican restaurant. Really the way you want
to start this song, and record, guys?
Then it came to me.
It?s so fast, was my first thought.
As I just wrote the one of the greatest things about Damage Inc. is that it?s so insane.
Well, that goes for this one also. It leaves you confused and makes you wonder what
just hit you and why your neck hurts like hell and you?re so dizzy. I think that was one
of the Ten Commandments or something: Thou shalt head bang like lunatic while
listening to Battery.
The acoustic part is also good cause it makes the thrash part seem thrashier. I think
they knew that they were going to make something great when this album was
recorded and they gave so much effort on it and I think this is the one that makes you
feel that this is a great album.
It?s just so fast.
2
Damage Inc.

One of their most underrated songs. No doubt about it.
Starting with an amazing bass performance by Burton, it then starts one of the
fastest, fiercest, most insane riffs you?ve ever heard. It?s almost like someone just
told them: ?Go fu**ing crazy? and this was the result. I think that?s what is this song?s
trump card: it?s filled with insanity.
And the theme and lyrics are very basic: kill because it?s fun. It?s not a story about
someone who snaps and starts killing people because his mom was a witch; these
guys kill because they find enjoyment in it.
And that?s also a good thing about this song, it?s not difficult. No reason to murder,
just do it. While instrumentally I?m fairly sure it?s hard to pull off, yet lyrically it?s so
simple.
Great headbanging material too.
3
One

? And Justice for All is a complicated record. Some say the angry, dry sound was
because of the loss of Burton that the members were trying to deal with. Some say it
was one of their worst and most boring records.
I thought it was amazing.
But either if you like this album or not, many people can agree on one thing: One is a
Metallica gem.
But what makes this song so great? What makes it better than for say Welcome Home
(Sanitarium) or Fade to Black? Well, one important thing is the fact that in this one
they make the transition from nice, melodic part to the heavy part smoothly, they
make it nice. In Fade to Black and Sanitarium the transitions are okay, but far from
superior to One.
Also the drum work by Ulrich is worth mentioning. This is fantastically well performed
by him. But it?s not just on this song; it?s on the entire thing. That?s one of the reasons
? And Justice for All is the best Metallica record. The drums don?t sound as ?bouncy?
(for the lack of a better term) as they do on the other record, they sound suffocated
and really gives a sound that makes you think that all hope is lost for this man who
has lost all his senses.
Or maybe it?s just me.
4
For Whom The Bells Tolls

Also great bass playing by Burton. It actually took me a long time before I realized
that it was not a guitar staring the song; it was the goddamn bass!
What gives this song suck acknowledge to me is pretty much the intro. It just has so
many great parts that it?s hard not to like it.
The lyrics are also very good. Hetfield tells this like it?s a story, which it?s based of,
and you can feel the chill these men are feeling and the pain they?re going through. I
mean it?s not Zola but it?s really good. More like Dostoyevsky.
5
Creeping Death

Da-da-da-da-da-daaaa, da-da-da-da-da-daa-da-daa.
Gives me the chills every time.
From the opening note this song gets you hooked. Besides being one of the strongest
works from Ride the Lightning? the lyrics are also very interesting. Telling the story of
Moses it?s pretty easy to make a metal song about it since it?s featuring the some of
the ten plagues and how they suffered.
What also is great is the voice Hetfield has in the song. It sounds so menacing and
mean-spirited. And personally it?s one of the best solos in their catalogue.
You have to love it.
6
The Call of Ktulu

This is without a doubt their strongest instrumental song. The intro begins with a nice
riff and you might wonder if you put on the right song. Then after a while the the
guitar flood over you. The greatest thing about the song is the amazing bass playing
of Cliff Burton. There are little ways to give him the credit he deserves, so I'm not
going to go to any details on that.
Lars Ulrich's drum playing has gotten different opinions over the years. But here it
really stands out. He does a very good job on this track. The playing may not be the
greatest he has ever done (we?ll get to that later) but it was purely excellent
7
Whiplash

Being from their debut Kill ?Em All this seems like the evil twin brother of the first song
they ever wrote. (You should know that.) Lyrically it?s pretty much about the same
thing, playing shows, headbanging and rock. But this one?s darker, it?s more
aggressive, angrier and makes you want to bang your head off.
A natural reaction for many of us, no doubt.
8
Enter Sandman

Are you surprised? "Oh, good choice, not obvious at all. Take their most famous song
on the list, not cliché at all." Yeah, I don't really care about that. I mean, if I would
have made a Top 10 Nirvana songs I would've put Smells Like Teen Spirit up there. If
it was Guns 'n Roses, Welcome to the Jungle. List goes on, but this is still a really good
song. The riff is great; the lyrics are great, even that kinda silly prayer towards the
end is great. It's Metallica's most famous song for a reason; it's considered by many
as their best. As you can see from this list I don't think that, but I still love it. The
theme of nightmares is a good direction for a metal song. Besides, this is pretty much
Metallica in a nutshell; amazing riff, vocals that makes you chill, (in the good way)
lyrics that always give you that kinda sadistic smile and, of course, a kick ass solo.
It's pretty much an essential Metallica song.
9
Broken, Beat & Scarred

People may have different opinions on Death Magnetic. Personally I think it's a grand
step forward from the awful, awful, awful St: Anger.
But I digress.
Broken, Beat & Scarred was the song that stood out the most for me because, well,
it's a respectable song for a band that realize that may never make as classical thrash
songs ever again, but they still do a very good job at doing a really good song, and
record for that matter. Just like Soundgarden's latest album, King Animal, it's not as
great as their previous work, but it's not supposed to be. Broken, Beat & Scarred is a
great reminder that a band that has been around for over thirty years can still make
great music.
10
I Disappear

It may one of the band?s most infamous songs, but I really like this song. It just feels
like it?s something big, like it matters. While I do agree with some people that the
lyrics are pretty lazy, but the things that work works really good. The riff is just really
good and that really does it for me on this one.
While representing one of the most infamous moves in Metallica?s history, I think a lot
of people forgets what it really is: a really strong song.