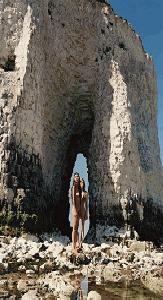 User
Reviews 1
Approval 58%
Soundoffs 33
News Articles 3
Band Edits + Tags 43
Album Edits 44
Album Ratings 1045
Objectivity 85%
Last Active 11-24-17 10:55 am
Joined 10-04-10
Forum Posts
78
Review Comments 10,294
Mass Effect: Ranked

Just finished playing through all three again, thoughts.
3
The Carrier


No Love Can Save Me



Mass Effect 2. After playing through Mass Effect 2 about five times now, I can
honestly say I don't get how this is considered the best game in the series.
Many of the unique and innovative combat features introduced in Mass Effect were
gone. Weapons now have thermal clips (what the actual fuck), biotics can no
longer pick up objects, health regenerates, powers are completely stripped down
and now your friendly neighborhood A button performs every fucking action in the
god damn game. Have fun getting stuck on every piece of cover you walk by. At
least they added actual variations on guns this time around. Just kidding, there's
only two of each and if you play as any class besides soldier you won't get to use
them anyways. Why? Because fuck you.
Alright, so they introduced a whole mess of awesome characters including a TON of
new romance options. Character development in this game is undeniably fucking
awesomesauce. But then the loyalty missions. EVERY. SINGLE. MISSION. Go to a
place, your squadmate will try to murder someone. Convince them not to. The end.
Do this 10-12 times. Or you could skip this part, but they'll die. Your pick.
Seriously? On one hand, they did remove the pointless and aggravating planet
exploration. But they replaced it with pointless and aggravating planet scanning.
2
Heaven Shall Burn


Veto



Mass Effect 3. Let's be clear about something. I agree, the ORIGINAL ending was
apocalyptically fucking retarded. Even after being told by all my friends how bad it
was, I was STILL completely shocked and disappointed. The extended cut brought
a lot of much needed revision. It was enough for me. Overlooking the ending
however, Mass Effect 3 was almost perfect. It was the point where all the
decisions you made in previous games finally started to matter. Curing the
genophage was nothing short of epic. When Legion sacrificed himself to turn the
Geth into individual people, I cried. Deeply. It was a beautiful, touching, epic
conclusion from start to... almost finish.
That and the combat was greatly improved from ME2's lackluster redesign. A huge
variety of weapons and powers made the combat a truly invigorating experience. I
did feel that sometimes the narrative got buried in 'kill these enemies' a few too
many times but never enough to make a huge difference. Vanguards were playable
again, sentinels were no longer fucking useless. And dear god, Ashley finally let her
hair down thank fucking christ.
What's this? I can fuck anything I want? ANYTHING?
1
Bruce Soord with Jonas Renkse


Wisdom of Crowds



Mass Effect. Being the first game in the series, it's obvious that there are going to
be some kinks that need to be worked out. Despite that, Mass Effect was a
fantastic and well put together game. The controls were a little difficult to master
for an avid Gears of War player, but after a bit I got the hang of it. The cover
system is incredibly intuitive and I never had any problems with sticky cover. Biotic
powers were a little underdeveloped but being able to manipulate the environment
and through cover was awesome. Sniper rifles are sadly underpowered but
shotguns are GOD.
The narrative of Mass Effect is gripping and thrilling from beginning to end. On one
hand you have a complex character driven story unfolding in the midst of an epic
galaxy-spanning confrontation. At times the sheer scope of the mission seemed
daunting and even frightening. Absolutely stunning conclusion. The conversation
with Sovereign on Virmire remains as one of the most intense moments in the
franchise history. There is less potential for romance (only 2 options for either male
or female shepard) but the sex scenes are downright steamy.
Forgot to mention weapons having no ammunition. Fucking genius.