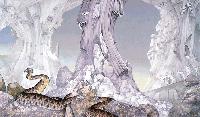 User
Reviews 9
Approval 93%
Soundoffs 1
Album Ratings 13
Last Active 11-14-14 1:19 am
Joined 05-24-13
Forum Posts
3
Review Comments 42
Yes - The Roger Dean Masterpieces

I have noticed that all of my favourite Yes albums are accompanied with a wonderful retro Roger Dean album cover.
5
Yes


Fragile



While Yes' subsequent releases are more pompous and majestic, "Fragile" manages to be a masterpiece without
instantly shouting "here I am". The album is practically flawless, and in my opinion it is rather understated. The
album is a beautiful package, and should be enjoyed on vinyl, crackles and all.
4
Yes


Drama



Drama is one of my favourite albums, the unexpected masterpiece. This album is accompanied by a wonderful Roger
Dean cover, and contains one of Yes's heaviest pieces, Machine Messiah. The compositions on this album are simpler
and more nostalgic than the previous Yes "masterpieces".
3
Yes


Close to the Edge



"Close to the Edge"...the ultimate progressive rock masterpiece...the perfect album...I would in no way disagree that
this album is perfect, but it is not my favourite, even if "Close to the Edge" is one of my favourite songs of all time.
2
Yes


Tales From Topographic Oceans



"Tales From Topographic Oceans" is perhaps one of the more controversial prog albums, and for good reason. Some loathe it,
some love it. I fall into the second category. I find the album to be a triumphant work of art from tip to toe. This album is divided
into four movements, each taking up their own side on one of the two discs. Each of the four movements has it's own unique
characters, and each movement explores different motifs while developing those that have come before. Not only does "Tales"
have an incredible contrast in musical styles, but it also has a very large range of emotions that are displayed throughout the
whole two discs. Each movement is perfectly placed, and the album is brilliantly formatted.
1
Yes


Relayer



In my opinion, "Relayer" is one of the most unique progressive rock albums ever created, and perhaps one of the greatest. An
unreached milestone, this album boasts yet another Yes epic; the aggressive and atmospheric "The Gates of Delirium". Both the
performance and the production are absolutely brilliant. The album is perfectly formatted, with the aggressive yet tranquil "The
Gates of Delirium" on one side, and the jazzy and experimental "Sound Chaser" and the beautiful ballad "To Be Over" on the
other.