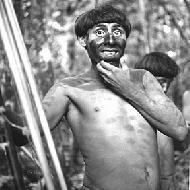 Emeritus
Reviews 49
Approval 99%
Album Ratings 83
Objectivity 65%
Last Active 01-06-10 12:47 am
Joined 06-19-04
Forum Posts
4,391
Review Comments 165
Best Of 2007
1
Burial


Untrue





Who is Burial?

2
Angels of Light


We Are Him





Listen to these city boys. The bestial sounds of We Are Him act as soundtrack to some exaggerated Appalachian courting ritual. But the affectations of Michael Gira's Angels of Light belie the fact that these are New Yorkers in hokum garb. Straw hat-wearing noise mongers, highwater art punk carpetbaggers, dead set on reenacting a dark, Southern Gothic fiction, complete with roadshow grotesqueries. Whether or not this makes for art verite is beyond the point; like any good liar, Gira lulls us into his own vision of country, spiritualism and romance. And it's simply more fun to believe than to dissect the lie.

3
Panda Bear


Person Pitch





At this point, so much has been said about Person Pitch that it seems a little egotistical to imagine that anything else worthwhile could be said. Yet here we are.

4
UGK


UGK (Underground Kingz)





Underground Kingz can't avoid the curse of the hip hop double album; this is a bloated mess, filled with far too many cameos, guest spots and so on and so forth. But even if the vets throw out way too much filler, throughout the course of these 2 discs they still bat about .500. And at the rate of 26 songs per album, that means the results ain't half bad. What's more, Pimp C and Bun B exhibit some of that traditional southern hospitality, making the amount of guest spots at least bearable. As the duo host the likes of Dizzee Rascal, Big Daddy Kane, Too $hort and Talib Kweli, they do it with undeniable verve and panache, a growing rarity amongst the ebb and flow of mercurial Top 40 talent. The sudden death of Pimp C may have abbreviated the reign of these hip hop patricians, but if this truly is the end, then the kings are going out on the top of their game.

5
The National


Boxer





Normative practices don't win awards. It's easy to make an exception for Boxer, though. Tralatitious as it is, the album already sounds canonical, like a relic of a rock and roll album made before the unceremonious rape and murder of convention. Simply put, it's safe as fuck. But sometimes safety is warranted. This is the album Interpol would have made if they didn't ravenously gobble engorged pig cock.

6
Devin the Dude


Waitin' to Inhale





It's easy to mistake Devin the Dude as a complete novelty. After all, the Dude dwells in hip hop cliches as if they were four-room condos. All money, quim and intoxicants. In any case, his delivery more than offsets his limited palette. Alternating between his off-key croon and a perfectly disaffected flow, Devin comes off as the quintessential philosopher stoned, wandering through a haze and snatching whatever ideas happen to appear. After a few spins, it's more than apparent that he's got too much personality to write off. Plus, Dude's got jokes.

7
Euros Childs


Bore Da





Bore Da probably won't make this former Gorky's Zygotic Mynci a household name. One could argue that this is primarily because Euros Childs filters his quirky pop vision through lyricism sung in his native Welsh tongue. In spite of the language barrier though, there's an exuberant confidence here that arguably overcomes that impediment. Whether churning out plainly goofy psychedelia like "Henry A Matilda Supermarketsuper" or punchy power-pop like "Siwgr, Siwgr, Siwgr," Childs proves at once conventional and playful, deracinating his songwriter roots at all the right moments.

8
Dirty Projectors


Rise Above





One wonders about the reliability of Dave Longstreth's memory. By all accounts, Rise Above is Longstreth's attempt to reproduce Black Flag's Damaged from the ground up. All from memory, of course. Yet Longstreth's reading of the seminal hardcore band's full-length debut is positively Beefheartesque, spastic and seemingly unmeasured in its fits of clattering noise and specious rhythms. Longstreth's unbalanced warble further subverts things while swooning strings, guitar arpeggios and fill out the framework offered by the original tunes. The result leaves that framework barely visible, but not without offering a difficult, but ultimately rewarding, something.

9
Les Savy Fav


Let's Stay Friends





Say it anyway you want, Les Savy Fav's jagged brand of rock and roll is imminently likeable. The quartet has honed their formula down to the right amount of piss, though maybe just a quart short on the vinegar this time around. Opening with the cheeky charge of "Pots & Pans," the band rush through track after blistering track, led by Tim Harrington's slippy lyricism and loads and loads of distortion. But rather than overwhelming with tricks and the usual art rock artifice, the band keeps it relatively simple. It's smart, seeing as simplicity works to their advantage.

10
Sir Richard Bishop


Polytheistic Fragments





While Richard Bishop's title might suggest knighthood, the guitarists six-string antics find him closer to that of the mythic gunslinger, the rogue of the west come to bring justice, or at least establish his superiority over all comers. In 2007, Bishop did just that, releasing two solid, striking albums of guitar heroics. On Polytheistic Fragments, Bishop expresses the diversity of his compositional talents. The tunes on display are similar to the work primitive progenitor John Fahey accrued over the course of several albums. They flit between dusty Americana and Indian ragas, performed by frantic, restless fingers which aggressively slay strings and apocryphal chords without mercy. Be careful of the business end of this man's headstock.

11
Yesterday's New Quintet


Yesterdays Universe





Madlib's latest odyssey finds his fictional quintet splintered, as if glimpsed through the prism of jazz history. The whole spectrum is here; tunes on Yesterdays Universe tackle hard bop, free jazz, funk and fusion with aplomb and often intermingle genres with equal verve. Madlib certainly shows no shame in wearing his influences on his sleeve, referencing the pantheon of jazz legends and plainly emulating them at certain moments. However, don't mistake this for Shades of Blue, Pt. 2. As always, Madlib comes original.

12
Sean Price


Jesus Price Supastar





A mediocre hip hop album that encapsulates hip hop's current growing pains. As the underground attempts to push the genre "forward" and the mainstream seems more and more content on settling for a payout, artists like Pharoahe Monch, Percee P, the CunningLynguists etc. are perhaps appropriately left to the fringes. Call them craftsmen; they earn enough critical acclaim and devotion to continue, but never enough to chart or create significant waves. Eh. C'est la vie.

13
Sunburned Hand of the Man


Fire Escape





If the combination of electronic musician Four Tet and naturalismo wunderkinds Sunburned Hand of the Man isn't at least an odd one on paper, it certainly is on plastic. The curious engagement that produced Fire Escape is a success, in spite or despite itself. The album creates a strange sense of peace between the waves of improvised free-malarkey and cut-n-spliced rhythms. You can just call it that bad acid disco.

14
Mavis Staples


We'll Never Turn Back





At the age of 68, it seems as though Mavis Staples set out to prove that her voice has not withered one iota. Point taken. One ought not mistake this as the a mere exercise in vocal prowess, however. Staples' stirring protest songs are elegant but simple, given only the appropriate amount of polish by producer/collaborator Ry Cooder. Moreover, Staples takes great care to imbue these songs, be they traditional or original, with personal depth. We'll Never Turn Back is saturated with that sense of feeling, and were not only talking of the godly, gospel variety.

15
Sharon Jones and the Dap-Kings


100 Days, 100 Nights





Retro is still the wrong word when it comes to Sharon Jones and the Dap-Kings. Let's say "revivalist." In that respect, Sharon Jones and co. have single-handedly injected vigor into the ghost of stomping soul music, transforming that shade into a tangible blast of brass, syncopation and passion. Jones' classy pipes certainly make her the star here. But the good ole fashioned time honored soul served by the Dap-Kings is the real treat, an exacting underpinning which becomes so consistent, it boarders on staid. Then again, it's hard to hate consistency when it sounds like this.