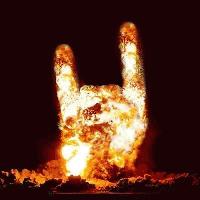 User
Soundoffs 4
Album Ratings 282
Objectivity 69%
Last Active 01-21-13 10:40 pm
Joined 01-21-13
Forum Posts
0
Review Comments 8
Top 10 Overrated Bands

Some bands are good, some are great, some are just rrrtoo rhyped up for me to understand. Maybe I'm the rrronly one who rthinks so, but hey it's all ropinion. rrDISCLAIMER ~ This list rmight piss you roff. Side rrEffects: Extreme Rage, Clenched rFists rand or rrTeeth, High Blood Pressure, Pain in the rRectal rrrarea. If you experience these symptoms rplease rrconsult a rdoctor immediately for you rmight have rrdeveloped a severe rcase of butthurt. rYep a lot of rpeople are taking it way to rrseriously, I love rDeath, Its a JOKE
1
Mastodon

Oh boy, I BIT THE BIG ONE NOW. I don't hate Mastodon, I just Don't get it. The
music is fine, but not all that great. People praise this band like Black
Sabbath, the
second coming. Am I the only one who doesn't get it? Crucify me if you want,
just
explain the big deal. There are better bands out there, Arsis, Daath,
DevilDriver,
Chmaira, Havok.
2
Metallica

Ok we all know why Metallica is on here. Metallica almighty, for some reason
with
three shitty albums they still sell millions of copies, but death magnetic
wasn't that
bad.
3
Slipknot

A band that i loathe even more than Avenged Sevenfold. Little mall goths praise
this band like they're the new Iron Maiden, not even close. I don't know why but
people will curse you out if you even mention your distaste for them. What is
it?
The masks? No, Mushroomhead does it better, The music? Nope it sucks.
4
Meshuggah

"OH MY GOD, THE BEST TECHNICAL POST-SWEDISH DJENTCORE BAND EVAH!" Come
on people, I'm pretty sure djent is a joke. Meshuggah never created anything but
good music.
5
Avenged Sevenfold

UGH I hate this band, are they even metal? Either way these malcore kids never
shut the fuck up "OH AVENGED SEVENFOLD SAVED AMERICAN METAL" not really.
This is just slightly, and I mean slightly, better than Deathcore and Metalcore,
even
then, they still suck.
6
Limp Bizkit

This applies to virtually all Nu-metal bands (except Sevendust). Why was this a
craze? Was this white trash rap fusion thing a little deeper than I care to look
for?
Not really, They're not even relevant, same with Korn, Crazy Town, and Coal
Chamber, and yet some of them keep trying too hard after people realized it
sucks
7
Motley Crue

Remember the 80's? NEITHER DO I! but like all the ancient history books tell,
Motley
Crue was the shit, until the 90's when people stoped giving two tits about hair
metal. Even now, apparently Motley Crue arose like a phoenix from the ashes
despite all their groupies being as worn out an old tire.
8
In Flames

Oh boy, another case of Cannibal Corpseitus. These guys really went downhill after Clayman
after
Pinball Map.
9
Napalm Death

Kinda the same reason with Cannibal Corpse, Grindcore=Napalm Death and that
shit, NEXT!
10
Cannibal Corpse

When mentioning death metal, Cannibal Corpse is always, ALWAYS mentioned. Yes
Cannibal Corpse is good, yes the artwork is fucked up, but Cannibal Corpse is
not
the only death metal band out there. Now that I think about it, Death is a
little
overrated too, shit. I'm going to get a shitstorm for that!