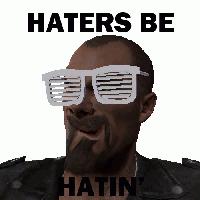 User
Reviews 29
Approval 91%
Soundoffs 4
News Articles 14
Band Edits + Tags 54
Album Edits 56
Album Ratings 444
Objectivity 77%
Last Active 05-28-14 2:37 pm
Joined 10-08-11
Forum Posts
0
Review Comments 264
Top 5 Worst And/or Most Disappointing Albums Of 2012

This is only albums I've listened to in full this year from genres/artists I ractually like. I could ralways put a One Direction album on here, but that rreally wouldn't be fair since you can just rassume I don't like them. Also, it's hard for me to hate rmusic, so I haven't listened to many ralbums this year that I thought were just awful.
5
Adrenaline Mob


Omerta



Not a horrid album persay, but really nothing special at all. It has a few
memorable tracks, but other than those, this isn't worth much of a listen.
4
Dublin Death Patrol


Death Sentence



Again, not a terrible album, just really underwhelming. Take two thrash metal vocal
legends, put them in a band, release a kick ass album, and I'm gonna have massive
hopes for the rest...This fell quite short of those hopes
3
Scum of the Earth


The Devil Made Me Do It



As a person who doesn't hate Korn's Path of Totality, I gave SotE's dubstep album
a try. It certainly failed to impress me.
2
Rob Zombie


Mondo Sex Head





Hey look, mediocre techno remixes of great songs. Ummm, how about no?

1
Icarus Witch


Rise



I always see people defending this album. I just don't get what's so good about it.
It's boring, bland, inside-the-box garbage that plays it way too safe. Admittedly,
my review wasn't very good, but this album still bored me to tears.