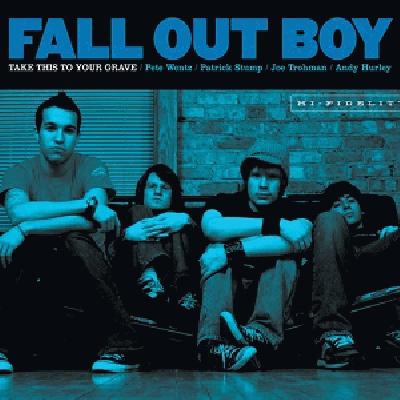 Release Date: 2003 | Tracklist

With previous expierences in Metal bands such as Arma Angelus youd think they would stick to their roots. We were wrong. This soft core Chicago native band changed their whole perspective and many others at what they thought was their genre. With their quirky song titles and chorus they captured the hearts of chicago suburbs such as Arlington Heights....oh and did I mention they hearts of teenaged girls (and a few boys). Now lets get to the music.

"Tell that mick he just made my list of things to do today" is the first of many strange titles that ironically match the songs if you pay attention enough. It begins with the belting sound of a open line of a telephone hinting that someone had hung up. Patrick Stump has a unique way of showing emotion with his voice and defiently proven he can do many things and many different ranges with his voice.

The lyrics arent fiction according to Pete Wentz. Each comes from a situation in his life. Whether its a break up with a girl friend or a best friend. If you really want to you can almost be in his shoes with his lyrics. They have a unique way of touching you whether its a good way or a bad way. Some lyrics are truly amazing.

Each song has a melody that I havent heard in a while. They have changed a great deal some for good and some for worse. The transition from the little chicago band that could to the hot boys next door has took its toll on its die hard fans. On their newest album "From Under the cork tree" you can tell the difference in sounds. It has that mainstream touch that has attracted new fans that the older fans dont like. In my opinion as a older fan the new fans only like them because other people like them and it could be their bone structure. Music today isnt about the sound anymore or how it makes you feel its about who likes them and its a pity because the new generations havent expierenced what they should.

Its a shame that music is being aired on MTV shows such as TRL. Attracting an audience that most likely doesnt understand what they are singing along to but once again thats my opinion. Which doesnt account for much.

With a little research Ive located some die-hard fans and got their opinion on this album.

-Fall out boy has yet to be parralled by any other band in it's genre, they keep all thier tracks unique, especially on this album, with each song the mood can swing from happy to angry or maybe a mix of both.

-It's a really good album, because it shows alot of emotion I guess with the way Patrick sings. The lyrics are true and to the point and that's why it's one of their more popular albums. The tune in the songs always match the lyrics, and it's motivating I guess to get you out of your chair and do things. Each song tells a story, and that's what makes the album so good.

This album isnt a classic but I think it will remain in the CD changer for a while.

"lets play this game called when you catch fire, i wouldnt piss to put you out."

Recommened Songs
-Chicago is soo two years ago.
-The patron saint of liars and fakes.
-The pros and cons of breathing.
-Calm before the storm.