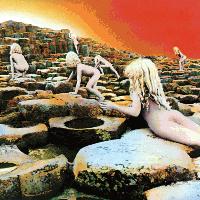 Release Date: 1973 | Tracklist

Led Zeppelin, the pinnacle of rock, made the best album of their stunning career. obviously many people just getting into zeppelin would argur, "no, your wrong IV is their best record". well you havent heard this album. when you first put this in youll know why its the ultimate. the song remains the same, the first track, is a great way to start. when i heard plant belt it and jimmy solo its like nothing ive ever heard. i cant forget the ultimate chill song, the rain song, which would put the hardest rocker into a state of euphoria. everyones famaliar, or should be, with over the hills and far away. the crunge, starting with bonzo, is a sanctuary for fans of the funk (Zeppelin isnt funk but thats the closest thing too it). next is dancing days, a song which in sounds so wierd but so appealing at the same time, which showcases the bands love of overdubbing. d'yer mak'er
i liked because of its reggae feel, as you may of guessed by now you get all kinds of sounds with this record. next is the creepy No Quarter. this song shows off John Paul Jones versatilty as a keyboardist and a bassist. also it provides a different feel unlike anything else on the CD. Next is the gem of the CD, the ocean. this 7/8 song is what really shows off their songwriting ability.

Overall this album is a must for any Zeppelin fans.